"Recently we saw another child who had suffered a similar accident. That poor boy was initially in great pain too, exactly like my Kritika. And he was even around her same age!

The only difference between him and her is that his parents weren't poor like us.

They were able to afford his treatment, and just a few months after meeting him for the first time, we saw him go home completely healthy.

It's been 2 years and Kritika on the other hand is now more critical than ever!

"

— Sudeep, father, breaking down
Kritika hasn't eaten or drunk anything in 2 years. She needs urgent throat surgery, or else she won't make it. Her parents cannot afford the 13 lakhs for the treatment.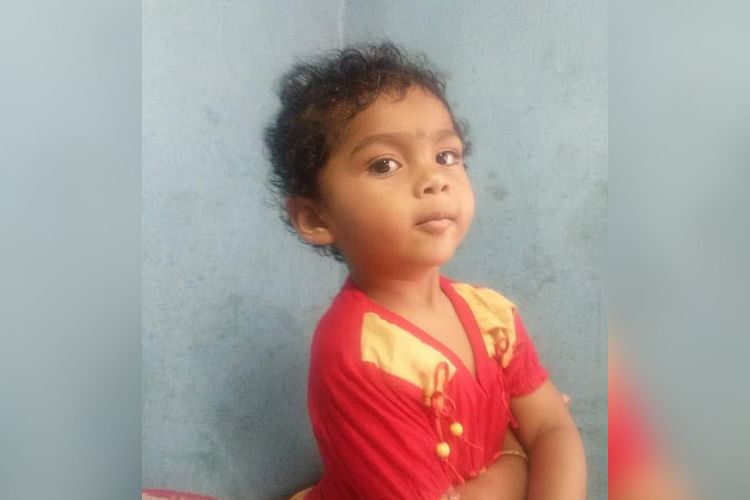 It had been a morning like any other that day, 2 years ago. When Sudeep got a call from his wife while at work, initially, it had put a smile on his face. The first thing he'd asked after picking up the call was how their little one was doing. It only took a fraction of a second for him to realize something was very, very wrong.
"Immediately I could tell Neha was in a blind panic, and that made me start panicking as well.

I could hear her crying over the phone, but it took her a few moments before she was able to tell me what happened: Kritika had drunk from a bottle of acid.

"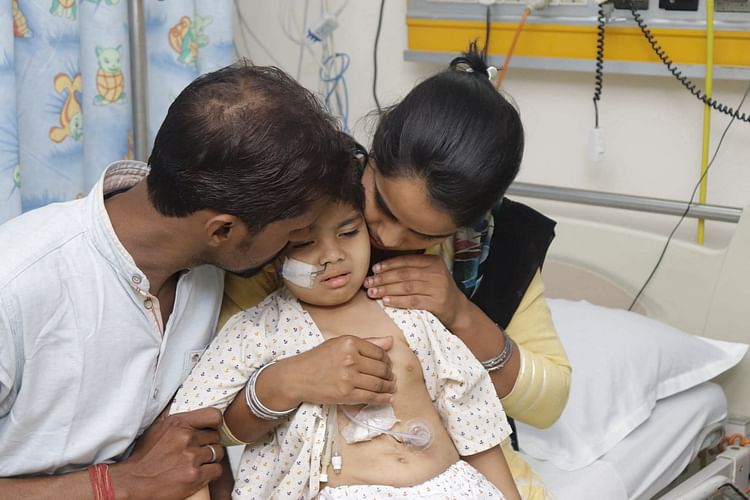 She had thought the bottle of acid was a bottle of juice
"Kritika had been running around, playing with a couple of her friends from the neighborhood, while I was tending to the kitchen.

Suddenly I heard a scream that sent a shiver down my spine, and when I realized the voice belonged to Kritika, I ran outside. Kritika was lying on the floor, tears streaming down her face, and blood pouring out of her mouth!

The other children were screaming too, and it was only when I saw the bottle of acid lying beside Kritika that I realized what had happened. My baby drank acid!"

— Neha, mother
Little Kritika had seen the brightly colored bottle her mom always hid behind the gas cylinder and assumed it was a bottle of juice being kept from her. All she had wanted was to drink some juice. The poor child continues to suffer greatly for that innocent mistake.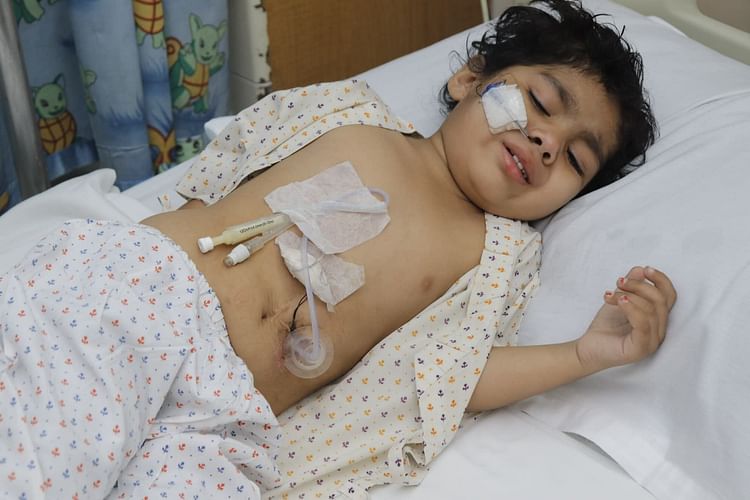 Kritika can only eat and drink through a tube surgically connected directly into her stomach now
She has needed another surgery for the past 2 years...
"My poor angel could've died that day itself! We rushed her to the closest clinic but they weren't able to treat her properly. Over the next 10 days we took her to all the local clinics and even the government hospital. But in the end they all said the same thing: the food-pipe in her throat had entirely melted, and her condition was way too critical for them to do anything about it, so 'take her elsewhere'. Finally we were able to gather enough money and take her to a private hospital and get her an emergency surgery.

She needed 1 more surgery and I thought I'd be able to put the money together eventually, but it's been 2 years and my sweetheart is still suffering to this day!

"

— Sudeep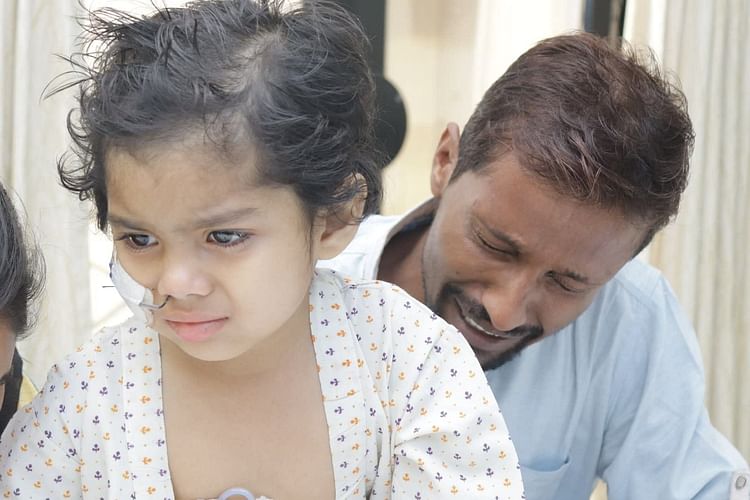 'She can't wait for me anymore, you're Kritika's final hope now'
"My daughter is 5 now but she hasn't been able to go to school, she can't eat or drink anything, she can't play with her friends... It's like she's trapped, wilting right in front of my eyes, and I'm unable to do anything about it. I'm just a delivery boy; I've been trying to earn as much as I can, save as much as possible, but given how critical her condition has become, it's simply beyond me now.

She can't wait for me anymore, she needs an urgent surgery and you're her only hope now.

Please, save her!"