"Narendra and I had never heard about this dangerous blood disease that is now killing my 13-year-old daughter. The doctors told us that we both had a mild form of the disease, they said it was possible that my daughter might have gotten the disease from us. I was shocked and angry at myself. But now I know I will do anything to save her life. She doesn't deserve this pain," - Deepa, Kashish' mother.

Little Kashish is due for a bone marrow transplant tomorrow - she doesn't have much time. This disease has been plaguing her since her childhood. But now the cure is out of her parents' reach.


Kashish was 3-months-old when they got to know of her disease
Deepa can't stop her tears when she starts talking of their past condition. She keeps on talking about how happy her entire family was - with their three children in Bhopal, Madhya Pradesh. But then fate dealt a cruel hand - Narendra started incurring losses in every business that he started. The family lost all their savings. Finally, Narendra decided to take up a job - he couldn't risk his children's future any longer.

"But that was not it. All of a sudden, Kashish was diagnosed with Thalassemia Major. Her body wasn't able to produce blood. She became weak and tired. She often even had fever. Unaware of the disease, we were at a loss. Doctors suggested that we take her for blood transfusions on regular intervals. Since then, she has been dependent on blood transfusions. But now it's not enough," - Deepa.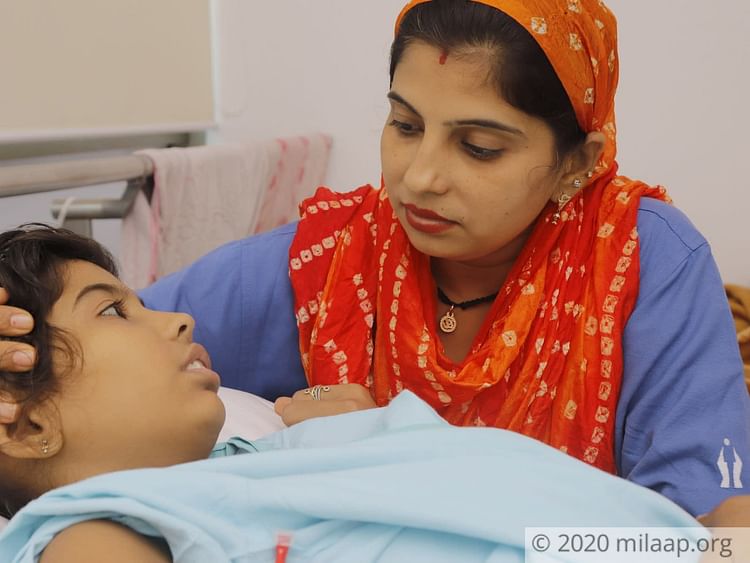 I want to win this battle for my daughter and for many more children
Watching her daughter suffer from this disease, Deepa decided to spread awareness about it. Deepa and Narendra are part of many groups and associations in Bhopal who tell people about this disease, help them cope with it. But the same strong mother is now falling weak, unable to save her daughter's life.


"Kashish loves to dance, she says that's her passion. But it's been so many years that I have seen her enjoy a normal childhood. Despite her trying to go to school regularly, she can't. Her transplant is due for tomorrow, that can cure her. But the bills are mounting up each day. I need to pay around 20 lakhs, my husband is back home, pulling at the last straw to arrange for it but it is impossible for us. We need your help, we need it urgently - please save my daughter," - Deepa.
Kashish is planning all those things she can do after she is cured of this disease. She wants to go back to her siblings, her friends and a normal life. She is just 13, she can have a pain free life. Your generous contribution can make that possible.