Little Jagath was just beginning to understand birthdays. He knew there would be balloons and chocolates. He knew it meant celebrations and looked forward to it. But when he turned 3 a few days ago, he didn't even realize it was his birthday. How could he? He was lying in the ICU, his left side paralyzed. He was fighting for his life while his parents wept, holding a chocolate in their hand, waiting for him to wake up.
Diagnosed with encephalitis, he's struggling to survive. Prolonged treatment in the ICU can save him. But it will cost his parents more than they have ever dreamed of!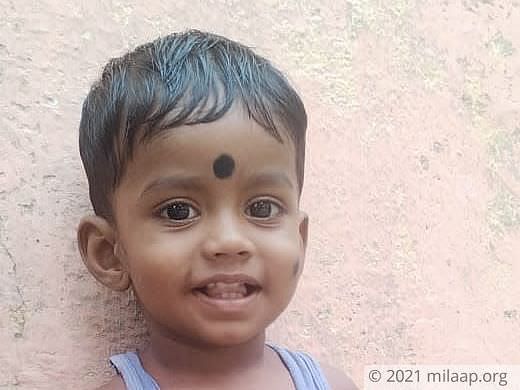 Little Jagath cried incessantly, and nobody understood why
An ever-active child, Baby Jagath was the life of the family. Every time he called out 'Amma', the family gushed, and he'd let out squeals of laughter. One day, everything changed!


"He kept crying, and wouldn't stop. He couldn't sleep at night and would roll around on the bed crying. Then, his temperature rose.

Before we could take him to the doctor, he suffered from seizures…we were helpless!

The doctor gave him injections to keep him stable till we reached a hospital. But even there,

they didn't know what was happening to our child. They just told us he won't survive…

" – Nandini, mother.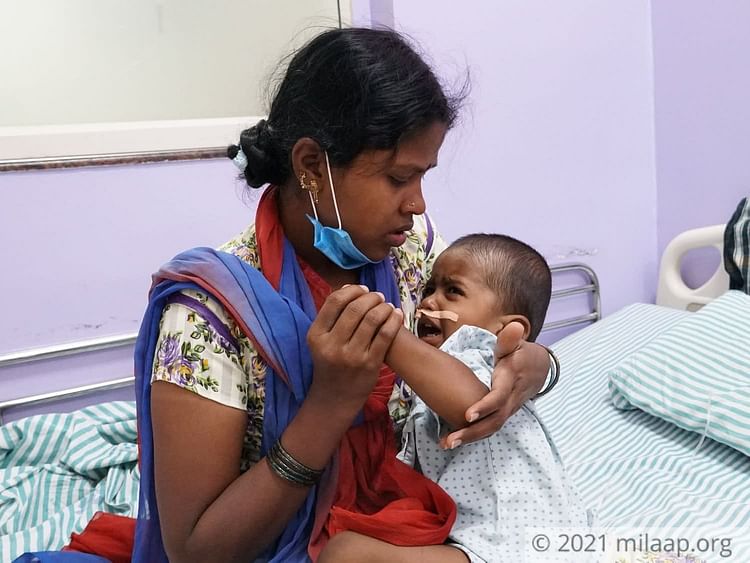 Diagnosed with a severe brain infection, his limbs are paralyzed
Rushing thus, from one hospital to the other in the ambulance, the family was devastated. When they finally got him admitted, he was diagnosed with encephalitis – an inflammation of the brain due to an infection.


"He was immediately admitted in the ICU, where he has been for over 10 days now.

He's being treated for his infection. His left hand and leg are now paralyzed. He can't sit up, or even lift his hand when he sees us. He has been fighting the disease all this while, and is barely hanging on

. Our 3-year-old boy is now a tiny bundle in the bed…" – Jay Kumar, father.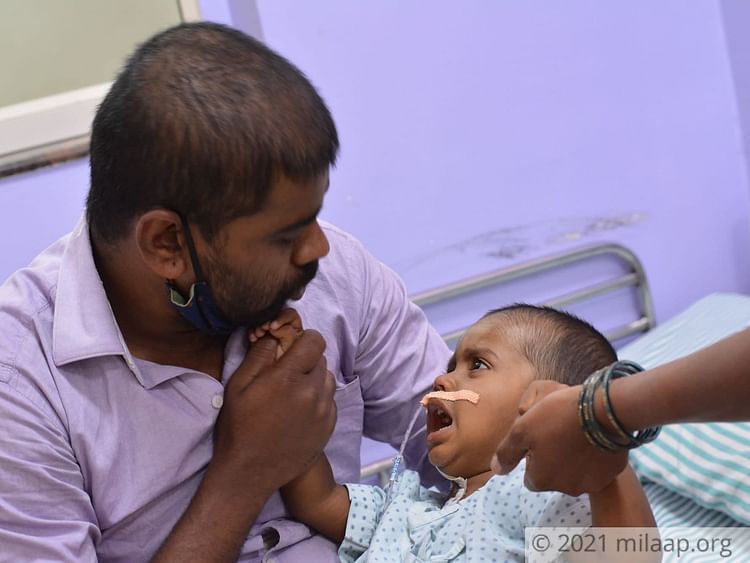 "My husband is heartbroken. Three years ago, he struggled to save his father. Two years ago, he struggled to afford my mother's cancer treatment; she passed away. Then it was my typhoid. When Jagath was born, everything seemed alright.

Jay began working harder…he had big dreams for his child. But look at him now…

" – Nandini breaks down.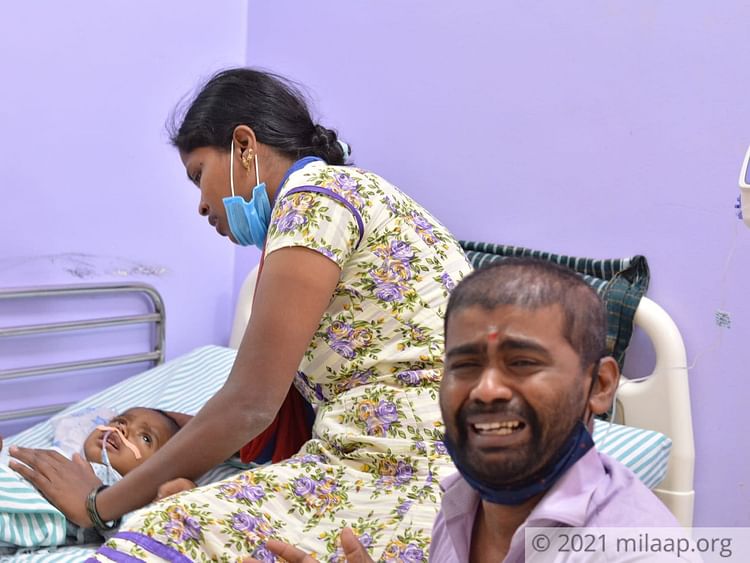 Neck-deep in debts, Jay is struggling to afford his son's treatment
Little Jagath is slowly recovering. With prolonged treatment in the ICU, he has good chances of survival. But it will cost them 11 lakh rupees, and they're helpless. Working as a helper in a small restaurant, Jay Kumar earns Rs.450 a day. He needs your help.


"The past few years have been a struggle. Jagath was only 7 months old when my wife fell terribly ill. She suffered from a severe case of typhoid. They said she couldn't be saved!

With the baby in my arms, I roamed around trying to gather money to treat her. A lakh spent, she finally recovered, but I'm still struggling to repay the loans taken.

Now, it's our son! I have no one to turn to!

I've even sold our house I built after years of struggle. There's nothing left.

Please help us!" – Jay Kumar.
Your generous contribution can save little Jagath and help him celebrate happier birthdays. Click here to donate.