Hemyaa has never been able to experience a normal childhood. While other children were out playing in the sun and frolicking around, this 3-year-old was in and out of the hospital because of a dangerous disease that is slowly draining the life out of her. She doesn't understand what is going on, but she sees what other kids her age are doing and yearns to be like them.

All Lokesh and Kirti wanted was to give their baby a normal life, one devoid of any danger or threat. But the truth of the matter is that Hemyaa has only been able to survive thus far because of the monthly blood transfusions she's had to be given since she was a baby. She has Beta Thalassemia Major, a severe blood disorder and only an urgent bone marrow transplant can get her out of danger.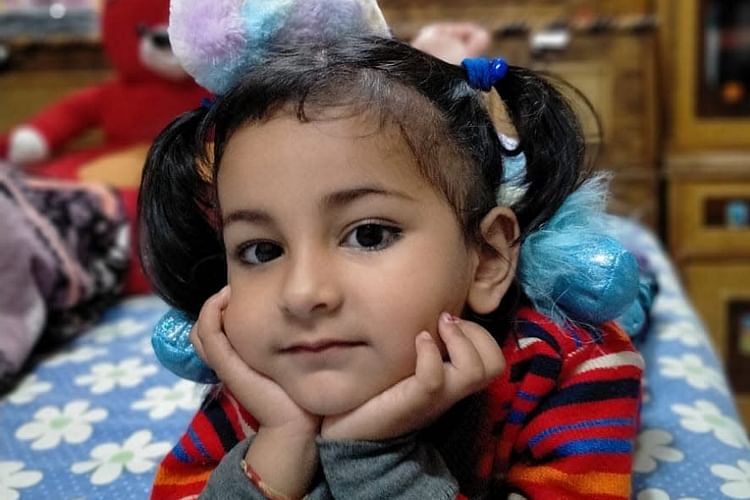 Hemyaa was the couple's little miracle
Lokesh and Kirti had always dreamed of becoming parents, but their journey to parenthood was filled with tragedy upon tragedy.


"In the 10 years that we've been married, we've had to go through so much pain. My wife lost 6 babies in a row, all before they even had a chance to experience life, because of several complications. So when Hemyaa came into our lives 3 years ago, we thanked our lucky stars. She was born healthy with no complications; she was the answer to our prayers. We were elated to finally be a family of three. But then one day our miracle baby developed a high fever that refused to go down no matter what we did. It was when we took her to the hospital and had tests done that we found out that her haemoglobin count was extremely low, and as a result her body wasn't receiving enough oxygen. Our world came crashing down when we were told our Hemyaa had a blood disorder." - Lokesh, father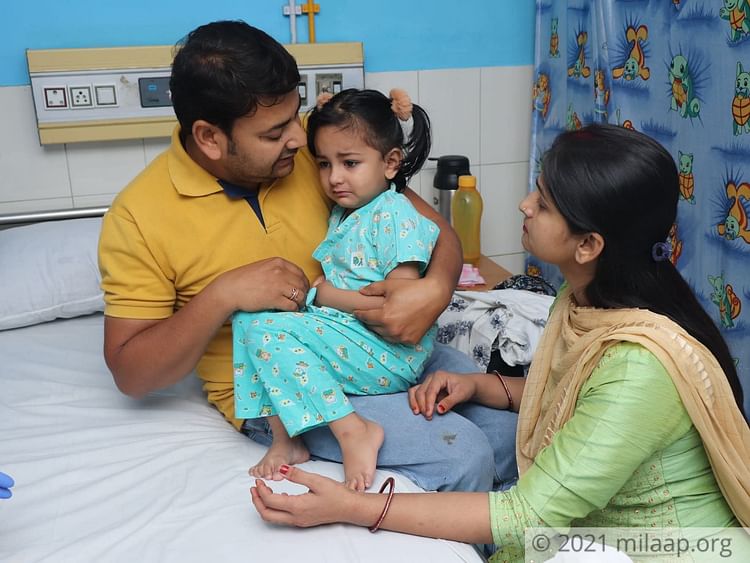 She has had to go to the hospital since she was an infant
Hemyaa was only a 4-month-old baby when she was diagnosed with this deadly disease, and her life after that revolved around frequent hospital visits and medication. The only thing that has been keeping her alive until now is monthly blood transfusions, but not without some complications.


"As a mother my only desire is for her to get better and grow up normally. It breaks my heart to see my baby this way, having to get frequent blood transfusions just to stay alive. She's so little still, and having to go through all this, when her life has barely even begun. If she gets a bone marrow transplant as soon as possible she will be out of immediate risk, and will not have to depend on transfusions that are now starting to become poisonous for her! We've had to endure many losses in life, but we can't lose our daughter. Please help us save our baby and give her a long and healthy life." - Kirti, mother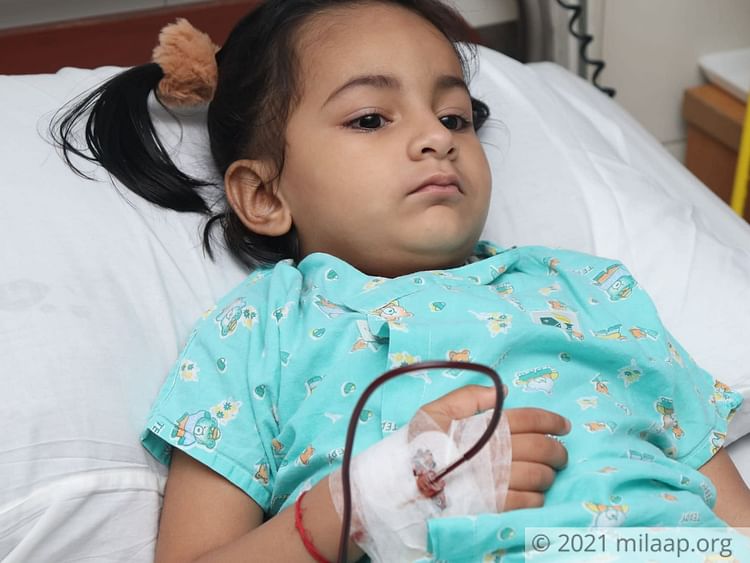 She urgently needs a bone marrow transplant
Hemyaa has made it this far because of the blood transfusions administered each month, but she has iron buildup in her blood which has been affecting her other organs. What she needs is a bone marrow transplant that will eliminate the need for blood transfusions and the expensive medicine to control the resulting iron overload in her body.

Lokesh, a government employee, has used up all his savings over the past 2 years — a total of about INR 8 lakhs — in ensuring his daughter gets the treatment she needs. But now he and Kirti are in a difficult predicament. They don't have the money to afford Hemyaa's bone marrow transplant, which will amount to almost INR 28 lakhs. Doctors have told them that the faster their daughter gets the procedure done, the better it will be for her.

You're their only hope. Lokesh and Kirti want their baby to get better and grow up having a normal life. Any contribution you make will help Hemyaa fight the disease that is claiming her life. Click here to donate!