The scream of Haasinisri echoes through the corridors of the pediatric cancer ward. She must have been playing with her toys, throwing tantrums while feeding and learning to walk. Instead, she pleads with tears at the sight of a nurse with the syringe. Clinging on her mother's shoulder, the one-year-old sheds tears while taking countless injections every day and painful chemotherapies to fight a deadly tumour.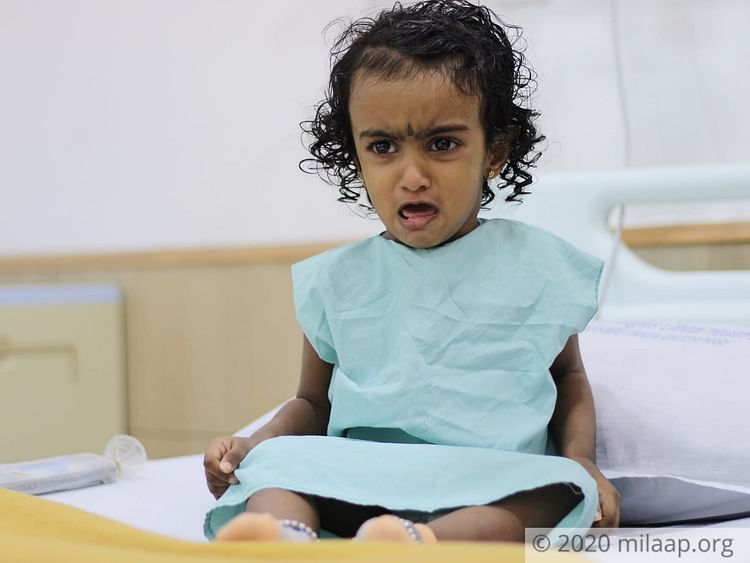 "She was a chubby baby with a little bigger tummy. While doctors told its nothing to be worried, within a month we noticed one side becoming stiffer. We immediately rushed her to the hospital" – Nimisha, Mother


Tests and CT scans indicated Wilms' tumour, a rare kidney cancer that doesn't show any obvious symptoms until it starts rapidly spreading. While there are high chances of recovery, the scans also showed a blood clot in the vein that arises from the tumour and reach the heart.



Clutching her stomach, Haasini cries out in pain every day
"She's all beaten up. Haasini is given blood thinner injections every day to reduce the clot. Since the tumour is too huge to operate she needs four to five cycles of chemo to shrink it. This has almost become a daily routine. My little one has only known pain for the past two months. The sight of her shrieking in pain kills us and what's more miserable is I couldn't do anything to ease her pain" – Sivarama Krishnan, Father


While Haasinisri successfully completed her chemo, the strong little girl is awaiting a bigger complicated surgery to remove the tumour. She might also need bypass surgery if the cloth doesn't resolve. Since she is responding well to the treatment there are high chances of her recovering soon. But the sad part is Sivarama Krishnan is in no position to afford it.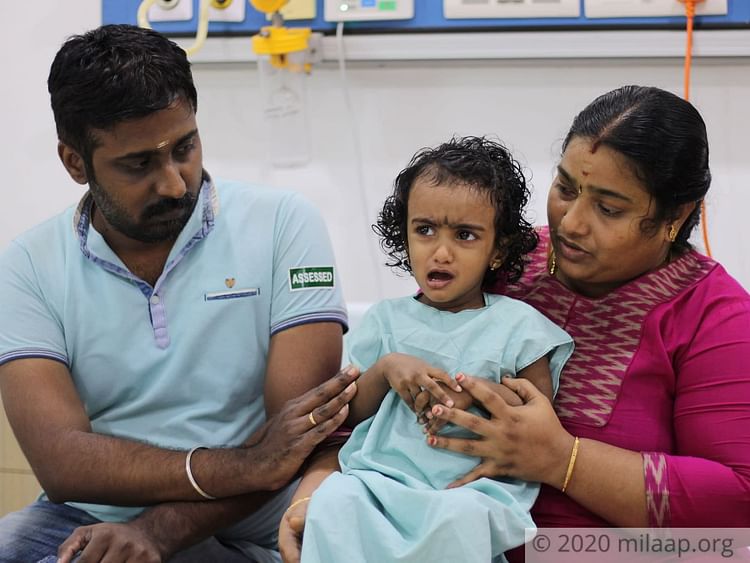 Her life is hanging on a thread, only a surgery can save her
"Over the past few months, from borrowing to selling, we tried every possible avenue to raise funds for medicines and chemo. She has come this far to the final stage of getting well but looks like now I'm failing miserably as a father. I have already spent 10 lakhs and need 15 lakhs more to get her surgery. Please help me save my little ones' life" - Father