"In the last week of April, Divyanshi's condition was so critical that we had to rush her to the hospital in the middle of the night. I was holding her in my arms and when I saw her, it looked like she had no life in her. By the time we reached there, her hemoglobin was down to 3 which was so dangerously low that it could have killed her that day!"- Dilip,father
Divyanshi suffers from Thalassemia major, a severe blood disease for which the little baby has to undergo a blood transfusion every 25 days but it cannot keep her alive for long. She needs a bone marrow transplant to survive.
We couldn't understand what was happening to her
Divyanshi was 7 months old when her parents noticed that her growth was stagnant. She looked extremely weak and pale. When they took her to the hospital, she was diagnosed with the blood disease but the seriousness of the disease was not communicated to them. They didn't know that she needed regular blood transfusions to survive.


"We are not that educated. We couldn't understand what happened to her and now that we do, her condition has become so bad that even blood transfusions can't help her. Has my illiteracy brought my daughter closer to death? If I had known earlier...."-Dilip
She isn't like other one-year-old babies
Divyanshi is their only child and watching her suffer like this is really painful for the parents. The child turned one this month and instead of celebrating, they spent the day praying to God that she survives her disease.


"She is nothing like a one-year-old. She hardly tries to walk or even crawl. As the time for her transfusion nears, her body turns pale, her eyes turn black and swollen. On the day of her birthday too, she went through all of this. Why is God punishing us like this? She is just a baby, I wish this disease happened to me instead." - Sasmita,mother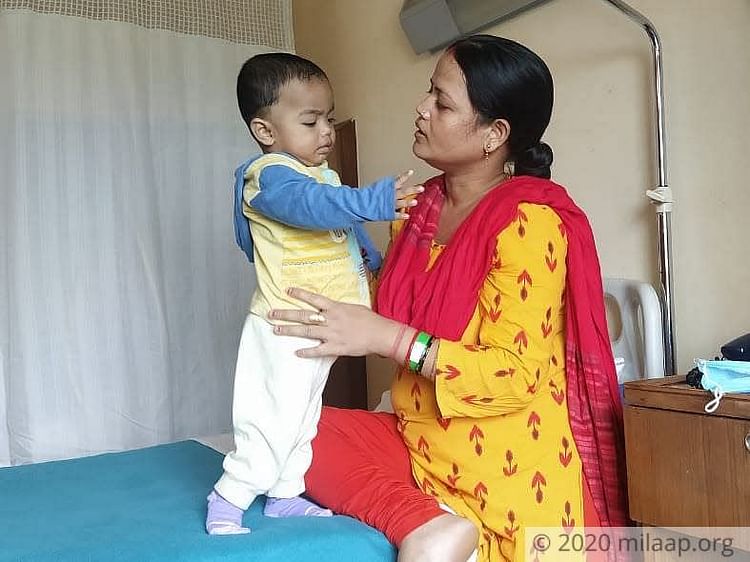 If I can't afford the transplant, I will lose my daughter
Dilip is a daily wage labourer who works as a plumber and since the last few months, he hasn't earned more than a few hundred rupees due to the unfortunate pandemic. Their financial condition is so poor that he has to borrow money even for food.


"We somehow survived all these days. Even though I managed to get work again, my income will never be enough to afford a transplant that will cost me lakhs of rupees? If I can't afford the transplant, I will lose my daughter and I don't want to. Please help me save her." - Dilip
You are their only hope. Your generous contributions can see this 1-year-old from this deadly blood disease. Click here to contribute.