"The only thought I had in mind was to save my son's life from the grips of cancer. I did everything I could and even things I hadn't dared before, like borrow huge amounts of money from anyone and everyone, sell our little home and all our valuables… even those that gave me just a few hundred rupees. Yet, it was not enough and now I'm left with nothing to continue my son's treatment." – Nagaraj, Father

Dhinesh Waran fondly remembers his life outside the hospital when he had the best of his time playing with his brother. He didn't have to worry about exams and tests, and would be enjoying his days while in lockdown. But he had never imagined that in a cruel twist of fate, his life would be restricted to the hospital ward. Dhinesh's father has not been able to see his son during his hospital stay and the 10-year-old is very upset about it.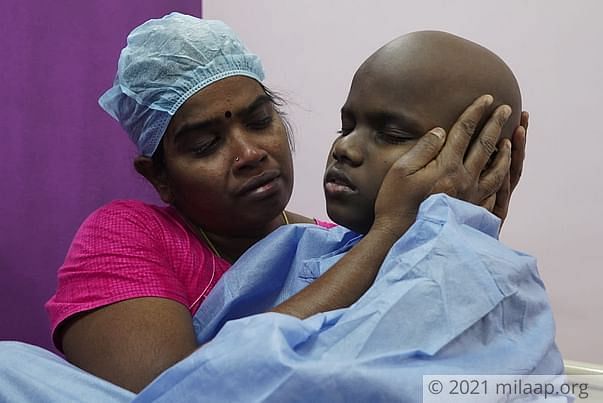 I want to forget that day from my life
"He was all fine until last November. I still remember vividly how happy he was during Diwali, when he got to wear his new clothes and eat his favorite sweets. Within a few days, he had severe ulcers in his mouth and he had difficulty in breathing. When we checked with the local doctor, he told us to take some tests in the city hospital as he suspected a serious illness. I want to forget that day from my life, the day I heard that I could lose my son." – Abhirami, Mother

Dhinesh was diagnosed with Acute Myeloid Leukemia (blood cancer). His condition was very critical and his only chance of survival was a bone marrow transplant. After a major financial struggle, he successfully underwent the surgery in April 2021 with his father being the matched donor. His life is out of danger now; however, he still needs to undergo treatment and ICU care for the next 2 months to recover.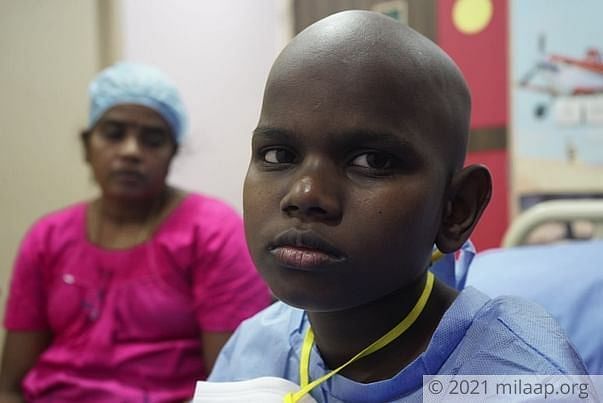 His father is unable to come and see him in the hospital
"My husband is just a coolie and he has no work now because of the lockdown. We arranged 20 lakhs with so much difficulty for the surgery but now we need more money to keep our son in the hospital until he recovers completely. My husband and eldest son are stuck in our village and I'm here alone in Chennai with Dhinesh. There are no means to travel, and even if there were, we don't have the money to bear the travel cost." – Abhirami, Mother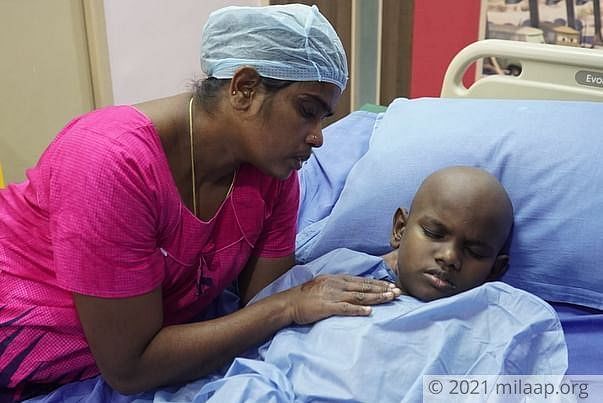 Nagaraj has no source of income to even take care of his family's basic needs. He requires around 8 Lakh Rupees to afford the hospital stay and treatment charges for Dhinesh. He begs for help to save his son so that they can somehow find the strength to restart their lives and recover all that they have lost. Your contributions alone can do t

hat

. Click here to donate.