Deepanshu is 11 years old, but he looks like he may just be 5 or 6. His friends often make fun of him and exclude him from their group, as he cannot walk fast or run while playing.

Deepanshu life is bound by restrictions due to his heart disease.



"He was all fine until he turned 5. Then he stopped growing suddenly. No matter what we fed him or what medicine he was taking, he would not grow taller or show any other sign of development. It is all because of his bad heart." - Krishna Kumar, father
Little Deepanshu suffers from a condition called

Ventricular Septal Defect or VSD.

There is an opening or hole in the wall separating the two lower chambers (ventricles) of his heart .
It took them years to find out about the severity of his condition, now time is running out
After Deepanshu was born, his parents, Krishna Kumar and Rita,

noticed that their baby's skin was unusually blue.

15 days later, it became prominent. Rita also observed that her son could not suckle milk in one breath and would struggle with feeding
. They took him to many hospitals in and around their hometown in Ayodhya, Uttar Pradesh.

"Every doctor just kept telling us that medicines would be enough to treat him. It was only recently that we found out that his heart valves are also weak, and will need fixing along with the hole in his heart.

He needs back-to-back surgery immediately, or he could even lose his life

." - Krishna Kumar.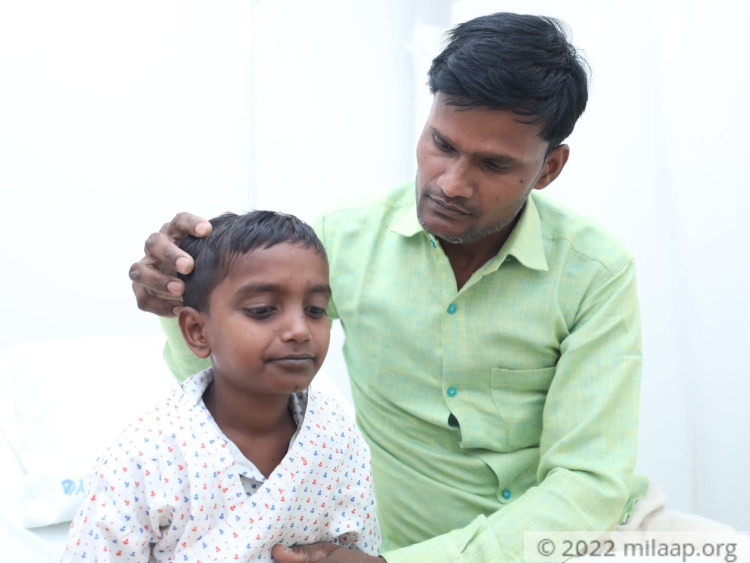 An ordinary farmer, this father does not have the means to save his son
Krishna Kumar makes a living by farming on other people's land, and doing odd jobs around his village. He does not have a stable income as he is not educated. His wife, Rita, is a homemaker who spends her time taking care of their three children, including Deepanshu.

Both Krishna Kumar and Rita were shocked when they came to know that the surgery that could save Deepanshu costs 12 lakh rupees.
"We do not have hundreds with us, forget thousands. How will we arrange lakhs? Life is so cruel to poor and helpless people like us.

Without your kindness, we might even end up losing our son

."- Krishna Kumar, father.
These parents are in dire need of your help and support. Click here to contribute and save Deepanshu.