"Every time I look at the 6-inch stitches on my child's stomach, I can't help but think of the pain my son is going through. His stomach is getting bigger with each passing day. I fear that it will only increase my child's suffering and I can't tell you how angry and helpless I feel right now, unable to do anything to make him feel better or save him." - Devyani, mother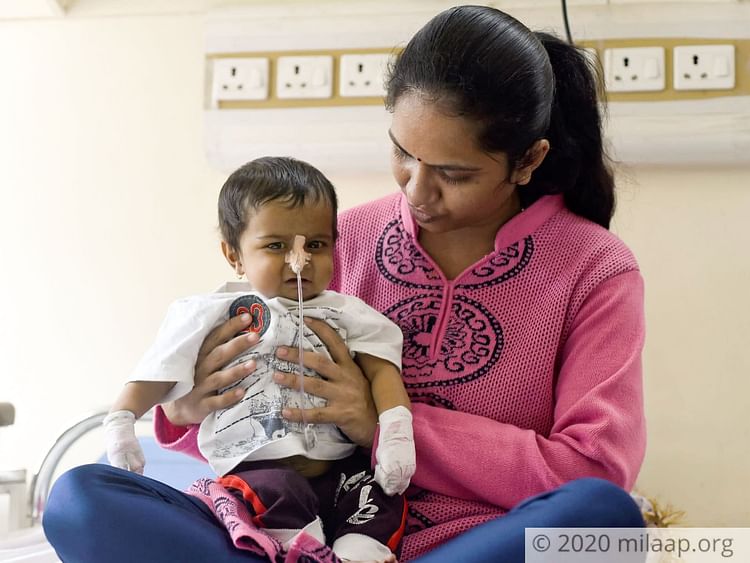 This dangerous disease is killing my child slowly
Having a baby is a blessing but watching the baby in pain every day is a curse. Devyani and Mayur feel cursed as they are watching their baby boy suffer for months.


"Just a few months after he was born, I noticed that his eyes and his body were turning yellow. He had jaundice and no medicine helped him recover. We could see him getting weaker and pale but we didn't know there was such a dangerous disease hiding behind it and killing my child slowly. Only after his bile duct surgery, his liver condition was diagnosed. He is just 7 months old and is struggling to survive." - Mayur, father
His liver is failing, he needs an urgent liver transplant
Daksh suffers from Biliary Atresia, a condition in infants in which the bile ducts outside and inside the liver are scarred and blocked. Bile can't flow into the intestine, so bile builds up in the liver and damages it. This little child's condition is very severe. There is only one cure to his disease- a liver transplant and he needs it now.


"Since the last 4 months, I took my child to so many hospitals and he underwent so many tests that I have lost count of it now. This whole time I kept running here and there, asking everyone I know to lend me money but now, I am unable to keep up with the expenses anymore. I don't have any money left. If we can't afford this transplant on time, we will lose him and I don't want to lose him." - Mayur
We are just farmers who earn once in a few months
"We are farmers. It is only once in 3-6 months that we earn some income and that too we have to use very carefully till the next crop yields. We were happy with whatever we had but now nothing seems to be enough to save my son's life. How will we ever be able to afford lakhs of rupees?" - Devyani
You are their only hope. Your generous contribution can save this little baby from a failing liver. Click here to contribute.