It was half past five on the evening of Raksha Bandhan. Mukesh was on duty as the building watchman when he suddenly heard a young girl screaming. A second later his blood ran cold; he recognized the voice as his daughter's.
Moments later he found her running down the stairs, and his fear only grew when he saw her tear-streaked face.
"Bhaiyya fell... Papa, bhaiyya fell from the terrace!"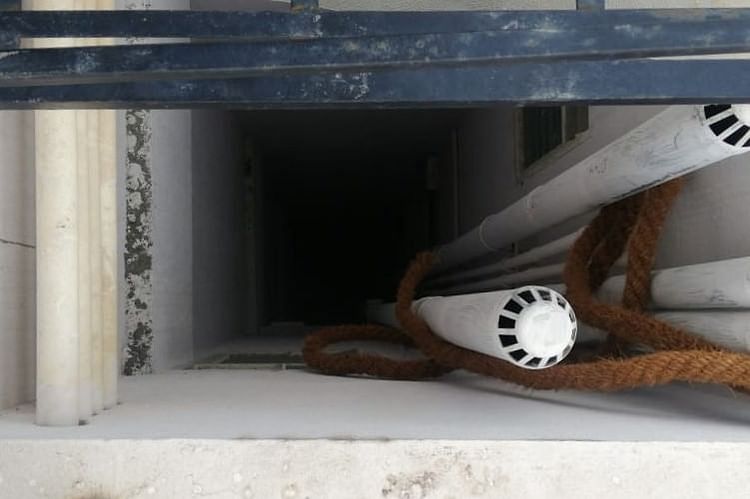 The shaft into which 5-year-old Bibek fell
They were terrified they had lost little Bibek
"Apparently, the children were playing on the terrace and Bibek slipped and fell down the building's ventilator shaft,

from a height of 5 floors!

Thankfully, just a few days ago we had started repainting the building, so there was a painter with us on the premises. He was able to use his rope to climb down the shaft and rescue Bibek. My boy was down there for 20 minutes...

By the time he got out he was barely conscious. His hands and the bottom of his face were cut up, his back and legs seemed broken, and the right side of his body was covered in wounds and bruises!

"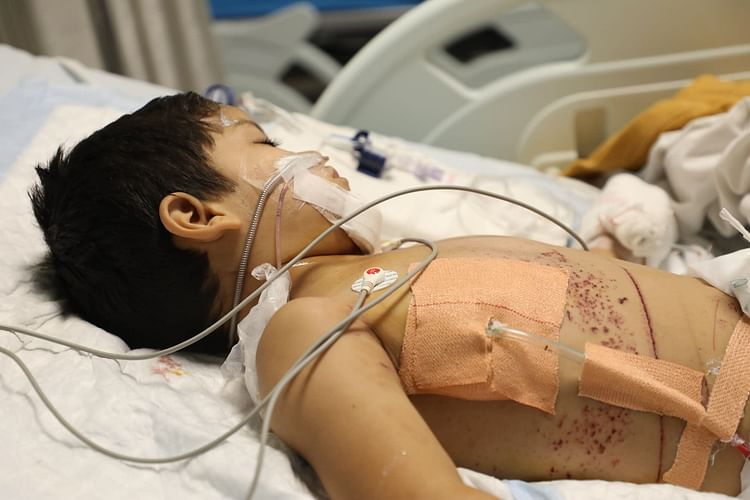 It's a miracle that Bibek survived at all, but he's still critical
The half-hour journey to the hospital had felt like hours to Mukesh and Hema. But worse was the news they got from the doctors after little Bibek underwent a few hours of emergency care and scans. While it was a miracle that he survived at all, his condition was still critical. The poor 5-year-old had fractured his spine and both his legs, severely damaged his lungs and liver, and suffered terrible damage to his brain. Without urgent surgery and treatment in the next 24 hours, this little boy will die.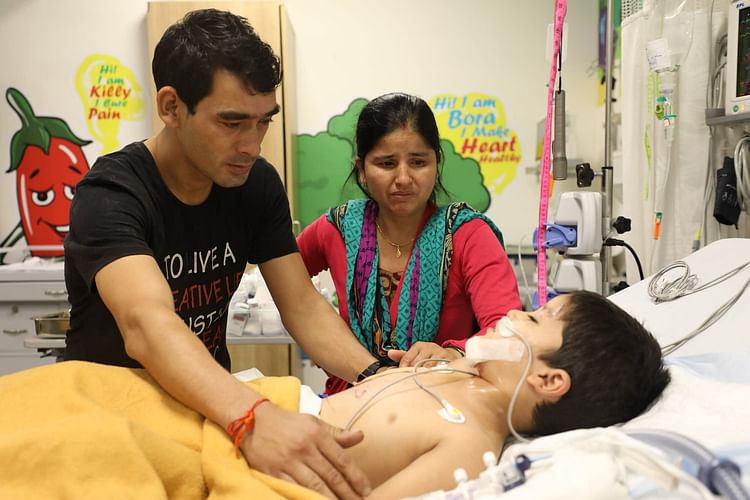 He needs surgery in 24 hours, but these parents are helpless
"I'm just a watchman, and Hema is a maid. We live in the building where this happened. Bibek's surgery will cost 10 lakhs or more! How will we arrange so much?! I don't know what to do. I don't even know what to say when my daughter asks when her brother will come home. She was already heartbroken when I told her the doctors had to cut away the rakhi she had tied on his wrist. What will I say if... if he never gets to come home!? Please, you have to help us. Help us save our little boy!"