"20 days ago, we were at home, enjoying our meals and watching our favourite television show. Everything changed in a matter of minutes. My active, little girl is bedridden, with her body attached to machines. She is struggling in the ICU for her life and all I can do is watch her suffer. I wish I could take away her pain." - Mounica, mother

5-year-old Bhavishya suffers from Chronic Liver Disease. Her condition is critical and getting worse each day. Her liver is failing and without an urgent liver transplant, she won't be able to make it.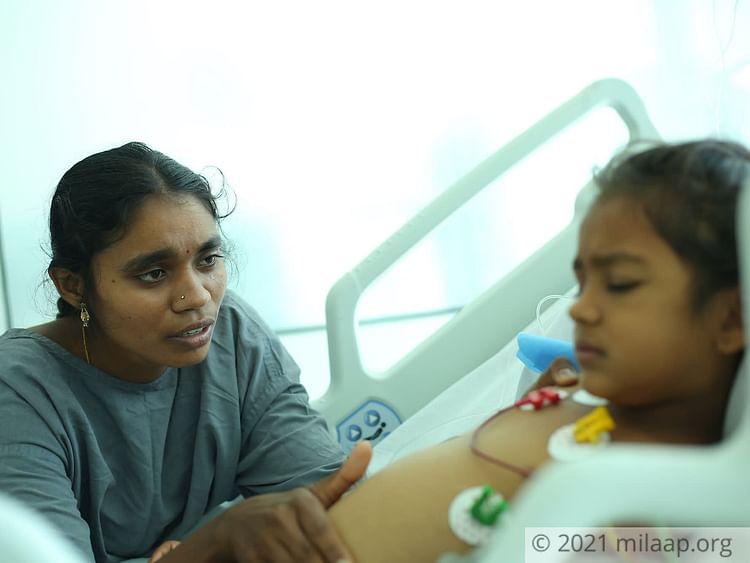 The truth left these parents devastated
2 weeks ago, Bhavishya woke up with severe vomiting and fever. Worried, her parents took her to the nearest hospital where tests suggested it could be Jaundice. They had to visit several hospitals to know the actual ailment and when they did, it left them devastated. They didn't want to believe that their child was on the verge of dying.


"Our girl was full of life. Her feet would never stop, she loved roaming in the village and playing with her younger sister. Looking at her like this on a hospital bed, crying in pain and begging for help, is killing me." - Mounica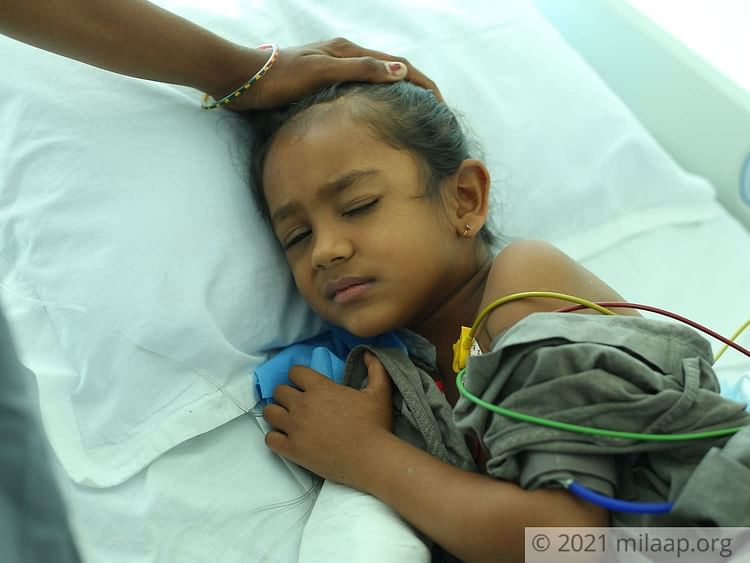 The constant thought of losing her is keeping them awake at night
"She has never been sick before, just a little fever or cold like we all get sometimes, and now she has a life-threatening disease? Ever since I came to know about this, I am terrified of losing my daughter. And my poor wife, she has stopped eating food properly, the constant thought that something might happen to her is keeping us awake at night." - Nagaraju, father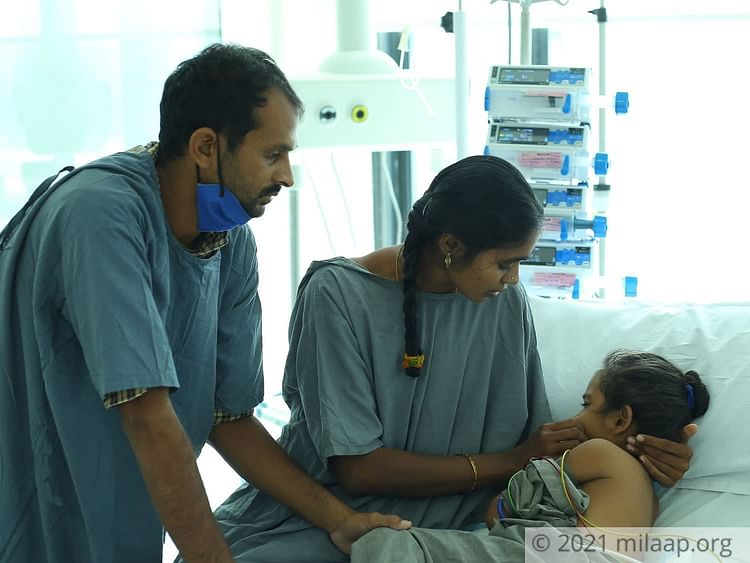 The transplant that can save Bhavishya's life is beyond their means
"My husband and I, we are both daily wage labourers. It is only when both of us work that we are able to run the house smoothly. We know how difficult it is to live without proper education and a job, so we wanted to give our children the best we could. But right now, I am unable to save my girl's life, let alone watch her grow to become something." - Nagaraju, father
"We are trying our best to take a loan for some money, but people ask us questions like ''How will labourers like you repay us?'. And they are not wrong; 20 Lakhs is beyond our means. We will never be able to earn so much, even if we work our entire lifetime. We are helpless." - Mounica
Only you can save this little girl now. Your contributions can make a lot of difference to them. It can give a second chance at life to their daughter. Click here to contribute.