"They told us that our son had some sort of blood-related condition called Thalassemia. At the time, we had no idea what it was. Coming from a small village in Maharashtra, we had never even heard of such a thing before. We were shocked and terrified to learn about this. They said only blood transfusions could help him, and since then, everyday has been a constant battle to keep him alive."

- Savitha, mother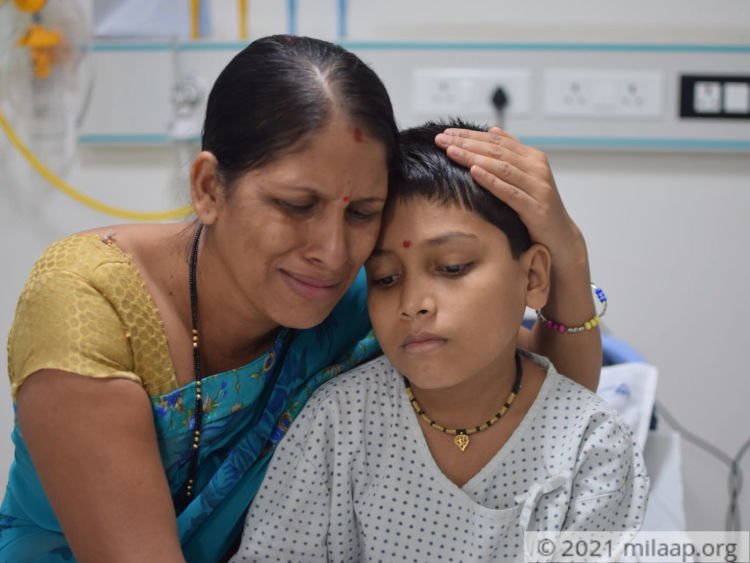 At the tender age of just 3 months old, Bhavesh was diagnosed with

Thalassemia Major

, an inherited blood disorder characterised by low levels of haemoglobin in the blood. When the little boy had a recurring high temperature that wouldn't subside even after consulting local doctors, his parents were asked to take him to a bigger hospital. Through tests, they were able to determine the cause of Bhavesh's discomfort.
Thalassemia results in a large number of red blood cells being destroyed, leading to anemia. For the past 11 years, Bhavesh has had to undergo regular blood transfusions to stay alive. It started off with one transfusion a month, but as he grew older the need increased. Now he requires at least 3 transfusions a month, and it has taken a huge mental and physical toll on Bhavesh.
His condition deteriorated suddenly and they thought they would lose him
"Earlier this January, he had just begun his online classes, when he fell severely ill. We had to rush him to the hospital in critical condition and he was admitted in the ICU for over a month. The doctors advised that he take a break from school, because the added pressure and stress of his studies was causing his health to worsen. He was really upset over that, because he loves school. He hasn't attended his classes for a year now..." - Savitha
Bone marrow transplant can end his suffering, he needs your help
Because of his weak body, Bhavesh has never had the opportunity to enjoy a normal childhood.
His whole life has revolved around hospital visits and medicines. It has gotten to a point now where the blood transfusions are no longer a feasible treatment option. His only option now is a bone marrow transplant, but it is an expensive procedure that his parents are struggling to afford.
Sudhakar is an employee at a small private agency. But as the sole breadwinner, his income is not sufficient to support his 4-member family and meet his son's medical expenses. INR 10.5 lakhs is an exorbitant sum for him to bear, but his son's life depends on it. So, he is turning to you, with hopes that you can help him save Bhavesh.
"He's seen us struggle with money, and sometimes we'd fall short of it during his treatments. He would often say to me, 'Papa I know it's so hard for you. I'm sorry. Sometimes I think I'd rather die than watch you go through such a difficult time because of me..' It kills me to hear him say this." - Sudhakar, father
Your contributions will mean a great deal to this family, who only wish to see their little boy grow up happy and healthy. Click here to donate.