He still smiles and laughs most of the time, stopping only when the pain — either from the chemo, or from his swollen throat — gets to be a little too much. The other day I asked him if he was sad that he was losing hair. And he said no, smiling brightly!
"No, I like it! It makes me look older. Maybe I can get a job now, so we can earn more money."
Why is such a sweet and innocent child going through this?! Why does he have cancer?!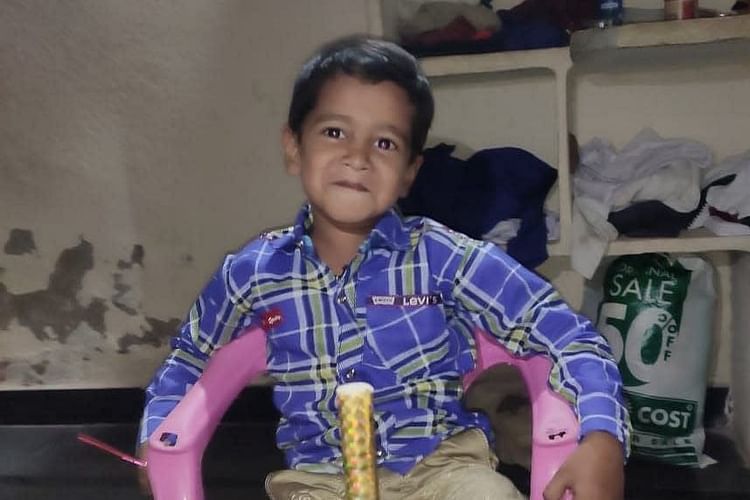 Balu, now 5, started showing unusual symptoms nearly a year ago — the occasional fever that was hard to get rid of, a cough or cold here and there. At that time, his parents had no reason to suspect the devastating truth behind it all. They would take him to a local doctor, who would give him some medicines, and that was that. But a few months ago, Balu's throat started swelling painfully, and he started coughing a lot. Each time he coughed, the pain would spike, and the veins in his throat would stick out to an alarming extent. When they took him to a city doctor, her response scared them. She asked the concerned parents to take their son to a cancer specialist.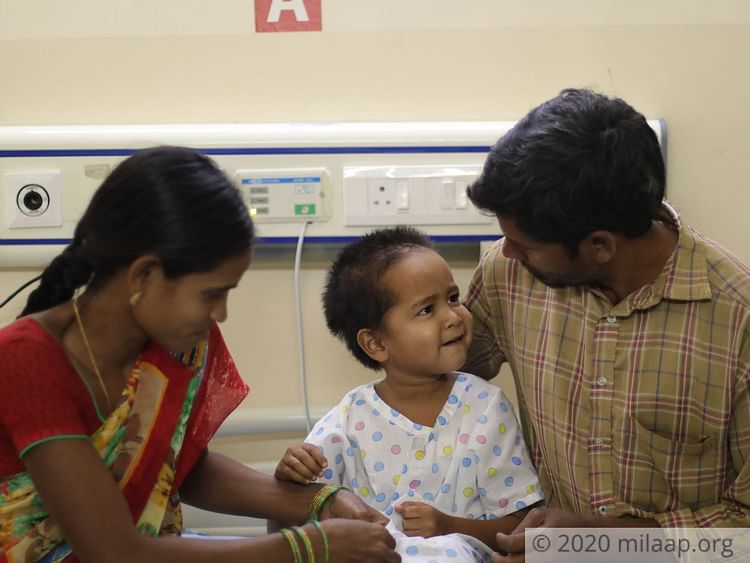 They hoped against hope it wasn't cancer, but the reports made their worst fear come true
"We're not educated, we don't really know what 'cancer' exactly is. But we've heard of it. Who hasn't?

It's this big, scary, disease that kills people.

So when the doctor said to take our Balu to a cancer specialist... we were scared out of our wits. The specialist prescribed all kinds of tests and scans, and we got them all done. When the reports came a week later, we hoped against hope that that wretched word wouldn't be anywhere in it, but the doctor... The doctor took one look at the reports and said my child has cancer... and very little time left. We had to put him on chemotherapy urgently."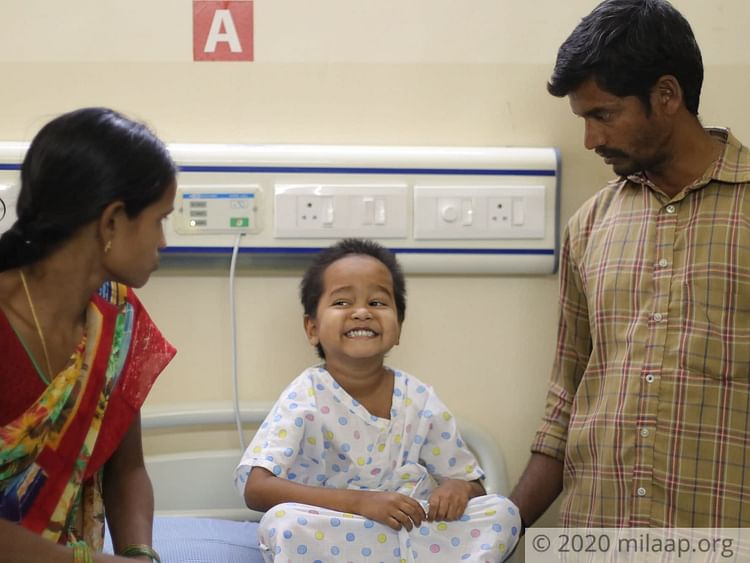 Ramu wants to save his son but he's helpless
"Mine is a family of dairy farmers. My grandfather was one, and so was my father.

Before my father retired due to his age and health problems, I inherited 6 buffaloes from him, which were born to the buffaloes of his father's time. A few weeks ago... I had to sell them all to afford my son's urgent chemotherapy. It broke my heart, but my son's life was more important.

And yet, it still wasn't enough! I had to borrow money from relatives as well! Now it's time for him to continue his full course, but I have nothing left. They're saying the next round needs to happen within a week, but how can I afford such a huge amount in such a short time?!"

Ramu needs 20 lakhs to afford his son's treatment now. With his buffaloes gone, he can barely afford to feed his family, much less afford his son's cancer treatment.


Although the urgent chemo helped, Balu needs a full course to make it
It took Ramu nearly a month to gather enough funds for that initial course of chemo. After it was completed, the swelling in Balu's throat came down a lot, but the veins still stick out unnaturally when he coughs. It's the only time when little Balu's usual smile vanishes, replaced by a grimace of pain and fear. Still, his doctors were very pleased by how much of a difference just a little chemotherapy did. They are positive that a full course of steady chemotherapy and other treatments will all but ensure that Balu is rid of his cancer once and for all. His diagnosis doesn't have to be his death-sentence.

He has a second-chance at life... if his father can afford the cost.



You are this family's only hope now. Click here to contribute towards Balu's treatment.