"I got a call from the doctors that day, stating there was an emergency and that they must deliver the baby immediately. The baby's life was in danger and so was my wife's, there was a chance I could lose both of them, they said. I was devastated. I did not understand what was going on" – John Periyanayagam, father.
Hardly a month old, Kavitha's baby is in the NICU, barely surviving with tubes and needles clipped to her premature limbs. Weighing no more than 960g, each day is a battle for her. But the fighter that she is, she can recover with prolonged treatment. However, her parents can't afford it anymore and they're afraid they'll lose her.
A soaring BP, swollen hands and legs, took Kavitha straight to the ICU
Kavitha was only 7 months into her pregnancy, when one day her BP shot up. Days went by, then weeks, and no medication could bring it down. With her face, hands and legs swelled up, she was rushed to the hospital.


"Having begun treatment, the doctors said they'd attempt to push the delivery by 3 more weeks. I was relieved, and left for work. Once there, I got a call saying her BP hadn't stabilized and any more delay would result in the loss of lives! I never thought our baby's delivery would happen this way. Luckily, both of them survived. I held her in my hands, she was so fragile after. So small. Almost a month later now, our baby girl still battles death in the NICU." – John.
The baby's health began deteriorating soon after birth
Being extremely pre-term, Kavitha's baby has been undergoing treatment in the NICU. She struggled to feed, and lost a lot of weight. Her organs still undeveloped, she was fighting for life.


"She was the size of John's palm! When she was admitted, we were told it was impossible to judge the condition of the baby. She was critical, underdeveloped, and weak. Such babies survive sometimes, and sometimes don't, they told us. It knocked the breath out of us! She would vomit all the milk she drank. She was being fed through tubes. It was painful to witness it. However, she seems to be doing better now, but we're afraid to even hope, because we can never afford her complete treatment!" – Kavitha, mother.
We want to save her, but were do we get 6 lakhs from?
John works as a data-entry operator at a firm; and Kavitha as a ward secretary at a hospital. Together, they earn just enough to keep their household afloat for another month. The estimated cost of the baby's treatment amounts to 6 lakh rupees, and they have no other sources of income.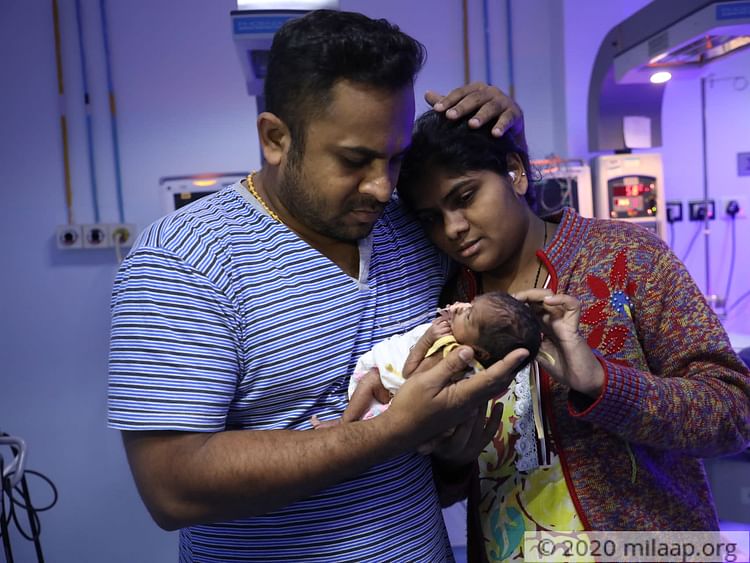 "If I miss a day at work, I miss a day's pay. There are no leaves. It's a struggle now. Because it's a girl, we had relatives telling us to not spend so much money on her, and to just bring her home! Such negativity makes us feel terrible, because she's our child, our daughter. We want to save her, come what may! Now nobody talks to us anymore, nor picks our calls; they're afraid we'll ask them for money. We're surrounded by all kinds of problems, with nothing to help us! Please help us save our baby!" – John.
The couple have been struggling to save their new-born and take her home, somehow or the other. Your contirbution can help them succeed.