"Earlier she would move her fingers and toes when we spoke to her, as if she was trying to respond to us and let us know she was listening. Now, she doesn't even do that when we call out to her. The doctors tell us that because of the infection in her brain, she can't recognise her mummy and papa anymore."


- Arun, father
Radhika (L), Radhika with her little brother (R)
She suddenly fell to the ground and suffered a seizure
6-Year-Old Radhika Amrutkar has always been a jolly and energetic child. Extremely outdoorsy, the little girl had been playing with the other kids in the neighbourhood one evening, just last month, when she suffered a seizure.


"I was watching her play with the other kids, when she hopped towards me saying 'Papa, my leg is paining'. I thought it was just a normal leg pain, and told her to sit down for a while and wait it out. When she went back to play with her friends again, she suddenly fell to the ground and her whole body spasmed. Scared, I immediately took her to the hospital."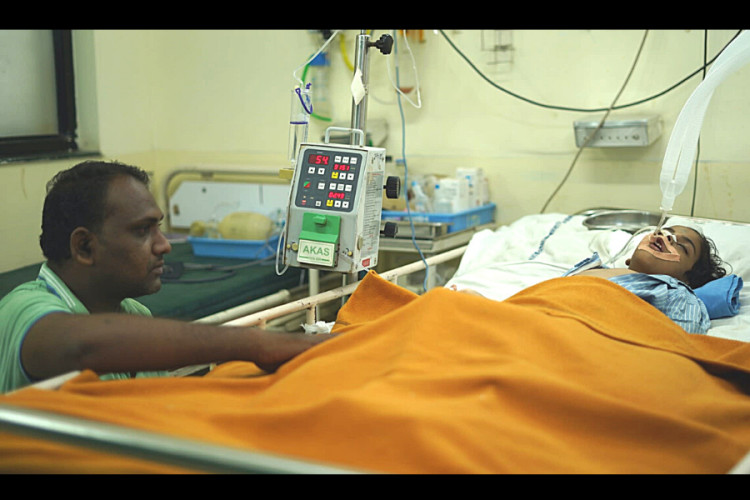 Radhika remained in a hospital in Pune for 3 days and was discharged after her seizure subsided. But only a few days later the seizures returned and when her condition showed no improvement, she was shifted to a hospital in Nagpur.


"I have never felt so scared in my whole life. I remember her being wheeled into the PICU and pacing the floors outside of her ward, waiting for any sort of consolation that my daughter will be fine. Instead, we were told that she had an infection in her brain…"
Her immune system is attacking her brain, she doesn't recognize us anymore
Radhika was diagnosed with Autoimmune Encephalitis, a condition where her immune system is attacking her brain, causing an infection. It is progressive disease and also has the tendency to relapse after remission. Without medical intervention, it can become very serious leading to a coma, brain injury and in rare cases, death.

For almost 20 days now, Radhika has been unconscious in the PICU. With every passing day, the infection attacking her brain is causing impairment in her memory. She doesn't respond to her parent's calling out to her, as she is unable to recognize their voices. Her mother, Mamtha, is inconsolable and sits beside her daughter's bed crying bitterly, praying for her recovery.


Without a source of income, her father is unable to save her on his own
Radhika will only be able to recover from this dreadful disease with prolonged treatment, which comes at a steep price of INR 6 lakhs. The sole breadwinner in his family, Arun used to work at a college mess hall, but because of the pandemic, he has been out of work and left with no proper source of income. Currently, Radhika's treatment consists of expensive injections and medicines, and her father spent over INR 3.5 lakhs to pay for it. But now after exhausting all his resources and borrowing from friends and relatives, he's left with no way to save her by himself. He needs your help.

Radhika's little brother is eagerly waiting for her to come back home and play with him again. These parents have gone above and beyond their means in an attempt to save their daughter, but their efforts have not been enough. Now, they hope that you will be able to save Radhika with your generous contributions. Click here to donate.