"She is barely a month old and every day we see her head getting bigger and bigger. My little girl must be going through so much pain, as she cries endlessly, unable to sleep peacefully even for a few minutes.

If this continues, we could lose her soon

…" -Santosh, father
Santosh and Vidya's 1-month-old baby girl suffers from post-infectious Hydrocephalus, accumulation of fluid within the cranial cavity, causing immense growing pressure in the baby's head.
Their happiness dissipated with their baby's diagnosis
"I was going to have a full-term delivery. Everyone in our family was super excited to welcome not just one but two new family members. But just after I had my twin girls, one of them was rushed to the ICU as she couldn't breathe properly. She was on ventilator support for a few days and then we came home thinking everything was absolutely fine. But we were so wrong. My baby is fighting for her life, now." - Vidya, mother

The parents returned home to a celebration, but the happiness didn't last long. Their baby's eyes started rolling back in the head. Terrified, they rushed to the hospital again and there, they learned about the baby's condition.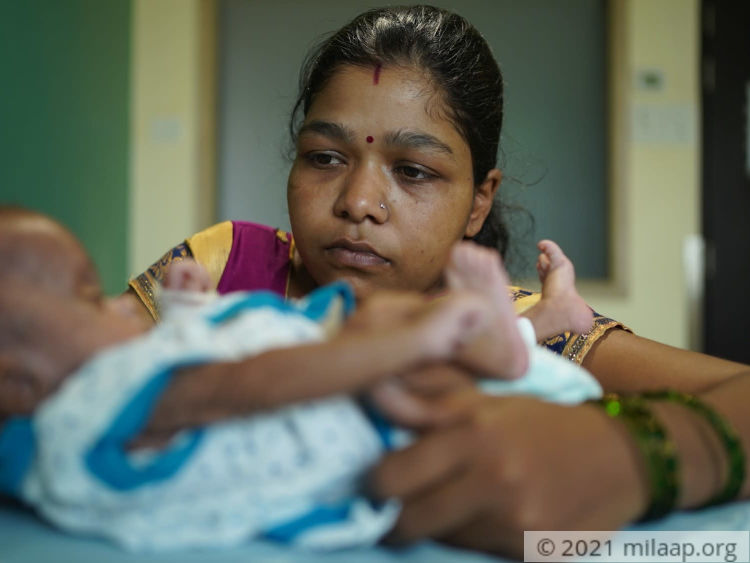 She needs urgent brain surgery
"My wife just collapsed on the floor, crying for hours when she realized our baby is critical and needs surgery as soon as possible. I ran to every person I knew to lend me some money for the treatment.. But no matter how hard I tried I could gather only a few thousand rupees. For a poor person like me, arranging 8 lakh rupees is just unimaginable! Yet, I am doing everything I can..." -Santosh

With each passing day, their baby girl's head is growing bigger and testing the poor baby's will to live. Without immediate surgery, the little one might succumb to this deadly condition.


Only a small farmer, this father can't afford the cure
"My daughter is a warrior, and I am the one that's too weak to fight now. It is getting so hard to even afford food. I don't know how I will continue my child's treatment with no money. We are in desperate need of yout help to save our child." -Santosh
Help this baby girl survive this painful condition. Your generous contribution can help them save her. Click here to contribute.