Dilip and Shubhangi Patil had always dreamed of being parents, and they had no doubt in their mind that one day it would come true. They constantly told themselves that it would happen when it had to, and 14 years after they'd married, the time had come. The couple learned they were to be parents to twins, but they had been blissfully unaware of the tragedy that would soon befall them.

The twin baby boys were born premature, at only 7 months old, and had spent every moment since in the NICU. They were diagnosed with late onset sepsis and respiratory distress. Unable to fight anymore, one of the babies succumbed to the illness, while the other is still not completely out of danger. He needs to remain in the NICU for at least another month, but his parents cannot afford his treatment.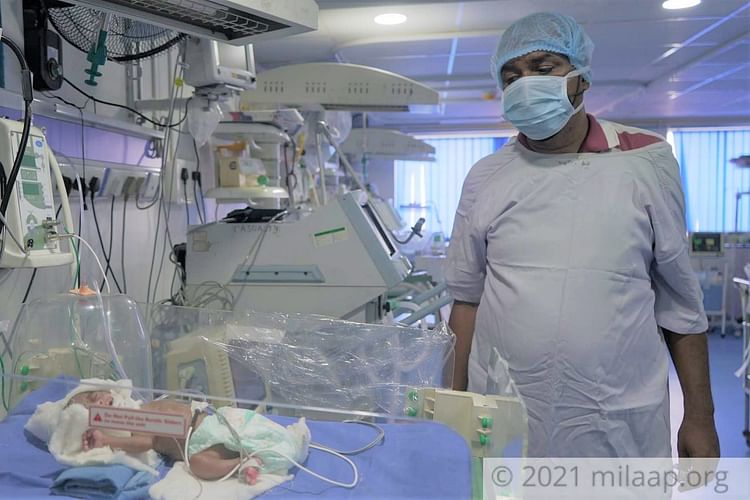 Shubhangi's water broke when she was only 7 months along
The news of Shubhangi's first pregnancy had come as a silver lining in the dark cloud that the pandemic-led lockdown had cast over them. She and her husband, Dilip, had been over the moon when they found out they were having twins. But on a fateful day in April, about two months away from the day she was due to give birth, Shubangi went into early labour.


"She woke up at the break of dawn complaining of sharp pains in her stomach. I started to get a little concerned because she would hold onto her swollen belly and breathe heavily. Only a few minutes later, her water broke and the pain intensified, so I rushed her to the hospital. I didn't know what was happening or what to expect. She wasn't supposed to give birth until July; it was too early! But less than two hours later, our baby boys were born through c-section and we did't even get to meet them. They were immediately taken to the NICU and the doctors told us they couldn't breathe on their own…" - Dilip, father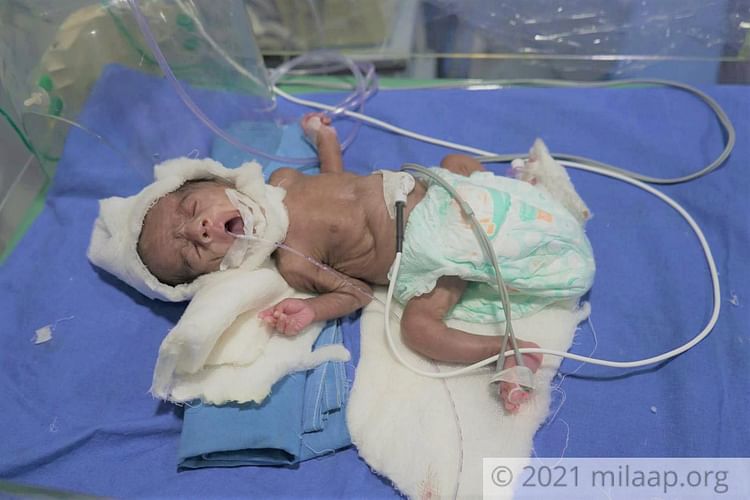 One of their babies didn't make it
For months, the couple had been preparing and awaiting the arrival of their bundles of joy. As soon as they were born, however, their baby boys were diagnosed with late onset sepsis (blood infection occurring in newborns), respiratory distress, and seizure disorder. But one of the babies had it worse than the other. He couldn't hold on for long and died less than two weeks after his birth.


"Our babies were only a couple of minutes old, and I had to watch from behind a window as they were hooked onto various machines and tubes to stay alive. I felt so helpless and heartbroken at that moment. I couldn't understand what had gone wrong. Throughout her pregnancy, my wife's scans came out normal, and the doctors never detected any complications. I don't know why this happened to us. All we wanted was to be parents to our healthy baby boys, but now…"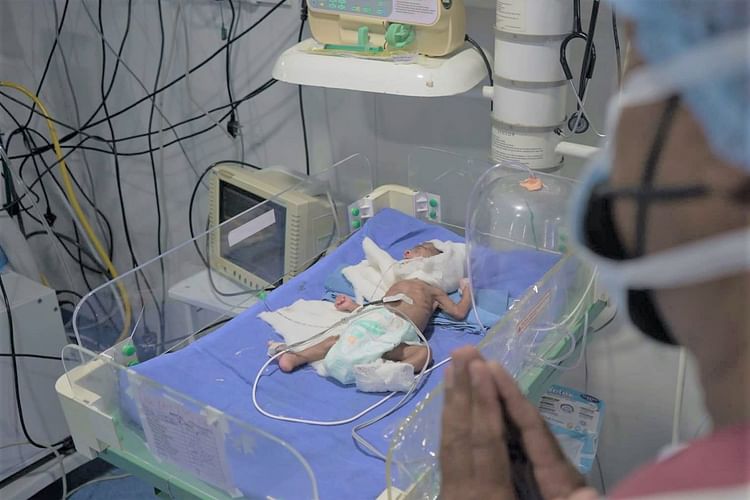 Their baby boy needs continued NICU care, but his parents cannot afford it
The couple is still grieving the death of one baby, but they refuse to give up on the other. Shubhangi is indisposed as well, after testing positive for COVID, and hasn't been able to see her son. Their baby needs to remain in the NICU for another month to make a full recovery, but Dilip has no means to pay for his little boy's treatment. The owner of a cycle spare parts shop, he's been struggling to make ends meet as the pandemic has put him out of work.


"This has been a painful and extremely difficult time for us. We lost one of our babies, but the other is still fighting to survive. He looked so small and fragile when he was born, but we can see that he's getting better slowly. Our little boy is a fighter, and I have been doing all I can to save him. I have spent about INR 4 lakhs in borrowed money so far, thankful that my relatives and friends have been able to help. But now, I am left with nothing; it is very difficult for me to afford his treatment. I can only hope that you will be able to help me now…"
Dilip and Shubhangi need your help to save their only baby boy. They've waited their whole lives for him and now that he is here, he is clinging to his life by a thread. Any amount you contribute will help them afford the treatment to save their baby. Click here to donate.