We just went in for a normal checkup. It was my seventh month, and I felt completely fine! There was no pain, nothing at all. So when the doctors took one look at my scans and rushed me to the operation theater, I was scared out of my mind!
They said my twins were dying! I needed an emergency c-section!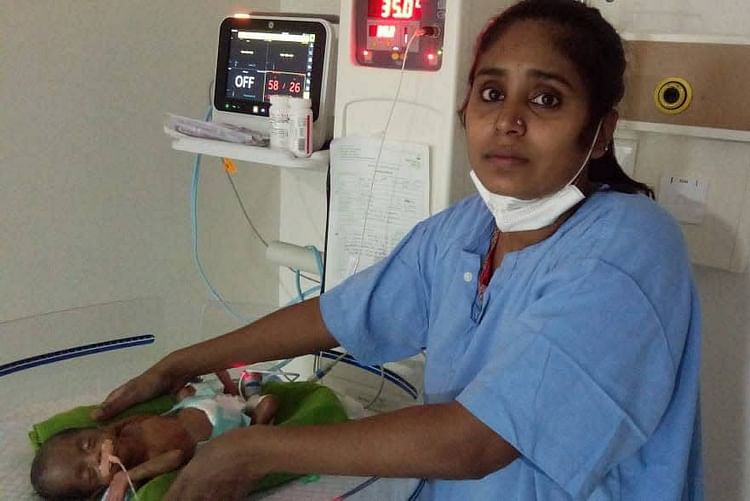 Shilpa's actual due date was scheduled for June 6th, but on the 31st of March she had to undergo emergency surgery to give birth to her twins, a boy and a girl. As the doctors feared, both babies showed extensive blood-circulation issues, and severe respiratory distress. If they hadn't gotten delivered when they did, both babies would've passed away in their mother's womb itself. Shilpa and Jagannath feel blessed that they we were able to save them that day, give them a chance. But, unfortunately, that's all it was: a chance to fight. Both children were still in a lot of danger, and the road ahead was long.
The twins needed life-support from the moment they were born
Shilpa and Jagannath's twins were just around 750 grams at birth. As soon as they were delivered, they were rushed into the NICU, where they were put on ventilator because their lungs were highly undeveloped.
"They looked so small... I didn't know babies could be that small. And so fragile!

It looked like even a small bump could break their bones. We weren't allowed to touch them because of how weak they were, but even if we were, I think I would've been too scared...

" — Shilpa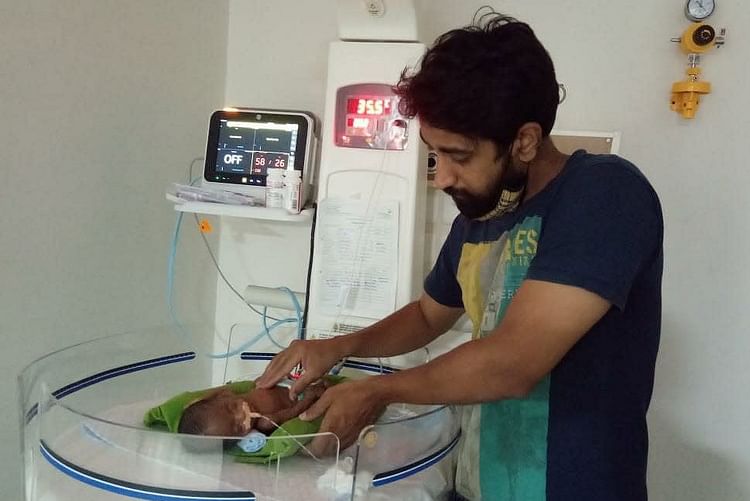 One twin has recovered, but the other is still critical
"Our son's condition wasn't as bad as our daughter's. So after a month in the NICU, we were able to take him home. But

our daughter's condition is still critical, even now. Though her weight has crossed 1kg, that's still too little. Though I can touch her now, I still can't carry her!

I spent half my time at the hospital now.

I feel so torn. I want to play with my son, hold him to my chest, but every time I do I think of my daughter back at the hospital and it just...

I don't know what to do!" — Jagannath, father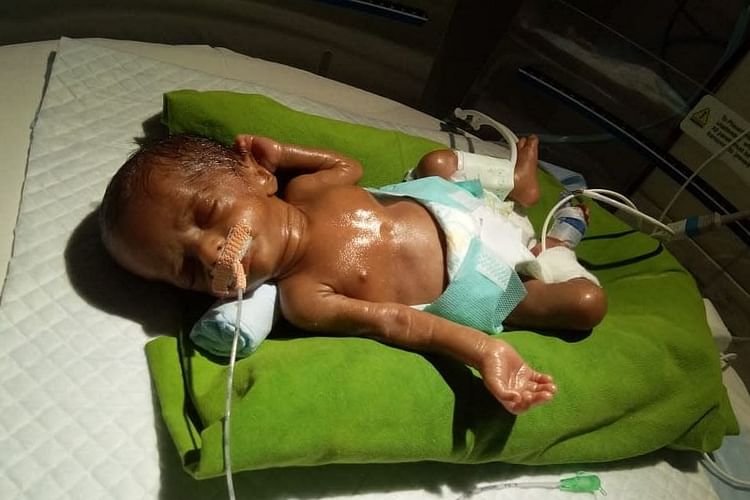 Her father can't afford her care anymore
As a smalltime graphic designer, Jagannath only ever earned around 10-12k a month. Just enough to take care of his wife and aging father, and set aside a small sum for when the babies arrived. But over the past few months he has spent over 8 lakhs, using up all his savings, and also by taking multiple loans.
"They're saying she needs a few more weeks of NICU but I'm completely broke now! If... If anything happens to my daughter because I can't arrange more money, I'll never get over the guilt. Every time I look at my son's face for the rest of my life, I'll remember I failed to save his sister!" — Jagannath