Rubina has hardly had any food in the past few days. She can't sleep - she wakes up in the middle of the night fearing that she will lose her baby boy. With tears in her eyes, she begs her husband, Abdul, to save their 1-month-old son.

"It seems like his nightmares aren't getting over. Just a month ago, he underwent a surgery, he was recovering but now he is so critical. He needs ventilator support; without that he won't make it," - Rubina, mother.
'Few days into this world, my son wasn't able to breathe'
Rubina and Abdul were overjoyed when their baby boy was born - all normal and healthy. Their 6-year-old daughter was also happy to have a baby brother. But their happiness was short-lived.

"All of a sudden, I noticed that my son was not able to breathe on his own, he wasn't even able to feed. I was scared. Without wasting any more time, we took him to the local doctor but they could do nothing. They asked us to take him to Hyderabad immediately - our small village in Maharashtra didn't have the facilities to cure my baby," - Rubina.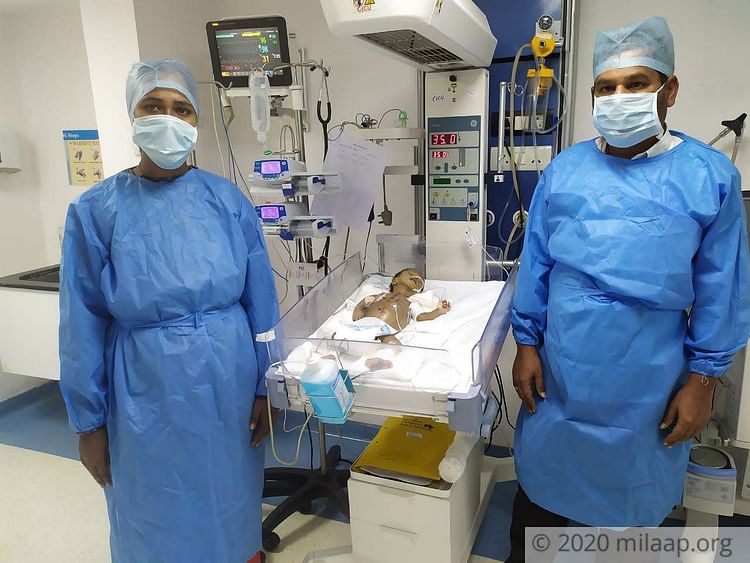 The desperate parents can't even hold their baby
Once Rubina and Abdul brought their son to Hyderabad, they got to know of his congenital heart condition. The baby boy needed an immediate heart surgery. After borrowing from his relatives, Abdul could afford the surgery all this while hoping that it would cure their son.

"He was on the path to recovery, he was opening his eyes but now he is suffering from a dangerous infection. We are not even allowed to hold him. He needs to be in the ventilator for another 2 weeks. But how will I afford that? Everything I had - that's over, there's no one who can help me!" - Abdul, sounding desperate.

Abdul used to work as a helper in a hotel in his village, he used to earn Rs 200 in a day. But for the last one month, Abdul has been in Hyderabad - he has unfortunately lost his job. He has nothing with which he can save his son's life.

"My only hope is that kind strangers like you will come forward and save my baby boy. I have no one else, please help me," - Abdul.