"Just after 12 hours of my baby's birth, he was taken to a different hospital, while my wife was still unconscious. He was diagnosed with heart disease. The doctors said that he has two holes in his heart which urgently needed surgery. It was such a shock to me, I just couldn't believe what was happening,"
- Sailu, father
Sailu was terrified of losing his son and was also concerned for Nagalaxmi. So he chose not to tell her about the baby's condition till the time things get better or until the circumstances get out of hand. The baby stayed in the ICU while Sailu struggled to afford the surgery.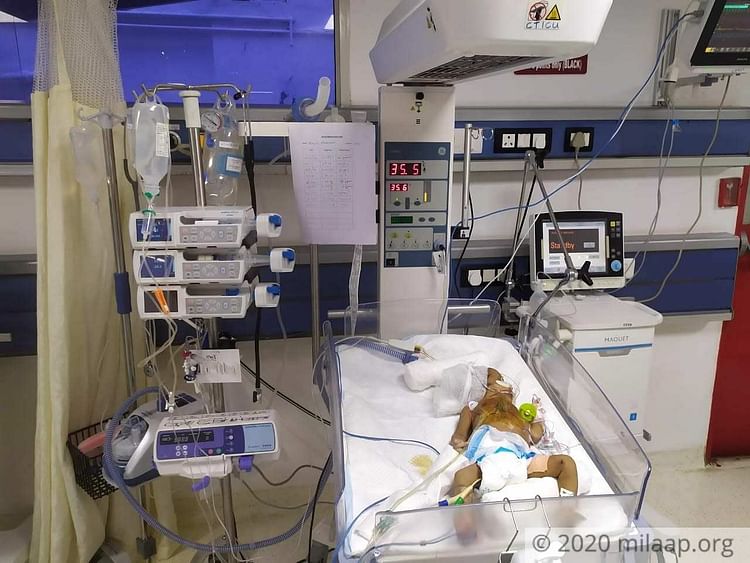 I ran from pillar to post to save my baby
"I am an auto driver. I earn some 300 rupees a day which is enough to just make the ends meet. But when I heard that the surgery would cost me in lakhs I went from pillar to post to save my child. After a week or so of begging and borrowing, I was finally able to get the life-saving surgery done and later that day I took my wife to the baby. She was crying after knowing what has happened, she was angry at me too because I didn't tell her before. But after some time she was at peace looking at our baby thinking that he is safe now."- Sailu.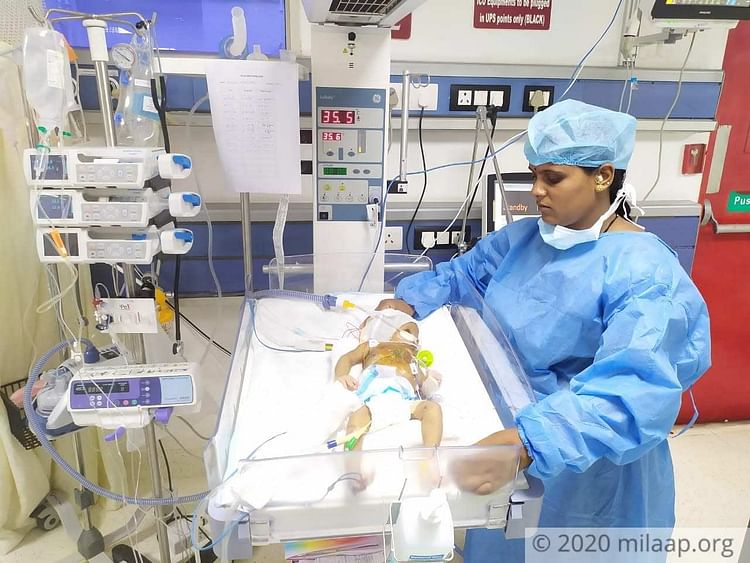 But the baby's battle wasn't over yet
The baby was recovering and the parents were very relieved that they could finally go home with their child but now, the baby has severe infection. He requires continuous medical care and ventilator support to fight it and he would need to stay in the ICU care for at least 2 weeks more but the parents can't continue the treatment any further.


"He needs specialized care to survive these infections but the money I managed to arrange, it is all spent on the treatment so far and I fear that I won't be able to afford even for a day. I am left with nothing, absolutely nothing now. We were so close to taking him back home with us. If something happens to him now, I won't be able to bear it." - Sailu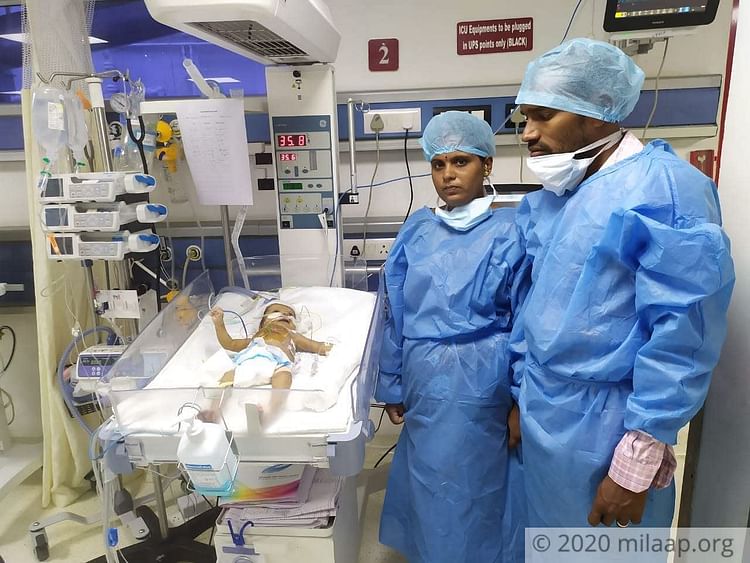 While mother eagerly waits for the baby to return, father fears of losing him
Nagalaxmi is still very weak after the delivery and doctors have advised her to take some rest. She was forced to leave her child at the hospital and go back home which is 180 kms from the hospital. She calls every now and then to check on her baby's condition while Sailu fears that he would lose his baby due to lack of funds. He fears that he won't be able to take his child back home where his wife and 5-year-old son are eagerly waiting for their return.

You are their only hope. Only you can help this father save his child from this unfortunate condition. Click here to contribute.