"4 holes in her little heart…that's what the doctors told me. How did something like this happen? I took my medicines in time, ate well and even had a normal delivery. But five days after she was born all our happiness came to a standstill. Now, every passing minute is terrifying… I'm terrified that we might not take her home alive" - Azhagu, Mother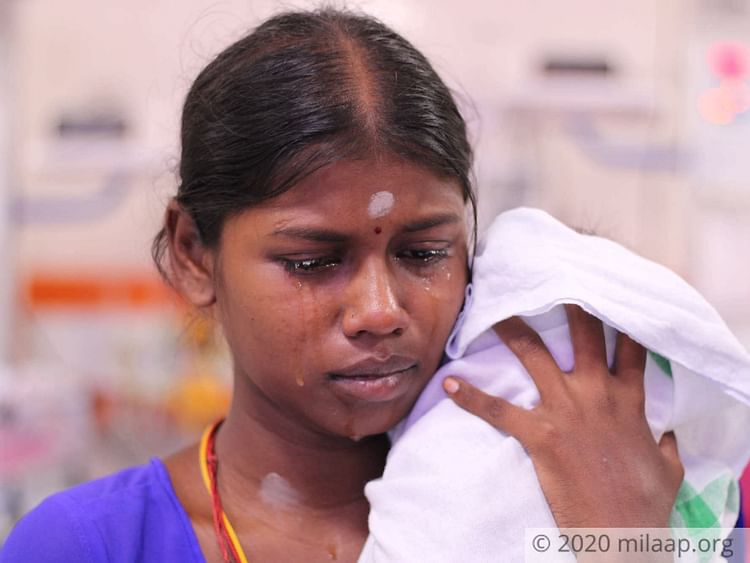 All she wanted was to love and care for her child - something she missed in her own childhood
Azhagu lost her parents at the young age of ten. When she married Pradeep and became pregnant, her joy knew no bounds. She was excited to have her own little family.
Azhagu couldn't wait to show all the love and care to the child which she missed while growing up.

"That night I fed and rocked her to sleep. Within five minutes she woke up throwing up milk. As she cried, her little body turned blue. I panicked. Did she choke on anything? Or did I feed her in a wrong position? Hundreds of thoughts ran through my mind while the nurses took her and rushed her into an emergency ward," - Azhagua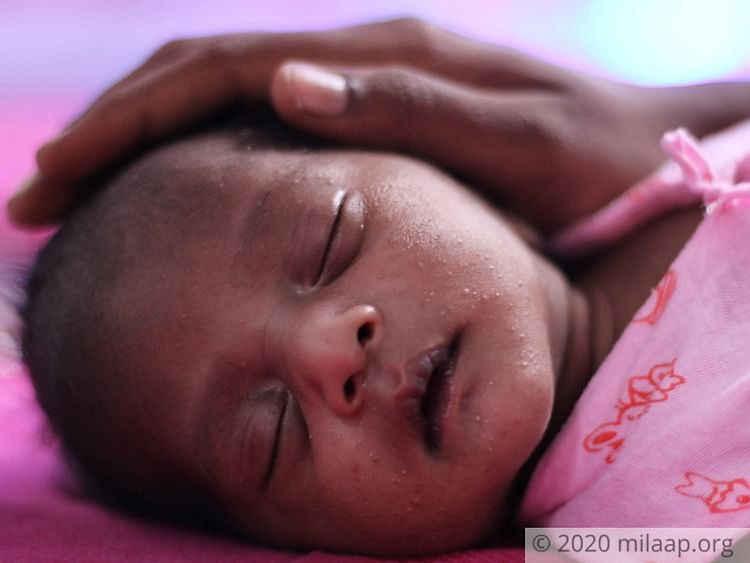 She was immediately treated and her tests showed the underlying problem- a heart disease. Azhagu's baby has an atrial septal defect, holes in the wall between the heart's chamber.
Without an urgent surgical correction, the condition can damage the heart and lungs even shorten the baby's life.

She doesn't eat or sleep, she only prays her daughter survives
"It's not even a month since she was born. She is too young even to know what is happening to her let alone fight heart disease. And my wife…she is inconsolable. She doesn't eat or sleep…checking on our daughter, praying and weeping all the time. I just wish I could wipe away my wife and baby's pain." - Pradeep, Father
With each passing day, the blood supply to her little lungs is hindered, making it difficult for the baby to breathe. The whole surgery will cost Rs.8 lakhs and she would need a month-long recovery period in the hospital. The sad part is Pradeep has very less time to find ways to afford her surgery.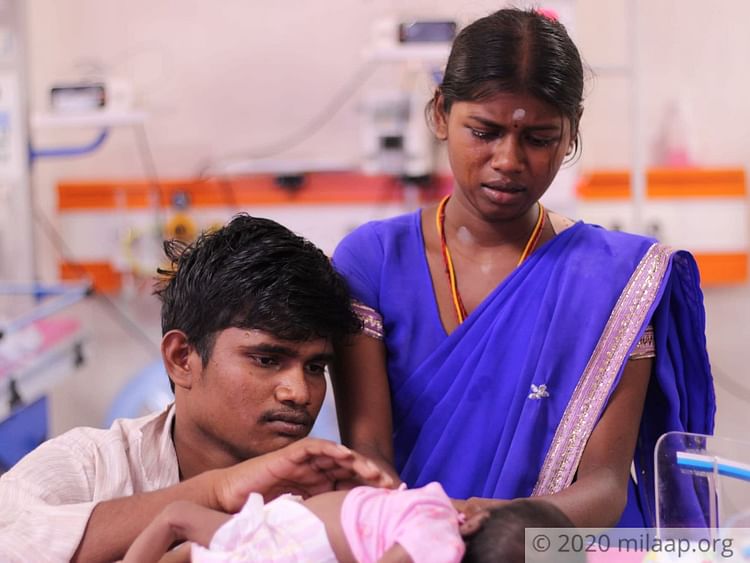 I promised to save our baby but I don't know if I can keep that promise
"I have only a few days left to pay for the surgery. But here I am, helplessly standing and looking at my baby suffer. How will a daily wage labourer like me afford money in lakhs? Who will even lend it to me in the first place? No father should have to go through this ever. I feel like having hope in God is the only option now. I promised to save out baby, but I don't know how I will keep that promise now..." - Pradeep, father