Umar and Asma gave birth to their first child after 9 years of marriage. They eagerly waited for this day and when it finally came true, their happiness knew no bounds. But just 5 minutes after his birth, Umar was asked to shift his baby to a bigger hospital because he wasn't able to breathe.



Asma was still recovering from her delivery and had no idea about the baby's condition. Umar took the baby to her and that was the first and the last time she saw her baby before he was rushed to Hyderabad, 200km away from where they live.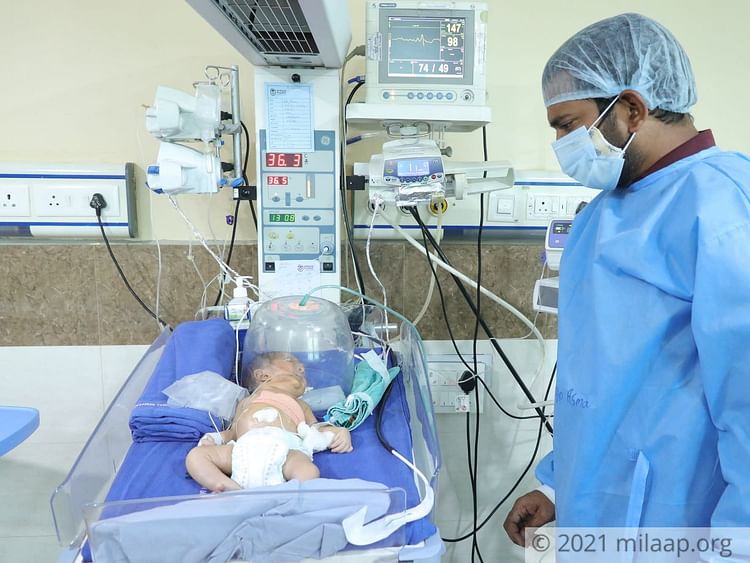 The baby underwent a major operation only a day after his birth
Upon reaching the hospital, Umar's baby was diagnosed with Congenital Diaphragmatic Hernia (CDH). It is a rare birth defect in which a hole in the diaphragm lets the intestines, stomach, liver and other abdominal organs enter the chest, impairing normal lung development.

The child couldn't breathe normally. His condition was extremely critical and the baby had to undergo surgery the very next day. He is struggling to recover in the ICU and needs to stay there for at least 10 more days.


His mother is desperately waiting at home to see her newborn
"I didn't have the courage to tell Asma that our baby had a major operation. I just told her that he is having trouble breathing and will be fine soon. But I couldn't hide it for long. She found out once she got discharged and she was heartbroken. Due to the pandemic, it's not safe for her to travel and that is killing her. She is desperately waiting at home to see the baby and hold him in her arms. I am afraid that it might never happen and it is terrifying." - Umar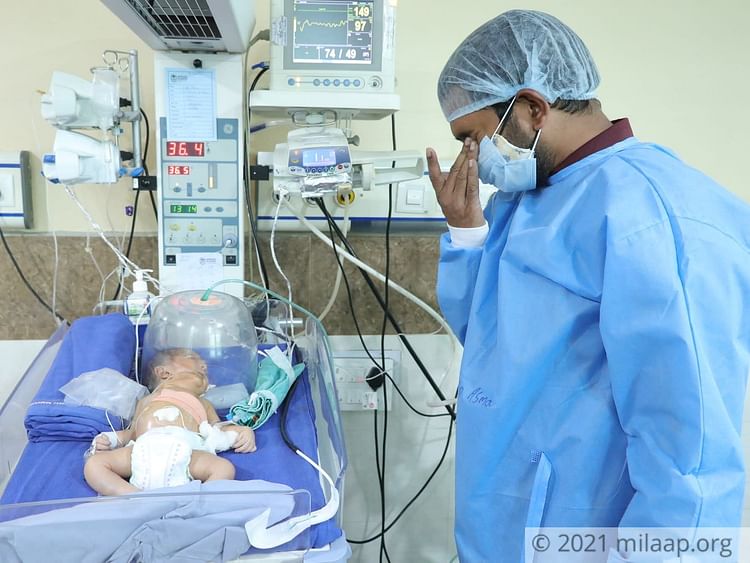 "I run a small cold drink shop, and hardly earn Rs 5,000 a month. The treatment is very expensive and paying for it is out of my means. I barely managed to get the operation done and I am unable to afford the rest of his treatment. As soon as he came into our world he became our everything. I don't want to lose him, I don't want to give up. But I am helpless."
The only way this child can go back to his mother is by continuing the treatment. Umar needs your help to save his son. Your donations can save his life. Click here to donate.