Baby Mrinmoy's birth turned out to be the most cherished blessing for his parents in January. The joy of becoming first-time parents was unparalleled for Suparna and Pradip. However, they were unaware that this happiness will be so short-lived, that they will have to travel from one hospital to another with their newborn baby gasping for breath.

At just 5 months old, Mrinmoy's body started retaining fluids in the thin lining between his lungs and chest. With some corrective surgeries and radiological protocols, his rare Congenital Chylothorax can be treated. This entire treatment will cost them about INR 8 lakhs, which is way beyond their humble means, but it is their only shot at saving Mrinmoy's life now.

This rare lung condition couldn't be treated in their small village
Pradip and Suparna had admitted Mrinmoy twice in their village hospital but with no improvement. Hailing from a small village in Bengal, the doctors there weren't equipped to treat their baby's serious and rare congenital condition. Overnight, they sold all their jewellery just so that they could go to Chennai and afford their newborn's treatment.


"Everytime I tried to breastfeed him, he would refuse to take it or vomit it soon after. I thought this is normal for babies to do. I could sense something was wrong when he would gasp for air with his ribs visible under pressure. After hearing that my milk was also choking him to the point he couldn't breathe, I felt so guilty for hurting my own baby! Since a month my baby has been in the ICU and I merely get to see him for just 5 minutes each day. It feels like God is punishing me."- Suparna, mother of baby Mrinmoy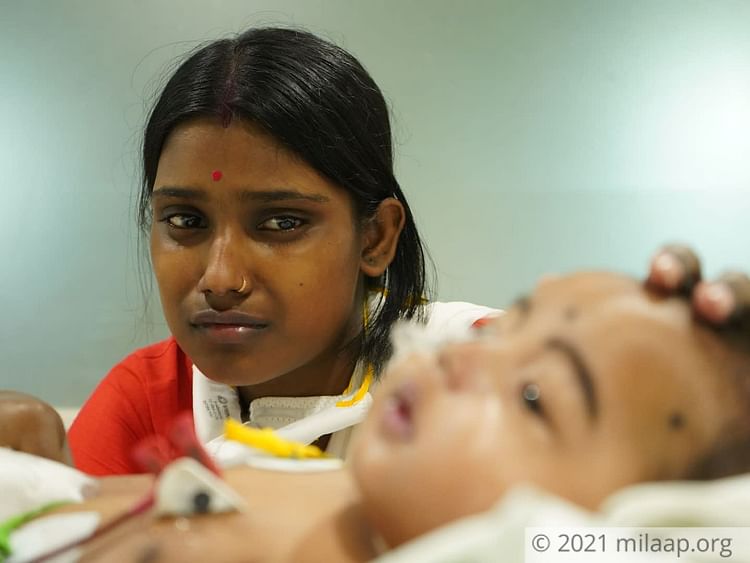 Every day they live in the fear that their baby might not make it
These parents are allowed in the ICU once a day only for a few minutes. In a strange city, all on their own, their days and nights seem to be anxious and never-ending.

Every second, they dread that they might get a call from the hospital telling them they have lost their baby. This is a painful possibility if they can't arrange INR 8 lakhs in the next few days.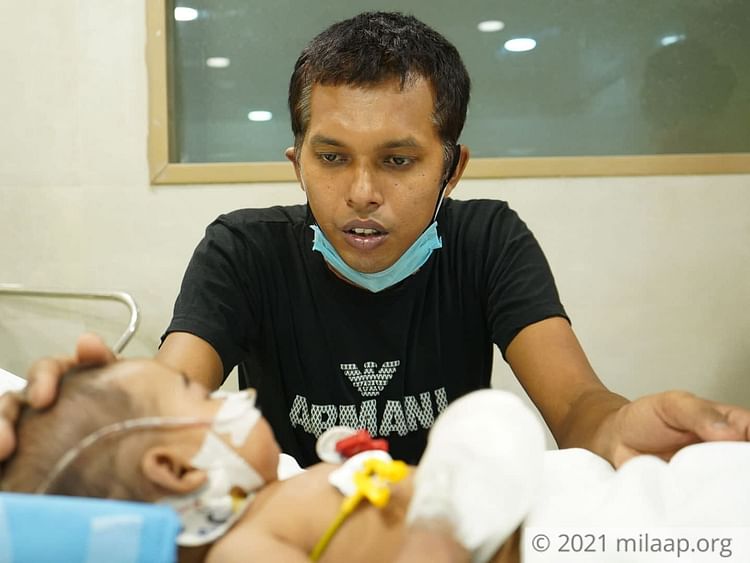 Pradip, who runs a paan shop in his village, regrets not being able to afford good healthcare for his child due to financial constraints. Only when he saw a syringe being inserted inside his baby's mouth to drain out the excess fluid, he got to know about the existence of this lung condition.


"I can never forget the cries of my baby when a syringe was inserted inside his mouth and blood came out of it. I even fought with the doctor because - look at my baby, he is so tiny, this will hurt him so bad.

How will his weak body handle so many tubes to flush out the fluids? But when I got to know that if they don't do it, my baby will not be able to breathe anymore, I begged them to do it and just help my baby live.

" - Pradip, father of Mrinmoy
They saved for his future, now they worry he might not have one
Even in their wild dreams, Mrinmoy's parents had never imagined that the money they had saved to secure his future would all go away, just to keep him alive for another day. All their dreams of being called 'Ma' and 'Baba', playing and watching him grow up, seem far-fetched now.
The entire responsibility of his family fell on Pradip's shoulders, after losing his father to a heart attack. It won't be possible to save Mrinmoy without your support now. Please help this family return home happily with their healthy baby boy.