"It feels like even the God has left us on our own now."- Sunanda, mother of baby Bandhan
That is all Sunanda could say before she broke down in front of her 1-year old son, Bandhan.

Having lost two of her sons to the same liver disease 15 years ago, she is terrified that she will lose 1-year old Bandhan too now.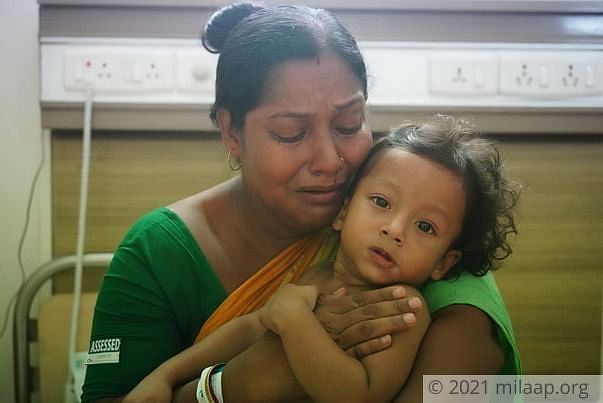 This mother begs God to take her life instead of her baby's
"

When I held my son in my arms, I thanked God for finally answering our prayers. It was a wait of 15 years before we were finally able to conceive again and have a family after losing Anjan and Rupam within 5 years of their birth. With Bandhan struggling to survive too, my trauma has returned. If this is the way God wants to punish us, by taking our children away one by one, then it's better he takes my life instead of my baby's this time." - Sunanda, mother of baby Bandhan

Years ago, Sunanda and Dilip lost both their sons to chronic illnesses, before they could be detected on time. They never thought a day would come when they will have to watch their kids die right in front of their eyes helplessly.

After 15 years, just when their grief gradually turned into happiness with the birth of their son, Bandhan, life hasn't been kind to them. He was born with Chronic Liver Disease too.




Only a liver transplant can save 1-year old Bandhan now
When Bandhan was born, his parents noticed his urine was always dark yellow. Suddenly when they noticed a bulge in his stomach, they felt their worst fears returning. Not only had he lost his appetite, he used to always keep crying complaining of abdominal pain. The only cure left now for Bandhan is to urgently undergo a Liver Transplantation surgery, costing about 30 lakhs.


"After Rupam and Anjan passed away, I was guilt-ridden that being their father I couldn't protect them. With Bandhan's birth, I felt my kids had forgiven me finally, but as soon as I got to know about Bandhan's liver failure, I felt helpless that even he will suffer the same fate as his brothers. When the doctors told us that a Liver transplant can save him, I became hopeful. Earlier I didn't even get that chance but this time I could rid myself of that guilt by saving my son. Hearing that it will cost us about 30 lakhs more makes me lose hope again. I have nowhere to go now." - Dilip, father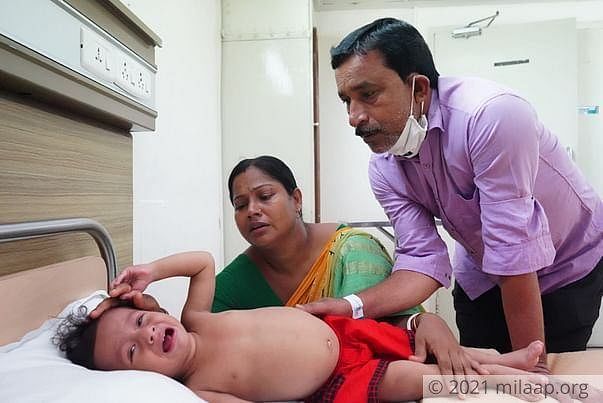 With hardly any income from farming, these parents are running out of time
After exhausting all their life savings, Sunanda and Dilip had borrowed about 7 lakhs from people they know who are no longer in a position to help them further. Being farmers in the Sundarbans (West Bengal), they hardly make more than Rs.10,000 a month and with the lockdown things have been even harder for them to manage financially. After Bandhan was born, he was their only hope to a future where they could again be a happy family. Seeing him suffer so much, they are trying their best to provide him with treatment but in vain. They need your help to afford this life-saving surgery for Bandhan and they beg for a chance to save him.

Can you help them save Bandhan?