"I wake up at 5am every day. I freshen up, put my reflective vest on, then go to work. There I put on fresh protective-gloves, shoes, a visor. Then I grab my broom, and head out into the streets to start my day."
Ramaiah, a road sanitation worker, has been dutifully following this routine with no regard for his own personal safety for the past 5 months or so, protecting his small town and its inhabitants from COVID to the best of his ability. But since July he's been doing his duty with a heavy heart and a restless mind.
"All day I think about my daughter, Asha. She's 8-years-old, and she's dying. I have no money to afford her treatment."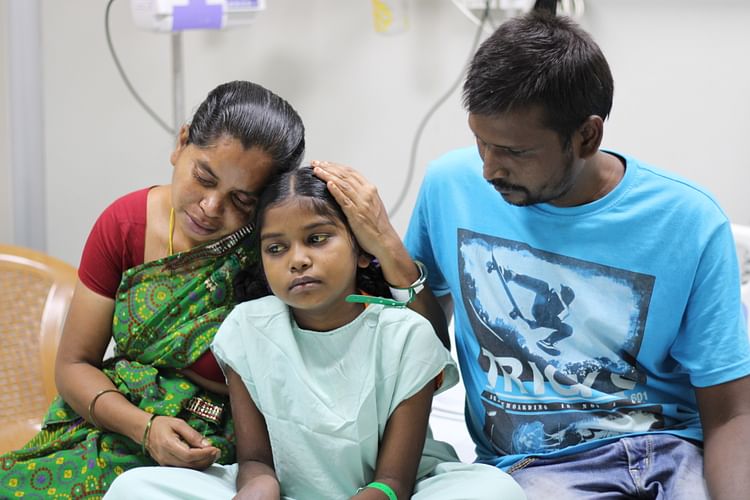 Early last month, Ramaiah and his wife, Ramadevi, noticed that their daughter's eyes seemed to be a little yellow. Over the next few days, the shade of yellow got brighter and brighter, prompting the worried parents to take young Ashalatha to a local hospital.
"We were shocked and scared when they said we needed to hospitalize her.

They told us her liver was damaged, but asked us not to worry, said medicines and hospital stay would cure her.

So I put together as much money as I could, and got her 12 days of hospital stay."

— Ramadevi, mother
Out of money, they had to take her home, and things got worse
"Just a few days after getting home, her stomach and legs started swelling up. She became so weak she could barely talk, and most of the time she would just moan in pain! When we went back to the doctor, they asked us to take her to a bigger hospital.

It was there that we finally found out that her liver was far more damaged than we had thought. They told us it's actually in the end-stage, and that our daughter is dying. Only a liver transplant could save her.

But that costs 19 lakhs!"

— Ramadevi
Ashalatha doesn't want to be sick anymore, thinks her friends will forget her
Due to the threat of infection, young Ashalatha is not allowed to go out. But two of Ashalatha's classmates, Pallavi and Pavitra, are also her neighbors, so the girls come to visit her nearly every evening. They sit on the ground outside her window once the sun goes down, and talk about everything from cartoons to games. For the past few weeks, though, they've been talking about their school reopening on Sep 1st. Poor Ashalatha smiles through the conversation, but cries once her friends leave.
"I want to be there with them. I want to get better as soon as possible, so I can start 3rd standard with my friends.

If I don't, they'll make new friends and stop coming to see me.

"

— Ashalatha
Ramaiah wants to stop his daughter's suffering, but he's too poor
"I can't afford even her normal day-to-day medication now.

Just this morning I used up the last of my money to buy half a strip of tablets. How can I afford a 19-lakh surgery? I'll gladly give her my liver; I'll even give my life if it saves my daughter.

I've been trying to sell my small house but in the current situation nobody is willing to buy it.

Asha is running out of time. Please, help my daughter...

"

— Ramaiah