"She used to smile so much! And what a smile it was... the kind that would melt anyone's heart. Now look at her! She hasn't smiled in ages because she's in so much pain and discomfort, she's dying!
All I want is to see my little angel smile again..."

— Tousif, father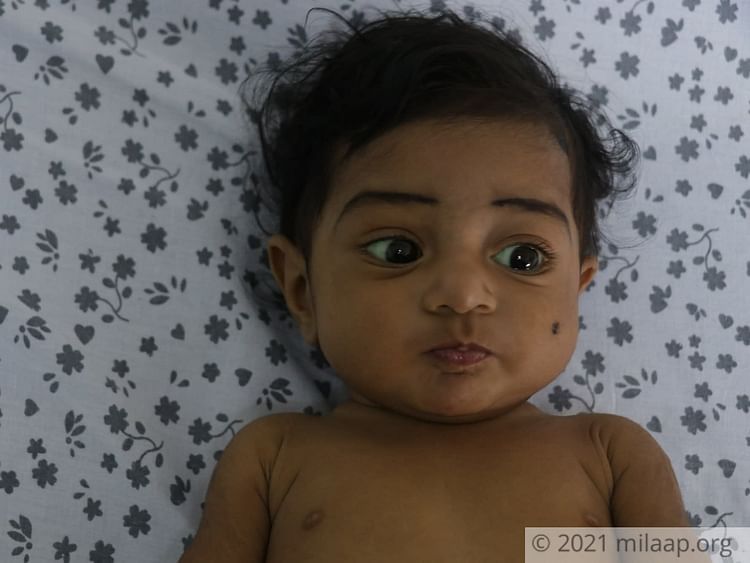 Baby Alisha is only 6 months old. Until a few months ago, she'd been completely fine. She was the apple of her parents' eyes; their first child. They doted on her all the time, learning to accept the many sleepless nights that come with raising a newborn, her smile worth all their efforts. So when her eyes and skin started slowly yellowing soon after she turned 2 months old, the young couple rushed her to their local clinic, scared.
"Our worry was replaced by relief when the doctor there told us that jaundice was actually very common in babies, and that she'd be fine if we just waited. But days turned into weeks and she seemed to be getting worse!

In December... her stomach started to swell painfully. That was around the last time she ever smiled at us. She's only been in pain ever since...

"

— Tousif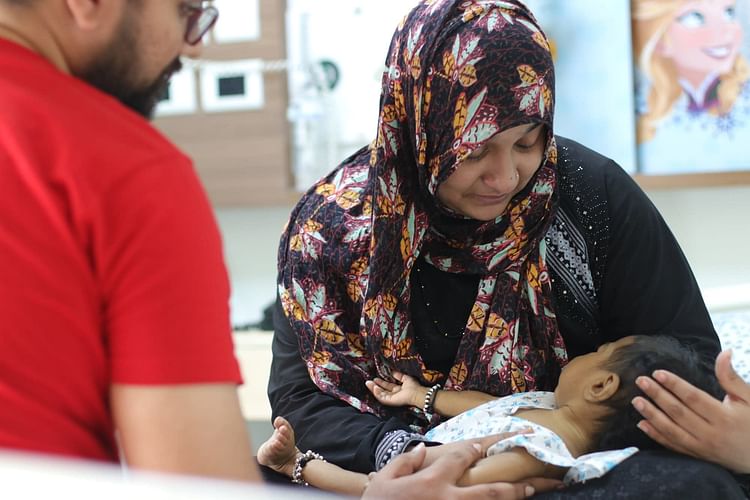 They have nothing left, only their little baby
"We took her to a big hospital, and within a few hours of running some tests,

they came back and told us that Alisha's liver has been nearly 100% damaged

, and that she should be taken immediately to Hyderabad. So we took her there, and we came to know that now only a liver transplant could save her life. But the cost! When all this started, my husband had around 50k in his savings, gathered over years of effort and hard work. But nearly all of it was gone by the time we reached Hyderabad, spent on hospital bills, travel...

With what little money we had left we were only able to buy some medicines, and then bring her back home. It's been a month since then and my poor girl is still in a critical condition.

"

— Rizvana, mother
A liver transplant can save this angel's life, but her parents can't afford it
Time is running out for little Alisha. Her liver disease has left her too weak to even sit up properly; only a liver transplant can save her now. But try as they might, these parents simply can't afford the incredible cost of such a procedure, though they're both willing to donate their liver on the spot if it would save her life.
"I used to work as a graphic designer. But once the pandemic and the lockdown started... Times have been tough, and the only bright spot in our lives was our little angel.

Now we can see her life dimming in right front of our eyes and yet we're unable to do anything about it...

"

— Tousif