"Persistent fever, regular blood transfusions, a swollen body, and unbearable pain - this is what my 3-year-old son has been suffering with, every day, for the last two months. He has cancer and the disease is sucking the life out of him. Being a father, I am unable to do anything to save my son."
- Niyaz, father
Arish suffers from Acute Lymphoid Leukemia, a type of cancer of the blood and bone marrow that affects white blood cells, because of which this little boy is vulnerable to infections.
All of a sudden, he's fighting a deadly battle
"He had a fever that was not subsiding and his body turned pale too. When we took him to a hospital, they detected his blood levels to be dangerously low but we never imagined that it would turn out to be cancer! Both my children have always been healthy since their birth. They never got sick, not even once! Then, how did this happen? Why is my child battling death, all of a sudden?" - Ruksana, mother
Hailing from a small village in Maharashtra, some 300km from Nagpur, these parents had to rush their child to a bigger hospital in a critical state, while he was hardly able to even breathe. Arish is now in stable condition, but only chemotherapy can save his life.
He needs chemotherapy to survive, but they can't afford it
Arish loved to play with his brother and followed his mother around the house, curiosity getting the best of him, as he would fire off question after question that came to his mind. His little feet were never at rest. But now, his body is not strong enough to even stand, let alone play or even talk.


"I live with the constant fear of losing him and never let him out of my sight. It took just 2 months for this horrible disease to reduce my healthy child into this state, and I shiver at the mere thought of what this disease can further do to him. He needs chemotherapy to survive but… but we can't afford it. Watching him suffer like this is a curse." - Ruksana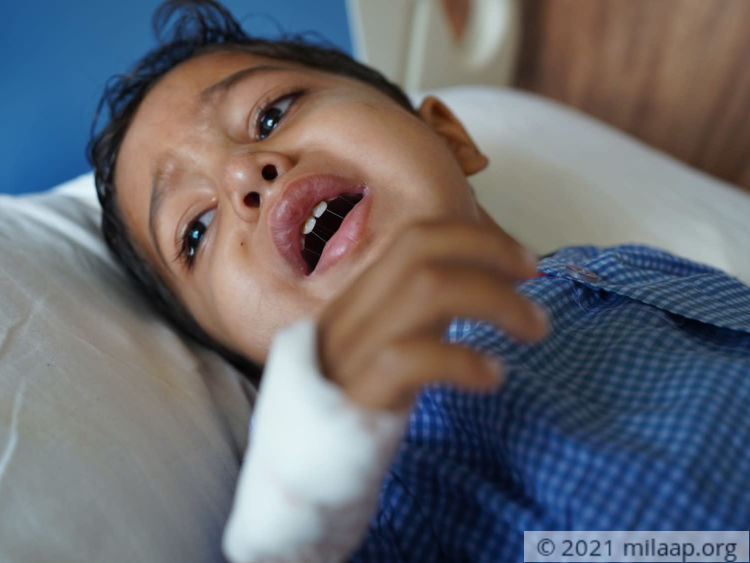 You can help
"I am an auto driver, earning merely a few hundred rupees a month. We have no assets, whatsoever, and could barely manage to keep our son's treatment going so far. But now, everything is falling apart. I am unable to keep up with the expenses. I am losing my son to this horrible disease. " - Niyaz

Arish needs to complete his chemotherapy treatment to beat cancer, without which he may not survive. These poor parents cannot bear the cost of the treatment alone. They need your help.


Your generous help can save Arish's life and give him a chance to live a normal life. Only you can save him from the clutches of cancer. Click here to contribute.