Nowadays, Akash's mother just keeps crying. She doesn't take her eyes off him and fusses over him too much. His father is in a faraway city, working and toiling; he sounds tired and sad whenever they speak. 7-year-old Akash wonders why nobody smiles anymore. He also wonders why there's a constant ache in his chest along with a deep scar. Little Akash is fighting deadly heart disease. Urgent pacemaker implantation is his only hope for survival. The family needs your help.
At just 2 months, Akash underwent his first cardiac surgery
"He was doing alright after birth. But two months later, he began crying non-stop.

His feet and hands turned blue.

We rushed him to the hospital and they ran so many tests. They told us he was fighting deadly heart disease and that

he'd have to undergo immediate surgery to stay alive

.

Our world crumbled. It was sudden and devastating…

" – Shanthi, mother

Owing to an undeveloped valve in his heart, pure blood was getting mixed with impure blood. He underwent surgery immediately and was saved just in time. But the problem persists.



He was unconscious for days, it was a miserable time
His parents judiciously took him for check-ups and it was during one of those check-ups, that the doctor found a block in his heart. His heart had weakened and he needed not 1, but 2 follow-up surgeries.


"We hadn't yet sent him to school, because we were scared for his health.

We were waiting for him to get better. But that day, when they said he needed 2 more surgeries, we lost all hope.

After his surgery, he was unconscious for days. A frail little boy undergoing such major surgeries! Why?

Even when he opened his eyes, he couldn't speak for days. We thought he'd lost his speech…it was a miserable time!

We thought everything would become better now, but…" – Shanthi
If he can't get this implant, all his struggle will go in vain
Soon, Akash joined school, but he went infrequently. His condition deteriorated and he couldn't even walk without tripping. Despite the surgeries, his heart is slowly giving up. His only chance of survival is implanting a pacemaker – a device that sends a signal to the heart to make it beat at the correct pace, but it costs 10 lakh rupees and his parents cannot afford it. They need help.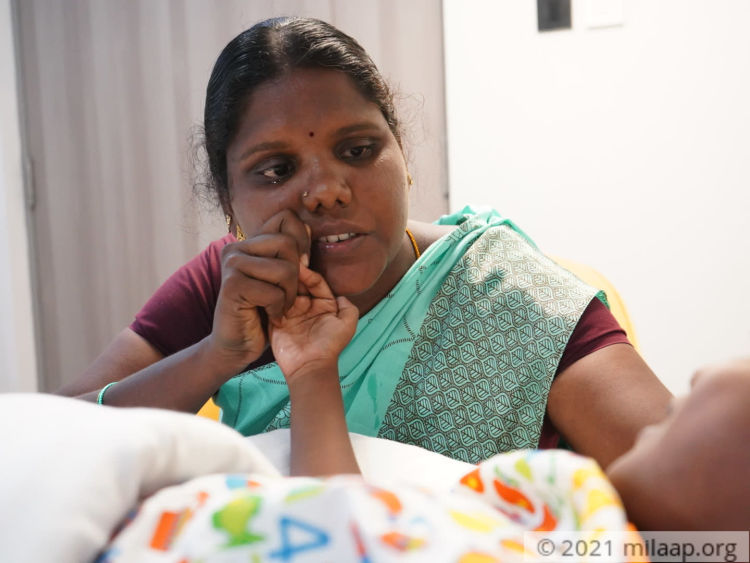 "I am a daily wage labourer.

Unable to find work in our village, I left for Kerala 2 years ago,

just so I could support Akash's medication expenses. But I earn no more than Rs.7,000/month. Shanthi has been all alone for 2 years now, struggling to take care of the house, and Akash. Although I want to be with her, I can't quit my job here. It is our only source of income.

10lakh rupees…I can't afford it even if I toil for 10 years, night and day

! We need to save our son. For that we need your help. Please." – Rayar, father
The family is struggling to save their little boy. Your generous contribution can help them. Click here to donate.