"Every day my son wakes up crying in the middle of the night. His swollen stomach hurts so much that he can't move even an inch without screaming in pain. The medicines that gave him some relief are not working anymore. His condition is very critical, his liver is failing." - Fidouz, mother
2-year-old Ahil suffers from a decompensated chronic liver disease, at its end-stage. He needs a liver transplant to survive.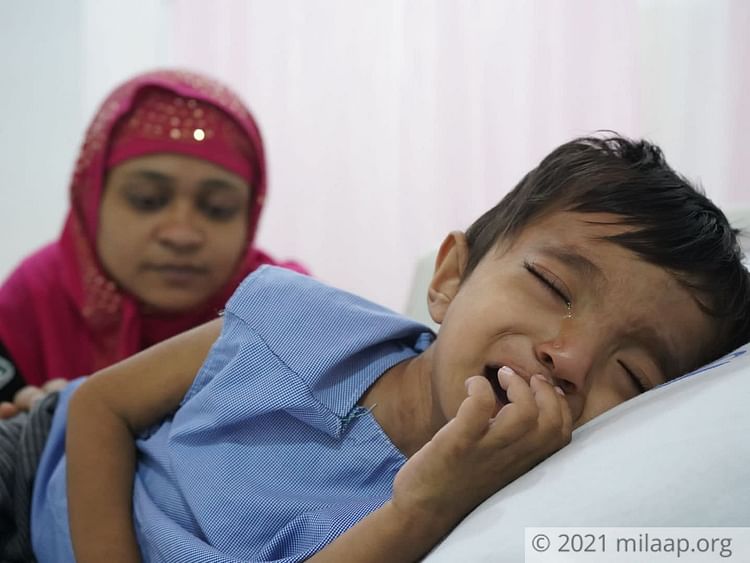 They nearly lost him twice
He was just a month old when his symptoms first started showing up. He used to cry a lot and hardly drank any milk. Despite several tests, the cause was unknown. It was only when they took him to a bigger hospital that they got to know his liver was failing. He was prescribed medicines and the parents gave them to him diligently. But his stomach started to swell and his health just kept getting worse.


"We didn't know what was happening to him. He got so critical that we had to admit him in the ICU for several days. We nearly lost him at that time. But there was nothing much that the doctors could do about my child's condition. As he grew older, his stomach started to bloat too. Medicines kept the pain away, but the disease kept getting stronger." - Fidouz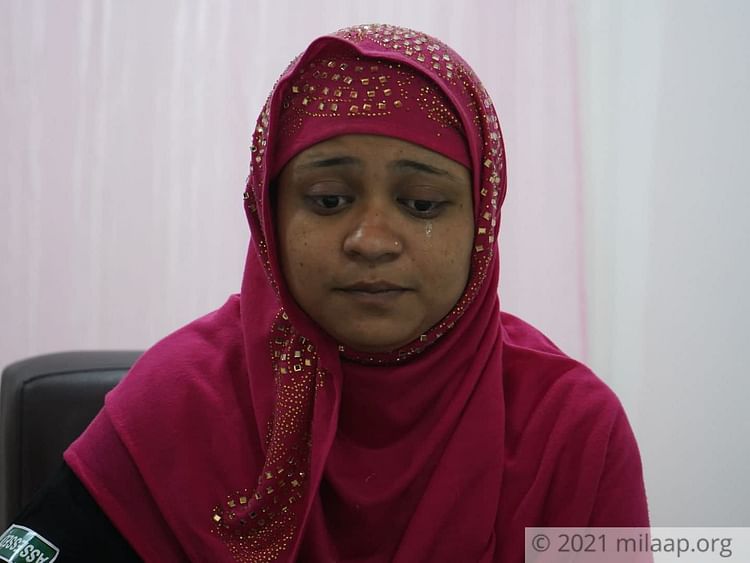 He started bleeding from his mouth and nose
Ahil was sick, but his parents couldn't find the right treatment for him. With the lockdown and the coronavirus outbreak, it even got difficult to travel to other cities. One night, when Ahil was sleeping peacefully, he woke up with blood in his mouth and his nose started to bleed too. He lost so much blood that he was rushed to the hospital in the middle of the night and put on a ventilator immediately.

After a blood transfusion, his condition stabilised and his parents took him to a well-equipped hospital in a bigger city. After several tests and clinical observations, doctors told his parents that only a liver transplant can save their child's life.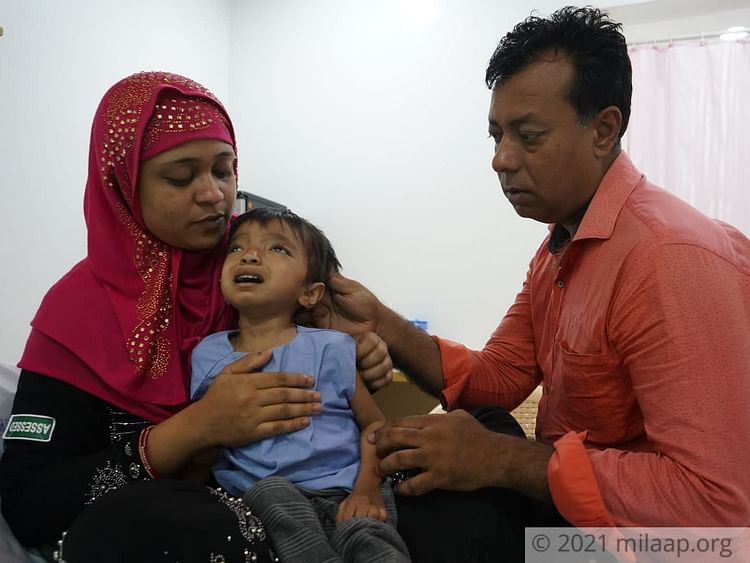 He is all we have, but we are unable to save him
Mansur, the father, used to work as a tailor but an unfortunate accident caused trouble to his eyesight. Unable to continue his profession he now works as a daily wage farmer, hardly making enough to run the house. He has exhausted all he had to afford the treatment so far. He's used up his life's savings, sold his land and took loans too, but now when they finally have a solution that can save Ahil's life, he is left with nothing.


"He is all we have, our only child, but we are unable to save him. 20 lakhs is something I would never be able to afford alone. I am helpless and stuck. I don't know where to go. Please help me save my child. Please!" - Mansur
Without a liver transplant, Ahil will not be able to make it. These parents are devastated and are desperately in need of help. Your kind contribution can save this little life and give these parents hope.