Not only is our 9-month-old's disease killing him, it's making him suffer so horribly. He can never lie still, crying continuously when he's awake and sometimes in his sleep too. It's because his stomach is swollen so much it could burst and his whole body, every inch of his skin, itches terribly as well!
The itch has gotten so bad that we've had to wrap his tiny hands with cloth, so he doesn't hurt himself anymore trying to scratch everywhere!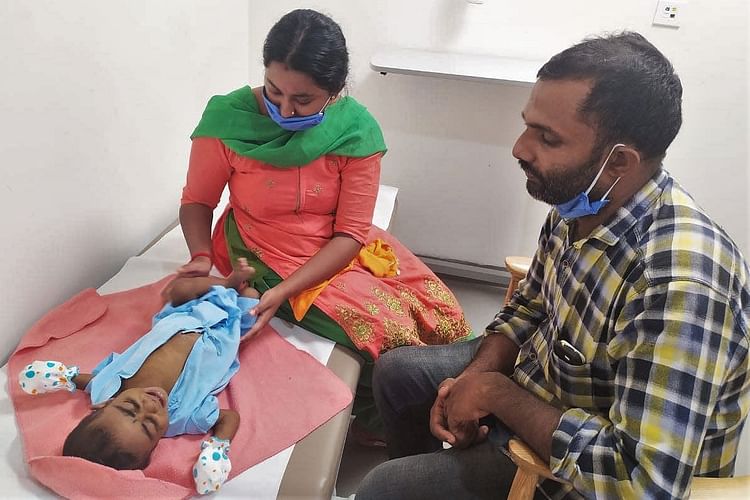 Baby Adrinath was born to Shyam Kumar and Amrutha just last year. For the first time parents, it had been a time of great happiness and celebration, and the first two weeks passed by in the blink of an eye. But that's when they started noticing that something wasn't right. The little one wasn't feeding properly anymore, and seemed drowsy all the time. Then his eyes started to turn yellow. Very concerned, they rushed Adrinath to a local hospital in their native place of Trivandrum. It was there that they found out their baby had a disease that was killing him.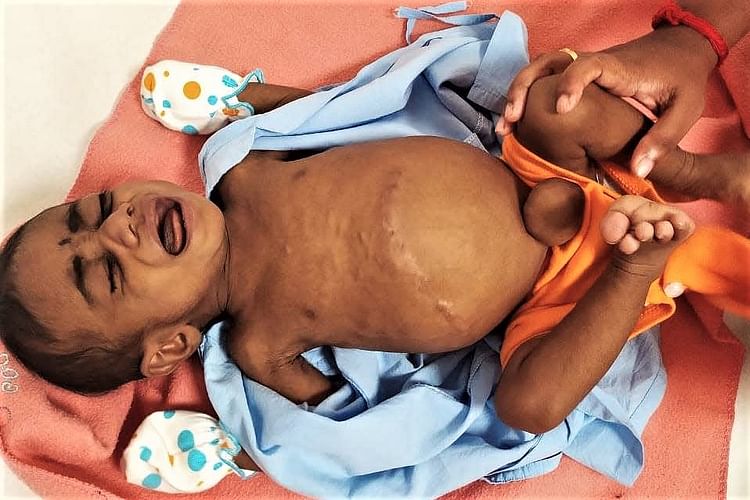 Baby Adrinath had to go under the knife for urgent surgery at just 33 days old
"They told us something was wrong with his liver, and that he needed urgent surgery before it killed him. We were terrified! We borrowed money from everyone we knew, and a week later we were able to afford the surgery. At the time, they told us it had been successful, but that we needed to keep a very close eye on our baby, to see if things got bad again.

For three months we lived in fear, afraid to hope that maybe the worst was behind us, that our baby would grow up to have a long and happy life. And then... his stomach started to swell.

" — Amrutha, mother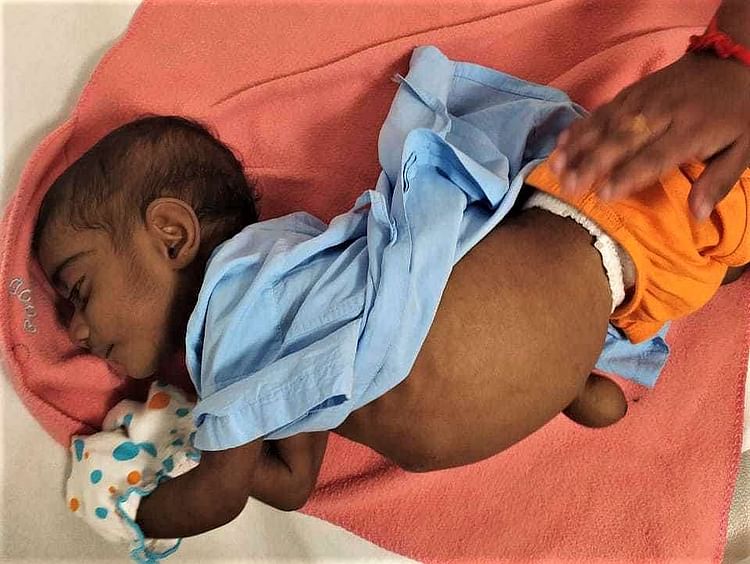 The poor baby's own body is poisoning him
Adrinath has Biliary Atresia, a defect in the liver's bile duct that causes severe damage to the liver, and causes a build-up of toxic bile in the bloodstream — his own body is poisoning him. Despite taking him to the hospital for frequent check-ups, and giving him every medicine the doctors prescribed, the disease has caused so much fluid build-up in his stomach that it feels like a rock. The only way to keep his condition from killing him now is for this little baby boy to get a liver transplant. For the past 4 months, Shyam has been trying his best to gather the money but, unfortunately, he will not be able to afford it on his own in time — this 9-month-old is dying now.


'I can only pray that the kindness of strangers will save my baby's life'
"I'm a carpenter, I earn around 10-15k a month. Over the past few months I have spent more money than I make in a year, all borrowed. Nobody is lending me any more money, and we don't own anything worth selling either. Maybe if I had a different childhood, a better education, a better job... I don't know, maybe I could've afforded to keep my child from dying in front of my eyes. But for now, I feel like all I can do is just pray that the kindness of strangers will keep that from happening. Please, help us." — Shyam
Shyam and Amrutha are desperate. Their little one is suffering right in front of them, but they're unable to do anything about it. Only you can help them now.