"He was just 3 months old when he started falling sick, first dengue, followed by malaria and then, his liver started to fail. He is 2 years old now and has been constantly fighting a battle against this deadly disease that's threatening to take away his life."
- Narasimha, father

Little Jayanthu suffers from Budd-Chiari, a rare liver disorder, which causes narrowing and obstruction of the veins in the liver.
He was in unbearable pain and required emergency surgery
The disease caused baby Jayanthu immense pain. His liver was swollen beyond control and fluid constantly accummulated in his stomach, adding to his suffering. The doctors knew that the only cure was a liver transplant but to relieve the child of his pain with the hope that an alternate procedure could help him, they did a Venoplasty. The surgery proved to be extremely helpful in alleviating Jayanthu's pain and reducing the swelling in his stomach, but even that didn't last long.


"He was just 6 months old when he was diagnosed with this horrible disease. Everything was happening so fast and suddenly, that we didn't even have the time to digest the fact that our newborn, who we had just named, was fighting a deadly disease." - Varsha, mother
Jayanthu, in May 2020
Only a liver transplant can save his life
Venoplasty is a procedure that uses a balloon to treat a narrowed area of the vein by stretching it out using air pressure. After Jayanthu underwent the procedure, he had been doing quite well and his parents breathed a sigh of relief. Hoewever, even that was short-lived. Jayanthu began to show symptoms of this disease, yet again. The little boy was admitted multiple times for several complications and fought very bravely. But now there is no other option, and only a liver transplant can save him.


"Over the past few months, we saw him take his first step, walk and learn a new word every day. Though there was joy in these little things, we constantly lived with the fear of losing him. His growth has been visibly stagnant and his stomach, though better than before, is still swollen and growing.

I just want him to live a normal life like other children of his age

..." - Varsha
He can recover, but only with your help
Narsimha is a labourer at a rice mill and earns about 9,000 rupees a month, an amount that is just enough to put food on the table. It is impossible for him to afford the transplant alone, but with the help of kind strangers he managed to raise 19 lakh rupees for Jayanthu's treatment. However, he is still short of 9 lakh rupees, which can only be achieved with your help.


"Every time my son is in critical condition, we have to bring him in an ambulance from Guntur to Hyderabad and that alone costs us an amount equal to my monthly salary. We are so close to reaching the goal amount and if we fail now, I'll never be able to forgive myself. This liver transplant is the only way I can save my little boy and give him a pain-free life. But, I am helpless and stuck. I don't know where to go. Please help me save my child." - Narasimha, father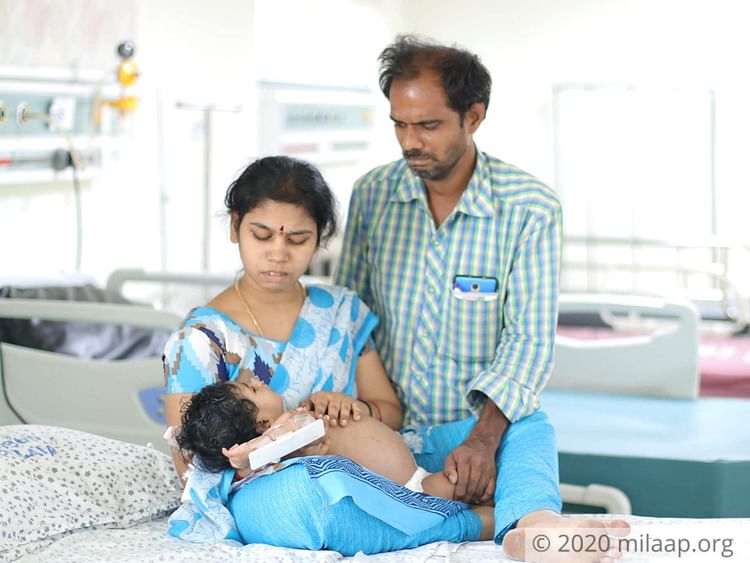 Only you can help this little child fight this rare disease. Your generous contributions can save him. Click here to contribute.