At first glance, Ramchandra looks like any other 76-year-old, a retired professor of Political Science. But, take a closer look and you will be fascinated.
Located in a quaint lane of Dharma Vihar, Bhubaneshwar is the office of AMOFOI (Anti-caste Marriage & One-child Family Organisation of India) and the Freethought Party of India (FPI) at the ground floor of Copernicus-Gorbachev-Mandela Bhawan.
Too much?
Well, get this. The founder-secretary of AMOFOI & FPI, (the ordinary+ Ramchandra mentioned earlier), goes by the name
B.Ramchandra CST Voltaire.
B stands for Bishwanath (his father), CST stands respectively for Champa (his mother), Swapna (wife) and Tasleema (as in Tasleema Nasrin, the exiled writer from Bangladesh whom he admires).
Man with a Mission
Ramchandra worked as a professor of Political Science in government colleges across Odisha. He is a man with strong opinions and principles and found himself frequently pitted against the authorities.
A staunch believer of values like "freedom of speech", "secularism", "democracy", "a society free from casteism and superstition", he tried to live his life by these principles and took initiative to actively propagate them.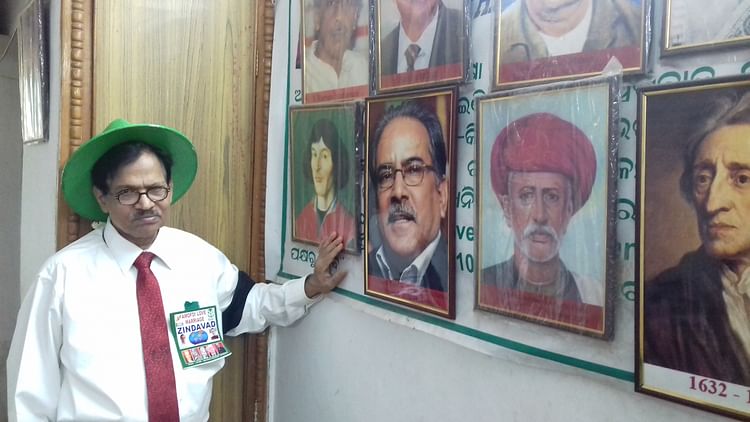 "Copernicus is my favorite. It was he who first said that the Earth and other planets are orbiting around the sun and not the other way around. He exposed the frauds."

Do not worry: Elope & Marry
The NGO, AMOFOI has facilitated almost 8,000 marriages (mostly inter-caste), since it's inception in 1980. The organization is legally registered and gets the process done instantly as opposed to the 3-month notice period in the regular marriage registrar's office. They call them "priestless, love marriages by exchanging garlands".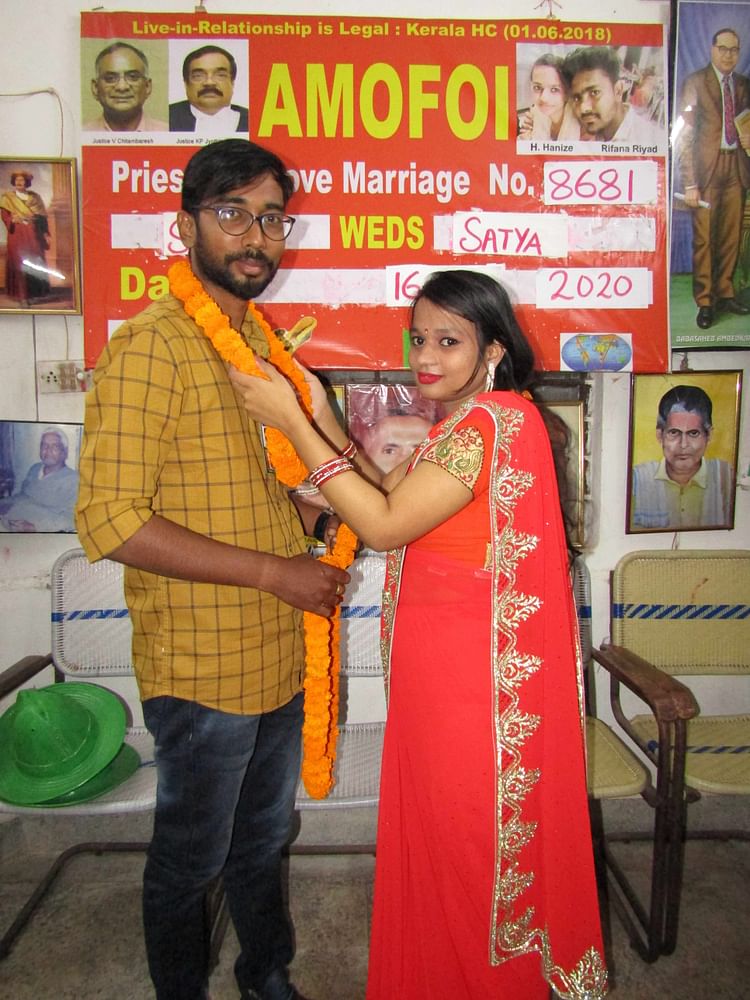 "It is insulting. Why should consulting adults have to apply and wait to get married? The officers at those offices should welcome them with garlands and get them married at the earliest", Ramchandra shoots.
"Pyar Karna to Darna Kya"(Why be afraid when you are in love?)
AMOFOI also actively supports young couples who face difficulties to get married. The most common reasons for opposition from families are related to caste, status or both.
Sankar and Priyanka fell in love in college. Their parents were opposed due to their different castes. They fled and came all the way to Bhubaneshwar from Ganjam to become married couple number 8680 at the AMOFOI office.
I was curious and asked them why they didn't go to the police for help because once they are legally married, their parents can't cancel the marriage or harm them.
Sankar replied reluctantly, "Here they can."
Ramchandra gives courage to such young couples to take the leap. This fearlessness goes beyond going against powerful factions of society and he makes sure to announce it.
"AMOFOI style of marriages is best to avoid the spread of CORONA", Voltaire says with a smile.
The depth of Casteism
For 8500+ couples whom Ramchandra helped to get married through AMOFOI, he has experienced the reality of deep-entrenched casteism and classism in India.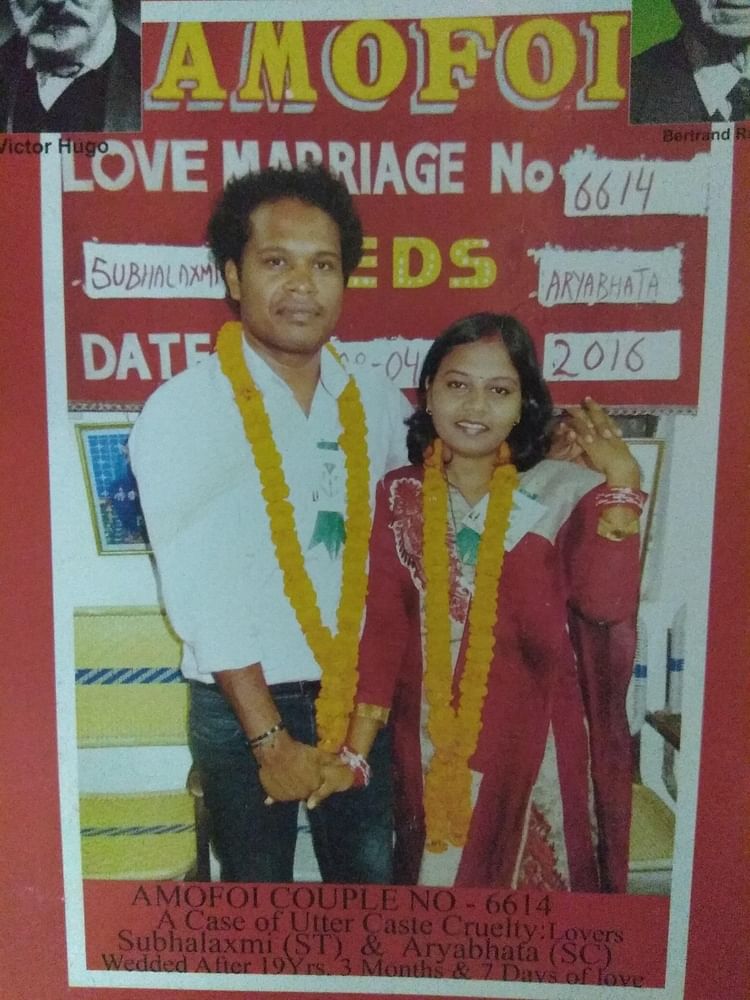 One such story is of "Love marriage Number 6614", between Subhalaxmi and Aryabhata. They both belonged to marginalized communities. ST and SC respectively. Their fathers were educated, worked as teachers in the same government school. Yet their deep-rooted casteist mindset got the better out of them. The couple had been in love deeply for 19 years, 3 months and 7 days, before they finally eloped and got helped with the help of AMOFOI.
"They shouldn't have waited that long at all. I say, do not worry, just elope and marry", said Ramchandra with pride.
He wants "Right to Elopement" to be included as a fundamental right in the Indian Constitution.
Love Marriage Zindabad Party
Chances are that you never heard of it. And not only because the Election Commission officials laughed at the name when Ramchandra filed his nomination in the 2019 Parliamentary Elections.
"Those officers are afraid. They do not want their own daughters to elope and do love marriage. That is the reason they kept delaying my nomination", says Ramchandra with conviction.
Thus, he was compelled to rebrand into the Freethought Party of India.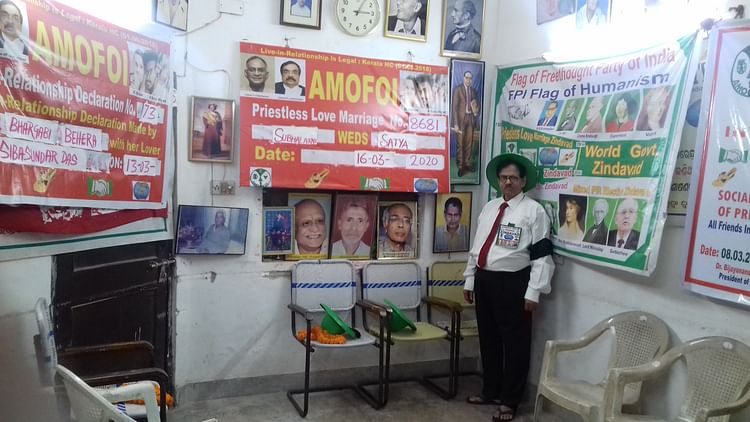 The FPI fought elections with limited resources, on a progressive agenda to stop idol worship, establish democracy in a Swiss model, spread English education at a grassroots level, etc.
Ramchandra contested from Bhubaneshwar constituency and got about 3,000 votes. But he does not let that deter him and will contest again in the future.
"I won't stop till the goal of FPI, i.e Globe-in-Mind Ethical India & Global Government is achieved".


He parts with his message,
"Be ethical, Be Equal
Be Mobile, Go Global".