1. Your brief introduction.
I am a Post Graduate in Sociology and have done a Certificate Course in Computers and my interest goes for application of Information and Communication Technology(ICT) in teaching and learning for primary education sector.
2. Write about why you chose this cause
The literacy rate of the Telangana region as per 2011 census is 66.54%. Male literacy and female literacy are 75.04% and 57.99%, respectively. In Telangana, there is a wide gap (24 per cent) in literacy rates among urban and rural populations. Urban literacy is 81 per cent while, rural literacy is at 57 per cent. The state shows significant difference in male (75.0 per cent) and female (57.9 per cent) literacy level. The statistics express the need for improving the literacy situation in rural areas and for female literacy and in urban areas, where poorer communities send their children to Govt Primary Schools.
I have chosen this cause because education through ICT for Primary learning level, has good understanding and retention among children, which was experienced during Covid-19 pandemic, by online classes to children, where desktops, laptops and mobiles were used widely, whoever had access to them, with maximum opted for mobile, as it was accessible and affordable by them.
3. How you want to help these people
I would like to contact the Govt Primary Schools and tries to help use of ICT for learning skills, and try to arrange and provide educational aids to the poorer students and creating general awareness skills to use the ICT for learning.
I propose to contact the local NGOs, Industry, Educational Institutes, local public representatives, social and religious organisations to donate old head phones, mobiles, and other electronic gadgets, to Primary Schools for distribution to poorer students.
I would also like to generate awareness about various Central Govt and State Govt Schemes for the economically poorer students and parents, communities, panchayats, NGOs etc so that the benefits can be derived by the economically poorer local people, for the education and well being of their children, through mid day meals, audio visual interactive TV and e lessons, ensuring girl child admissions, tuition fees waiver, school health, sports, cultural activities etc.
4. What you want others to do
With changing ICT, it is a very effective mode of learning for young children and the Primary Schools, need the cooperation in this initiative. Also try to contact NGOs, Industry and other Philanthropic Agencies to fund the cause of learning for poor students in Primary Schools. Gram Panchayat or local NAC meeting to sensitise parents to send their children to schools. Local Religious leaders to motivate parents to educate their children. Local Industry and Business as part of Corporate Social Responsibilities(CSR), provide dresses, books, cycles, mobiles, etc to students, and TV sets to School for video teaching. State and National TV Programmes too should run programmes on the benefits of school education and success stories, in local language, also put these videos in you tube to be seen in mobiles.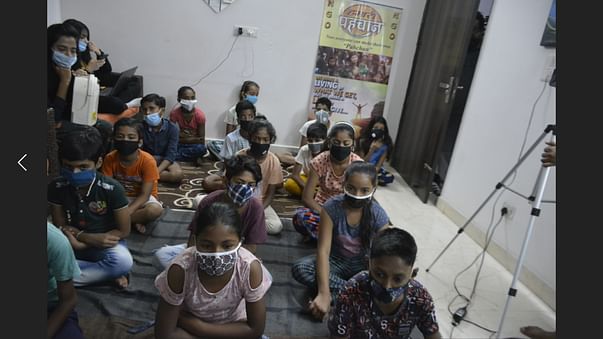 What's holding them back?The answer is a scarcity of capital due to poverty.
I, Arti Verma, would like to tell you about their story. The story of unfulfilled dreams,
hardships, and perseverance. I'm a photographer by profession but a social worker by
preference. , I spend a few hours per week with these kids. Since its inception, we've been
working on a project called 'DRISHTI'. The very idea of Project Drishti started from a single
room in 2014 where we dreamt of providing the most important tool to strengthen the roots
of children i.e., ' Education'.
Working day and night tirelessly on the same initiative, our team brought it into effect
in 2016 with great impact. With the need of the current times, we are working towards
introducing measures to shift our initiative to something that can be accessed via the internet.
Through the means of " GADGETSHALA ", we intend to shift to a mode of online learning,
accessible through gadgets such as mobile phones, tablets, and laptops. Furthermore, we have
distributed textbooks, notebooks, and other stationery essentials, doing our best to ensure all
have accessibility to elementary levels of education. With online lectures and online sessions,
we have the plan to move towards an online accessible environment. In conclusion to the
same we are of the idea that from the beginning till now, our team is able to educate and
make more than 11215 children's future bright.
IMPACT WE ARE PLANNING
We used to teach hundreds of students on a regular basis. Since March 2021 the problem
related to child's education is increasing. Underprivileged students are not able to attend their
online classes. There are no proper facilities for the same. Now we have come forward with
an urgent need for action because those students can't afford more loss to their academics.
Looking forward to making the facility of internet and virtual education available to every
child residing in slum areas or being deprived of basic education.
We have enabled a few areas with internet facilities. Our plan of action is to establish
1. Internet facilities
2. Smart gadgets like mobile phones, laptops, and computers.
3. A mobile van to make this " GADGETSHALA" accessible in various areas.
4. Your valuable time to teach these children.
1 Laptop costs around Rs. 25,000.
1 Tablet costs around Rs. 10,000.
1 Computer costs around Rs. 25000
1 Mobile Van costs around Rs. 5,00,000
We are aiming to provide a full library to these students equipped with gadgets.
तकरीबन 1— 1.5 साल से
ूल वह कॉलेज बंद है।
ब
त सारेछा
ऐसेह
िजनके पास ऑनलाइन
ास लेनेका कोई मा
म नहींहै। कुछ छा
ऐसेह
िजनके पास इंटरनेट ए
ेस भी नही ंहै।
ऐसे कई कारण है िजसकी वजह से आज सरकारी
ूल की छा
अपनी पढ़ाई से िबछड़ते जा रहे ह
।
इन ब
ों के भिव
के साथ और
खलवाड़ ना हो इसीिलए हमारी पहचान एनजीओ बना रही हैएक
I am requesting that you all take action. Every child's fundamental right is to have access to
basic education and knowledge of oneself and society. We hope to maintain and broaden the
scope of this belief through this project. We might not be able to sponsor a student's phone or
laptop on our own, but even if each of us contributes a small amount of Rs.1000 or Rs.500,
100. We can help these students achieve educational stability. With your support, these
students will be able to attend classes on a regular basis and will be prepared to take
responsibility for a more educated India.
By doing our part, we are not only assisting a student in obtaining an education, but we are
also encouraging and contributing to our country's bright future.