What is the Problem?
More than 2000 trafficked women and their children have been locked down all their lives across dark and cramped brothels on GB Road, the largest red-light area in Delhi.
Sex workers (Didis) on GB Road are victims of sex trafficking, abuse, and violence. Women of GB Road who support their families through daily earnings found themselves without any money after the lockdown. Their lives have come to a grinding halt, even basic necessities like food and medicines are not available at hand.

What is
Kat-Katha
doing?
Kat-Katha organized multiple large-scale COVID-19 Relief Drives (From April-May) and distributed 1300+ substantial ration and hygiene kits, cooking fuel, and medicines to 800+ sex workers and their families for four month's sustenance. We also provided special nutritious and hygiene kits for infants on GB Road.

Awareness campaigns to sensitize women and children about the Coronavirus pandemic driven by leaders from the community.

Comprehensive analysis of the situation and planning to support women and children.
In this situation, women are left hopeless and unemployed. We aim to empower and support more than 1000 women with basic necessities and alternate livelihood options to fulfil their deep-rooted dreams to live a life of their own choice and break the chain of sex trafficking through this Fund.

What will COVID-19 Resilience Fund provide?

Food security, medical aid and hygiene kits for 12-18 months.

Provide quality education, holistic growth and safe residential space to children and women.

Training women in employable skills and enable them for rehabilitation.


How can you help?
Your donation will provide livelihood opportunities and essential supplies like food and medical aid to more than 1000 families on GB Road to make the community self-sustainable during COVID-19 crisis. To understand the value of your contribution, see the donation chart below.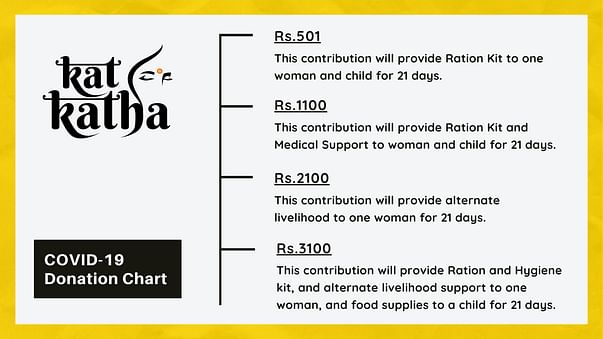 How will you get the updates and tax benefits?

This is a 100% not-for-profit campaign, and we will disclose the disbursement progress of the fund with regular updates to donors. You will also get 80G tax benefits for your donation.

Open your hearts and share your love to save the "Street of Love". Together we can overcome this fight for freedom, Hope, and Happiness!

Important Note: Experts predict it might take up to 6 months for social distancing measures to relax and 18-24 months for the economic conditions to revive. Sex work, specifically, would face serious problems due to the social distancing and economic crisis, and sex trafficking would increase resulting in more women forced to sell their bodies due to poverty.




COVID-19 Relief Drive Media Coverage - Al Jazeera | The Wire