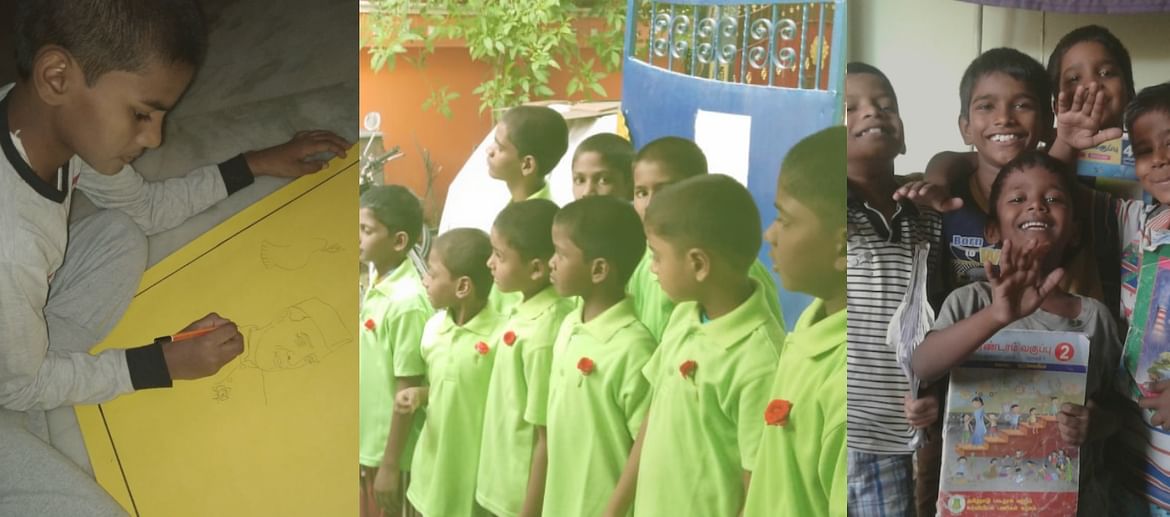 Name of the Project: Own House for the deprived children
INTRODUCTION:
We the Divine Light Movement Charitable Trust (NGO) started from 2000 onwards involve in socio-economic development programmes for the upliftment of the urban and rural downtrodden community.
Also, we involve in various children programs like conducting free tuitions, forming children's clubs, giving awareness of children's issues.
Later this vision conceived to start a children Home called 'Greater Love Children Home' which is a refuge and brought a new hope in the lives of the Orphan, Semi-orphan, and unprivileged children from various backgrounds. At present 15 children are there and they are blessed, nourished, and given good care.
BRIEF DETAILS ABOUT ORGANIZATION:
We the Divine light movement charitable trust (NGO) proudly running a children home called Greater Love Children Home Which was started in the year 2011 in a rented house at Ayanavaram, Chennai. These children are selected without any discrimination of caste, color, religion or creed. They are trained to attain the capacity to stand on their own legs at the time they leave our home and also we educate their basic rights and taught to participate in their own development, So that, they will come to know they are valued, cared for and feel loved in the community.
"It's not how much we give but how much love we put into giving"
-Mother Teresa
BACKGROUND OF THE BUILDING:
Our present home is situated in Ayanavaram Chennai and this building was constructed in the year 2000. The Total surface of the area is 975 Sq. Ft. This home is situated in a peaceful atmosphere where the children used to this place which has a good building structure, dormitories, dining hall, kitchen, toilets, terrace, and the good wooden structured cupboards, Rainwater harvesting and with 1 entry and 2 exists.
NEEDS:
We pay a huge amount of Rent Rs. 37,000 for every month, which is a major expense we meet every time. Our House Owner, due to financial constraints, decided to sell out this home and she gives us the opportunity to buy this home. First and foremost this place is very much comfortable to our deprived children. This home is situated in a prime place were schooling, Hospital, Market, nearby shop, bus stops all just a walkable distance in 5 minutes. We have been running these children home for the past seven years in this rented building with good accommodation and with all good amenities for the children.
"The Simplest acts of kindness are by far more powerful then a thousand heads bowing in prayer".
-Mahatma Gandhi
OBJECTIVE OF THE PROJECT:
Ø To upgrade the facilities in the home presently run.
Ø To provide an opportunity for 25 orphan, semi orphan and poor children.
Ø To impart moral values to children and to strengthen them as self-reliant.
Ø To empower these children to be self-reliant and sustainable towards their future career in turn they too should carry out this vision in their life.
IMPACT OF THE PROJECT:
Ø It will help to increase the children strength.
Ø The children feel as their own home.
Ø Easily accessible like schooling, Hospital, Market, nearby shop, bus stops all just a walkable distance in 5 minutes.
Ø The children are surrounded with a healthy environment which gives them hope about their future and developed with good mental health.
Ø The need for us to start a children's home called "Greater Love Children Home", which brought a smile in the faces of these needy children.
"We can't help everyone
But everyone can help someone".
BUDGET:
The Total surface area is 975 sq. ft. The budget requested amount for this project is approximately
1crore and 70 lakhs, but it's negotiable.
S.No Areas Sq. Ft.
1 Total Carpet Area 975
Infrastructure Details
1. Reception Cum Office Room
2. Kitchen w/ Store Room
3. Study room with Library / Dining Room
4. Dormitory 1
5. Dormitory 2
6. Dormitory 3
7. Bathroom w/ Toilets 1
8. Bathroom w/ Toilets 2
9. Bathroom w/ Toilets 3
10. Bathroom w/ Toilets 4
11. Washing Area
OBLIGATION:
Dear Well-wishers, we put forth this obligation before you for your favorable consideration. We have the "power to create change" in the lives of most needed one.
We request you to connect to your friends who are charity like-minded and hope you will extend your helping hands to this noble cause. We thank you for being a channel of blessings and a part of GLC family, so that "We together Can bring a great Difference" in these needy ones.
Note: Your contributions to GLCH are Eligible for Tax Exemption under section 80G of the Income Tax Act.
Every child comes with the message that God is not yet discouraged of man.
-R.Tagore
Thank You