Why are we supporting this fundraiser from UC?
My name is Sanjoi Midha and I am a third year student of architecture at UC. I also represent the UC Indian Students' Association. I want us to support this cause because India is still hurting. The pandemic is now spreading to rural communities in India who are on the verge of collapsing.
I have joined the global Student Network for India as a student from UC because I know that together we can do something to help. Please donate whatever you can and also, share the campaign. Every dollar that you donate will reach those who need it the most, and will help save lives. If you have any questions, please get in touch with me via email at midhasanjoi@gmail.com. Thank you!
- - - - - - -
Current situation of COVID-19 in India
India is currently experiencing a
devastating
second wave of COVID-19. While official figures from mid-May show that
250,000
people have died, actual figures are
estimated
to be three to five times as high. Simply put, waking up to the news of family members and friends passing away has become the
new normal
in India.
The crisis that has engulfed cities like Delhi and Bombay is now spreading to
villages and marginalised communities
across India, who have almost
no access to doctors and hospitals.
The difficulty of tracking the virus in these regions is being compounded by the administration's
effort
to obscure the on-ground reality. Global media coverage of India's struggle with COVID-19 is waning. However, these communities lived in a precarious state even before the pandemic began and are now suffering a
humanitarian crisis
in parallel with the
medical emergency
that has taken over the nation.
Who are we?
We have come together as a growing network of 30+ university students from all over India and the world to do something to help. While our network began as a connection between students in India and Japan, we are now connected with students in Singapore, the US, UK, Australia, New Zealand and beyond as a global Student Network for India. Our members in India are contributing their lived experience as well as research capacity and skills to this initiative. Outside India, our members are contributing their personal and organisational networks to this fundraiser. Click
here
for more details about our team members.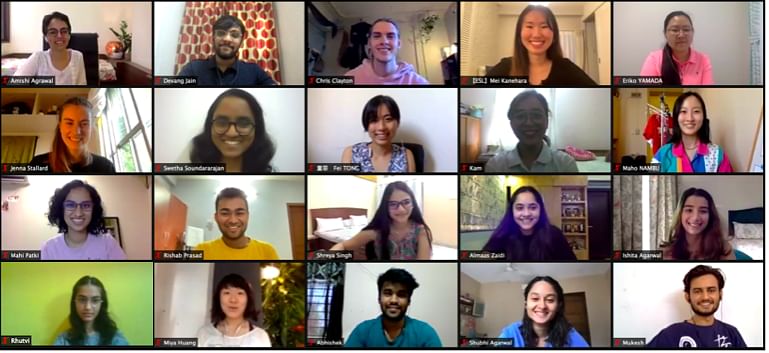 We are grateful to be hosting this fundraiser in partnership with
Asia Initiatives (AI),
a registered NPO in the USA and Japan. AI has
partnered
with 20 local non-profit organisations across India and is doing exemplary work in providing critical relief services and livelihood opportunities since the COVID-19 pandemic started. AI was
founded in Tokyo
by Dr. Geeta Mehta, who is currently a professor at Columbia University.
How will this fundraiser help India?
Based on AI's 20+ years of work experience in India and our India team members' knowledge of their own communities, we have identified
five NGOs from across India
to which we will distribute the funds raised by this initiative. While all five of these NGOs are based in different parts of India, they share three features:
1) they work with
under-served communities in non-mainstream regions of India
2) they have gained a
stellar reputation
for their work
3) they are currently in
urgent need of support
to provide their communities with
COVID-relief.
We have built a
detailed profile
for each of these NGOs that documents the meticulous
internal verification process
followed by our team to select these organisations. Here, we will briefly introduce you to the NGOS we are supporting. If you would like to know more, please follow the hyperlinks below to view each organisation's detailed and bilingual (EN/JP) profile.
1.
Grameen Mahila Vikas Sansthan
(GMVS) works for
women
in
rural areas
of Rajasthan.
2.
Impulse NGO network
(INGON) reaches
victims of human trafficking
across eight states of North-Eastern India.
3.
Parmarth Samaj Sevi Sansthan
addresses the needs of deprived sections of society such as
Dalit and tribal communities, and girls and women
in central India.
4.
The Highrange Rural Development Society
(HRDS) serves
tribal communities
in Kerala, Tamil Nadu, Gujarat and other parts of India.
5.
Samanta
works alongside
forest communities
in Uttarakhand and Uttar Pradesh.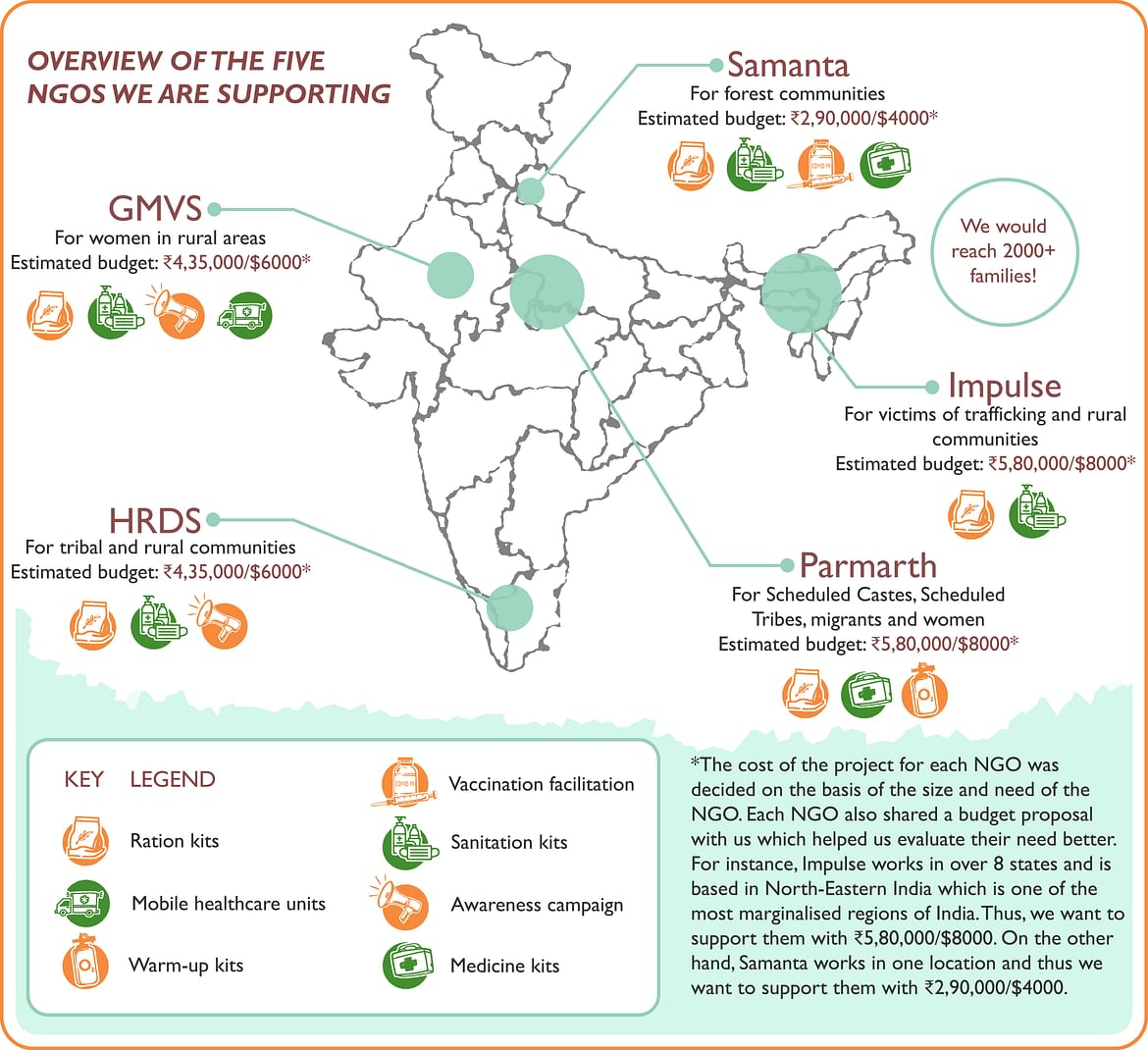 The total support we plan to provide to these 5 NGOs is ₹ 27,00,000 or $37,000. However, our goal for this fundraiser is ₹ 35,00,000 or $49,000 since we are actively
searching for more NGOs that we can provide support to.
If you're a NGO that wishes to get in touch or you know about an NGO that is providing COVID-relief to marginalised populations in the non-mainstream parts of India, please
let us know.
If we add another NGO to our fundraiser, we will provide a campaign update and build a similar profile for them as we built for the other NGOs we are supporting.
Details about financial transparency
Within
two weeks
of closing the fundraiser we will add updates to our campaign including
proof
that the money collected has reached each NGO. We will also share a
project report
with specific information and documentation of how each NGO utilised the funds received in their COVID-relief projects.
Call to action
Now is the time to take action and show our
solidarity
and support in a
meaningful
way. If you have heard about or experienced the COVID-19 crisis in India and felt
helpless
, this is an
opportunity
to make a difference. Every donation, large or small, will be used to fund COVID-relief projects for the most marginalised communities of India.
Any amount that you donate will help save lives.
Donate. Spread the word. Stay safe, and stay healthy.
Contact us
For any questions or feedback, please send an email to studentnetworkforindia@gmail.com or amishiagrawal@g.ecc.u-tokyo.ac.jp (Amishi Agrawal).
If you would like to join our team, click
here
.
We would love to work with you!
You can also follow campaign updates from us on our Instagram
handle
.