I'm Neel, a grade X student in Pune. This summer, I decided to be a changemaker and chose to raise funds for underprivileged school children in rural Maharashtra. According to DISE (District Information System for Education), out of every 100 children in India, only 32 finish their education age appropriately, which must call for immediate change. I am running this campaign for ThinkSharp Foundation which wants to ensure quality education for these children. Technology has become such an integral part of almost everything we do in our daily lives, including our education, and we want to share it with those who don't have access to it ... and you can be the reason for this change. Help us by donating and inspiring others to do the same, to be able to provide a better quality education for these children and hopefully change their lives, especially during these difficult times.
Home Schooling By Thinksharp Foundation

Home schooling for rural children - Need of the hour
Why do we need home-schooling?

COVID-19 has affected the globe in every way possible. We humans are taking every possible measure to survive during this pandemic. However, this has not been possible for everyone. Each of us have our own method of surviving through this phase but the rural children in our nation are stuck in this vicious spiral. Apart from battling the pandemic, the long break from education that they have been on, may restrict them from rejoining their school due to various reasons. These obstacles don't just lead to a poor quality of education, but also contributes to high dropout rates in rural schools - nearly 50 percent by the age of fourteen. The real struggle for them will start after the pandemic when they have their whole life ahead of them.
As a viable solution, we felt the need to turn towards digital education but the difficult circumstances make it impossible in rural areas of India. Most of the rural children do not have a computer, laptop, or a tablet in order to connect to their teachers or any other webinars, seminars, online classes etc. This is going to make it very difficult for teachers and students to finish the academic syllabus in an effective manner.
What is the home school project?

Thinksharp Foundation (TSF) has planned to implement a home-schooling model starting with Z.P. School, Gorhe Budruk village, Haveli, Pune. Under this project, TSF will provide educational tablets to all 70 children from grades 4 to 7 of this school. These tablets will help them connect with their teachers to attend online classes and will also have a library of 1200 books to read along with other educational apps. This will allow them to study online and offline.
Pilot projectof home school at Z.P School Ghore Budruk.
One of the teachers at this school,
Mr. Rajnikant Mendhe
(To know more about him -
https://www.rajnisir.in/
) was trying his best to connect children through Zoom, but the online classes could not be continued as most of the children did not have a suitable device in order to move forward. He stresses on the element of urgency in this situation as students in the village are on the verge of abandoning their education.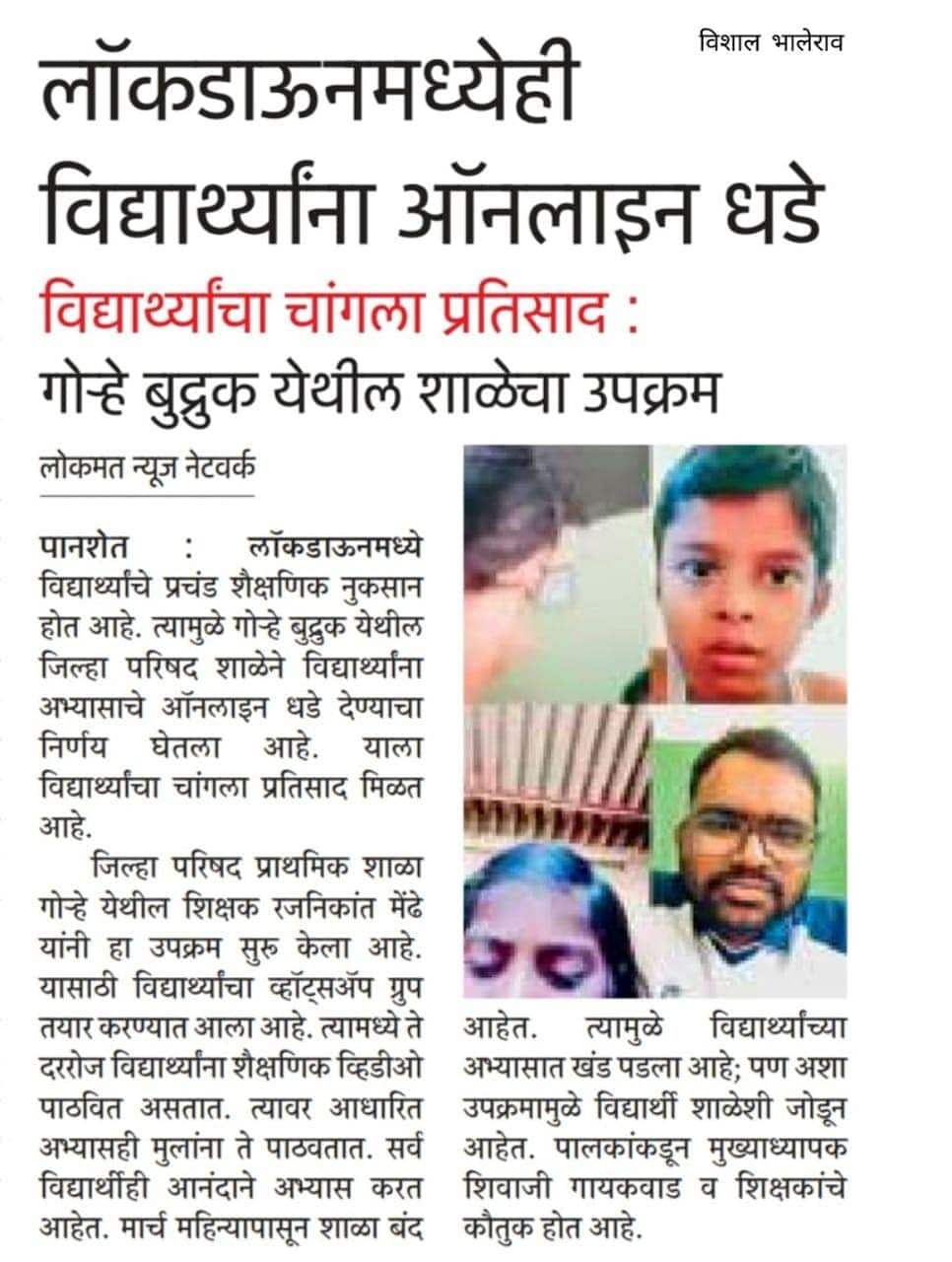 (Recent media coverage of Home Schooling program in Ghore Budruk school)
In rural areas, disinterest in studies accounts for 20.24% of school children, hence some students, especially younger ones, may totally lose their interest for schooling, making it difficult to incentivise them to get back to school. More importantly, he says that a crisis like this forces the parents to take their kids to work to earn money and as soon as money starts flowing in, parents become reluctant to send their kids back to school. Mr. Mendhe is working through all obstacles such as lack of resources, connectivity issues, and rural stereotypes to make his mission succeed. Despite these hurdles, the children that could attend these online classes, even for a short period of time, showed a high level of interest and motivation towards learning. This showed us the need for development of a digital infrastructure for these students so that their learning is not discontinued.
Home school project - The future of education

TSF will start with Z.P. School, Gorhe Budruk village as a pilot project. Albeit, in the long run, TSF would like to implement this home-schooling project in all the other schools they work with. TSF currently runs a project called "StudyMall" in 51 rural schools in Maharashtra.
StudyMall
is a project which strengthens rural schools with better educational infrastructure such as digital learning tools, libraries, computer education, electricity through solar energy etc. For more details visit
https://thinksharpfoundation.org/#home
Benefits for the kids:
The journey of education continues for these kids
User friendly tablets expedite the introduction phase. Students will have access to complete academic content in a multimedia format as per the state board syllabus
Student will not drop out of school
Students will be engaged and connected with teachers
Home-schooling through StudyMall will make rural education capable of providing interactive and hands-on learning experiences. In the long run this makes the kids confident and digitally literate when they go for a higher education.
As we see it, we will be able to impact a multitude of children by unlocking the doors for them to define their future. Heroes like Mr. Mendhe are dedicating their time towards the future of India even in these critical times. This is where we need to step in by contributing towards their long term well-being.

Tablet Cost -
INR 18,000/- per tablet
Total Project Cost for 70 students
INR 12,60,000/ +
Milaap and Bank charges
Tablet ( 4G + WiFi ) installed with academic syllabus, digital library of 1200 books, warranty.