Gauri is a 14-year-old girl. She aspires to be a manager and learn how to use technology.
Sapna is a 17-year-old girl. She wants to learn leadership skills in order to pursue a career in
management, so she wants to understand how technology works.
Nihal is a 12-year-old boy. He's having trouble getting his classwork and homework because
he doesn't have access to a phone at home. He wants to be an engineer when he grows up.
Such lofty goals at such a young age.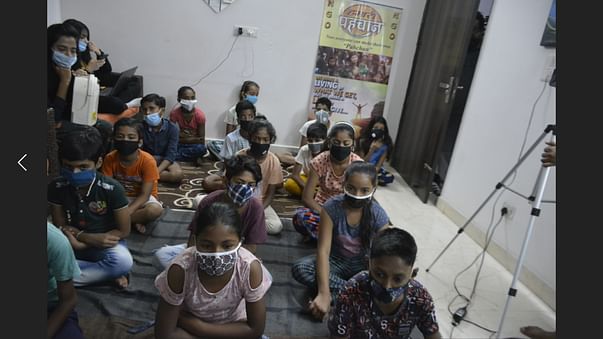 What's holding them back? The answer is a scarcity of capital due to poverty.
I, Suravi Pal, an undergraduate Law student, would like to tell you about their story. Being in the study of law, I am aware of the different levels of problems our society is suffering from, and therefore only empathizing for the misfortunes is not enough. We as individuals are individually responsible to help and contribute to the progress of our society. "Gadetshala" initiative by "Hamari Pahchan(NGO)" is one such effective step towards the same.
Education is the only way through which we can eradicate centuries of oppression, let go of our prejudices, and embrace the prospects of inclusivity within society. It is the first step towards the realization of liberty within ourselves and how we can utilize the same towards the help of others.
India as a country has shown a steady increase in its literacy rate, which amounted to 79.5 percent in 2019. However, due to the pandemic, the impact of lockdown, and online learning there has been a downfall of 2 percent, which is huge owing to our population status. One of the many reasons behind it is the lack of technology. "Gadetshala initiative" aims to bridge this gap. With moving 'Gadgetshala' the aim is to ensure the availability of gadgets and reach the online classes of the underprivileged. Without gadgets, their online studies came to a halt. We need to take immediate action to curb the issue.
IMPACT WE ARE PLANNING
We used to teach hundreds of students on a regular basis. Since March 2021 the problem
related to child's education is increasing. Underprivileged students are not able to attend their
online classes. There are no proper facilities for the same. Now we have come forward with
an urgent need for action because those students can't afford more loss to their academics.
Looking forward to making the facility of internet and virtual education available to every
child residing in slum areas or being deprived of basic education.

We have enabled a few areas with internet facilities. Our plan of action is to establish
1. Internet facilities
2. Smart gadgets like mobile phones, laptops, and computers.
3. A mobile van to make this " GADGETSHALA" accessible in various areas.
4. Your valuable time to teach these children.
1 Laptop costs around Rs. 25,000.
1 Tablet costs around Rs. 10,000.
1 Computer costs around Rs. 25000
1 Mobile Van costs around Rs. 5,00,000
We are aiming to provide a full library to these students equipped with gadgets.
तकरीबन 1— 1.5 साल से

ूल वह कॉलेज बंद है।

ब
त सारेछा
ऐसेह
िजनके पास ऑनलाइन

ास लेनेका कोई मा

म नहींहै। कुछ छा
ऐसेह

िजनके पास इंटरनेट ए

ेस भी नही ंहै।
ऐसे कई कारण है िजसकी वजह से आज सरकारी

ूल की छा

अपनी पढ़ाई से िबछड़ते जा रहे ह
।

इन ब
ों के भिव

के साथ और

खलवाड़ ना हो इसीिलए हमारी पहचान एनजीओ बना रही हैएक

I am requesting that you all take action. Every child's fundamental right is to have access to basic education and knowledge of oneself and society. We hope to maintain and broaden the scope of this belief through this project. We might not be able to sponsor a student's phone or laptop on our own, but even if each of us contributes a small amount of Rs.1000 or Rs.500,100.
We can help these students achieve educational stability. With your support, these students will be able to attend classes on a regular basis and will be prepared to take responsibility for a more educated India.