"THE SOLE MEANING OF LIFE IS TO SERVE HUMANITY"
~Leo Tolstoy
Hello Everyone,
I'm Bhart Arora (Ankush), known as 'The Loyal Heart' on Instagram.
Everytime I tell you my story that impacted on me in a positive way and my emotions feels more connected to these Voiceless souls as they are so loyal, loving and genuine. I've been doing this work from last few years and I feel great because the brightness and love i see in their eyes for me is something that i cannot express in words. I feel blessed that i choose this way of kindness towards these souls because nothing cost us to be kind. After lockdown the suffering of these strays increased even more. They suffer in silence with no food and no one to hear their cry and no one to see their pain.
I don't have normal childhood it was harsh. I was sent to orphanage at the age of 14. I was alone then i made strays my friends that became my family. I used to save money to fill their tummies. All of this made me realized that they demand nothing from you except your kindness and food to fill their tummies.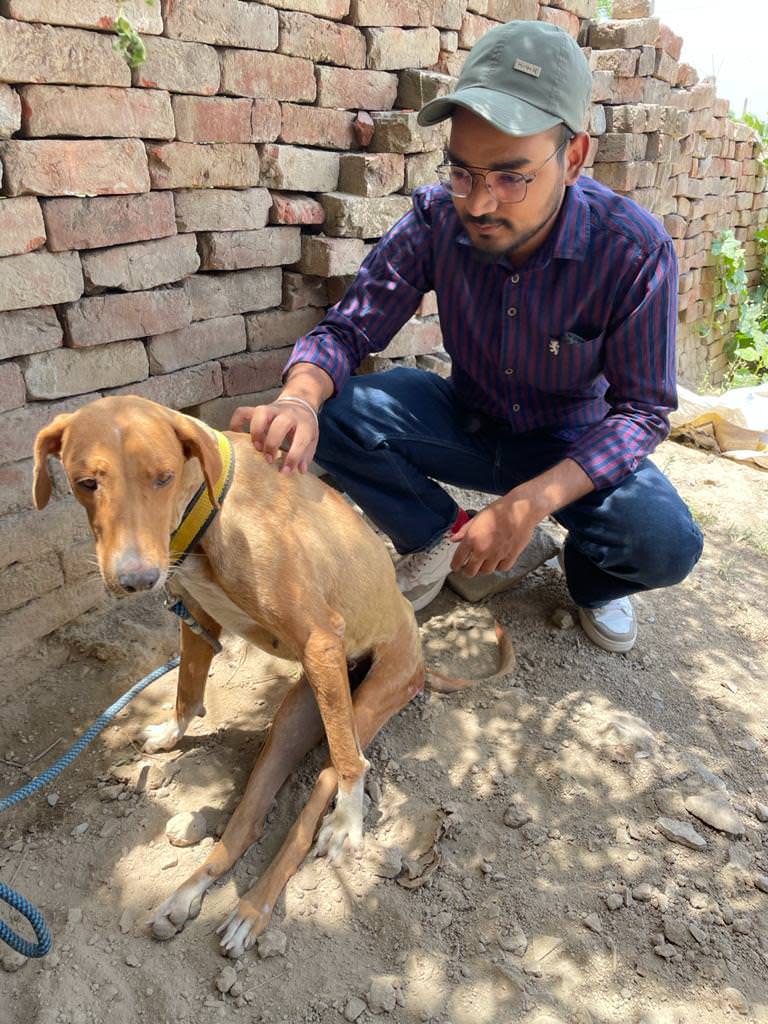 We all know how much these strays suffers on streets and they terribly die because of so many causes like hunger, accident, deadly diseases and human cruelty etc...
We receive new rescue cases almost every week, as i find it extremely difficult to turn away a rescue whom i may be the last resort to ask for help. I genuinely don't have any problem in that but i find it extremely difficult in cases of financial. I find myself struggling for funds to pay for their treatment bills. Treatment includes medications, surgery and shelter charges and i cant afford to pay for all.
And i cant deny that causes surge in my debts due to lack of donations.
Each day i felt so blessed that i choose this way of kindness towards these pure souls, because nothing cost us to be kind.
Aside from this I feed 120+ strays, plan vaccinations and sterilization drive for the dogs I'm feeding.
List of Ongoing cases under me:~
⭐Casper:- Ongoing treatment kept in shelter from very long time since her legs were paralyzed but now she have shown some progress.
⭐lucky:- we rescued him with one infected leg. His leg was amputed with surgery. Since the beginning of treatment he's in shelter. Its been almost 2 months.
⭐ Brownie:- someone left him in a jutebag him near shelter. His condition was not well so we had to kept him shelter.
⭐Drool:- we found him wounded now kept in shelter.
⭐Cooper:- ongoing treatment kept in shelter.
we have other babies in shelter where they are given proper care and food. And Also we have serious cases i provide funds for their treatment.
I'm appealing to everyone who is reading this can help in two ways:-
DONATE & SHARE
Your small contribution adds huge difference in saving these voiceless babies and your one share means alot as you share it more reaches to more people🙏
Note: Please do not donate Dollars as we face problem to withdrawal dollars.
PayPal account : Akashchopra301@gmail.com