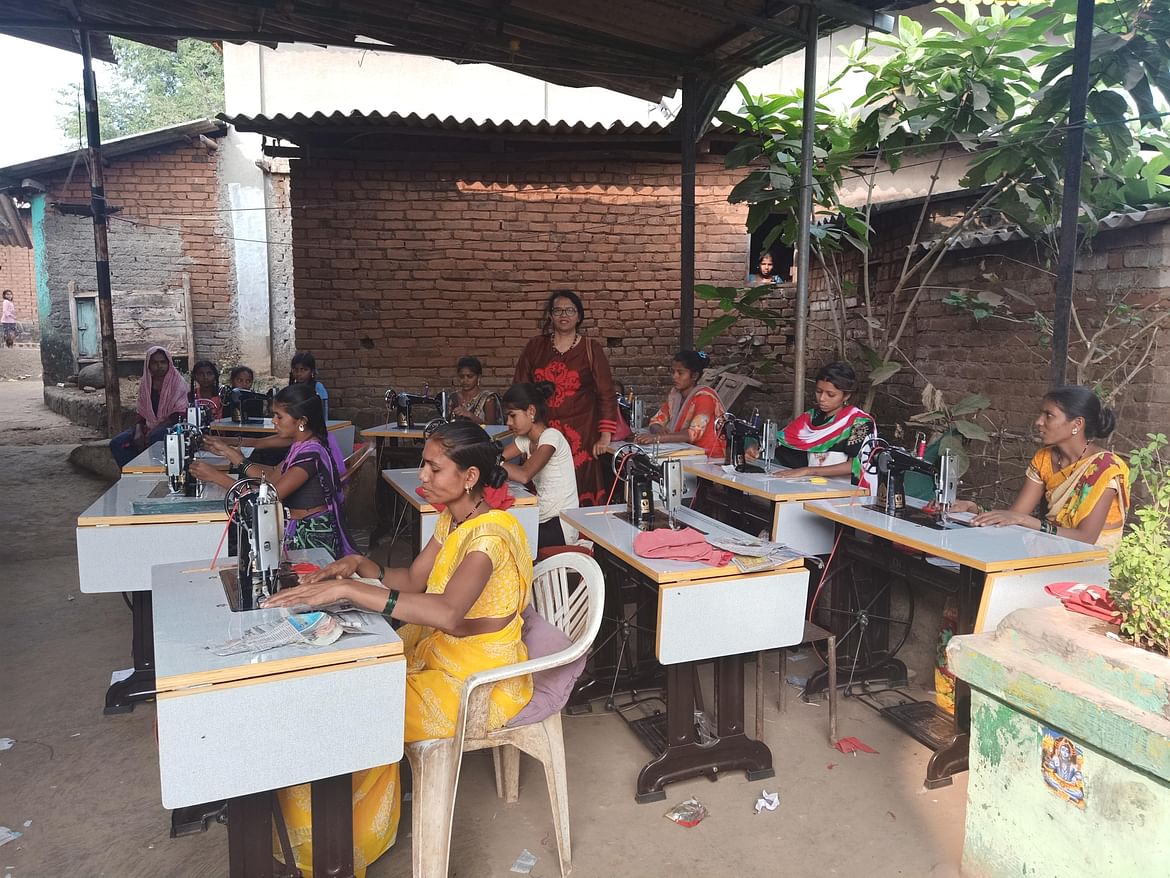 Support Ms. Bhavini Parikh- the founder of Dezine life social welfare foundation in providing work to the vulnerable women from Adivasi communities in karjat, Maharashtra those who require additional wages for sustenance and have lost a regular source of income in this pandemic.About the fundraiser
Dezinelife social welfare foundation is a not-for-profit organization, operating as a section 8 company, CIN: U85300MH2020NPL346985 Registered under the company act of 2013 on 30th September 2020 which aims to create skilled communities and build models of sustainable development, employment & environment.
Being the brainchild of Ms.Bhavini Parikh, the Ngo was born during the pandemic. Its main mission is to support those who have lost their sources of income, to help people to desire dezine life, support and learn from one another. They work with people and exchange skills to create opportunities and support livelihoods.
"on 30th March, I got calls from the Adivasi villages near karjat where for the last two months I had been giving skills training in tailoring to 50 women. The lockdown had left these families without any source of income, forcing them to the brink of starvation. I immediately started providing ration items for these families, to the best of my capacity." –Bhavini Parikh
Bhavini Parikh is a social entrepreneur with 30 years of experience in the clothing industry. Through her brand Bunko Junko, she supports livelihoods for hundreds of marginalized and vulnerable women while creating environmentally sustainable clothing. After the lockdown disrupted livelihoods and supply chains in the villages where these women lived, Bhavini started supplying ration kits containing rice, wheat, pulses, oil, salt, turmeric, and biscuits for children. She has also been engaged in manufacturing face masks and distributing food packets in Mumbai using her personal resources.

Problem :
The coronavirus pandemic has caused massive disruptions to the livelihoods of the underprivileged in villages near karjat. Located 60 km outside Mumbai, karjat and neighboring villages are home to several Adivasi communities who have been historically marginalized. Agricultural activity remains minimal and youth in the area are mostly employed as daily wage workers. The loss of livelihoods due to the pandemic has made their condition worse by making the most basic necessities inaccessible.
Solution
Dezine life social welfare foundation has launched this THE CHARITABLE THANKSGIVING BOX
Fundraiser to support Adivasi families who are most in need of financial aid.

About:
THE CHARITABLE THANKSGIVING BOX
Hey folks!
This Christmas, let's donate for a cause. Here's an opportunity to bring smiles to the highly talented and skilled women artisans of karjat and their beloved family members. Dezine life social welfare foundation is a non-profit and sustainable organization that aims at uplifting and empowering rural women by imparting the required skills and providing them a platform to generate employment opportunities. They are not only taught to be self-sufficient by creating eco-friendly handcrafted products but also to enhance their livelihood and support their family. Please contribute as per your convenience (the minimum amount is rs.2000) and we will surprise you with our charitable thanksgiving box.

It will consist of mix and match of the following handmade items: wreath and décor ornaments from upcycling fabric and masks. We want your assistance to generate regular work for these underprivileged people and help them sustain their craft. This donation will help them to produce more products and earn to support the family during this unpredictable pandemic situation. Please contact us at 9820383120 for more details.
As covid-19 continues to spread, the future has never felt so unreliable. These are challenging times for all of us! Right now, we're doing everything possible to sustain daily operations and feed our community. Now, more than ever, our community needs us. And we need you.
Please join hands with us. Let's reach out to our community together.
Note :
Once you donate please what's up to your address on 9820383120
we will send you a Thanksgiving box.
Email: dezinelifefoundation@gmail.com
Paytm /Google pay: 9820383120
Bank Detail: ICICI Bank
Koldongri Andheri east branch
A/C Name: Dezinelifesocialwelfarefoundation
A/C NO:642701003130
IFSC :ICIC0006427