India is witnessing a massive surge of cases for the past month. In India, COVID-19 cases is increasing day by day and now the condition is become more worst. COVID-19 has wrecked much distress in Assam. The figures are increasing daily, it crosses 3.1L total cases till now and 5000+ daily cases and 1909 death cases. The only possible way to win the war against COVID - 19 is by uniting our efforts and standing together.
The nationwide lockdown during the first wave has already pushed us behind financially, and now the second wave is adding new figures. Our governments need us, and we must cooperate with them. We have to understand that we are already in the mid of the biggest crisis of our lives, and there is no possible way to run away from it. India has already become the hotspot as we have more than 25% share in the world's current COVID - 19 cases. The citizens of India and the non-resident Indians must support the ongoing activities in all possible ways to protect the future of India.
Our primary focus is to save as many lives as possible, the poor Local people and migrant workers with no means of livelihood in cities have returned back to their villages. This mass exodus has not only made them susceptible to the deadly viral infection but also risked community transmission in their villages. We have to protect them from the deadly virus and help them financially.
Our Requirements:
1. Food and Medical Supplies to needy people and Migrant Workers.
2. We need mobile hospitals to help the needy patients by creating a setup at their homes.
3. Personal Hygiene Kit for Daily Wage Workers.
List of Initiatives taken by our organization so far:
1. Provided over 2500 N-95 masks and 3000 Normal masks between Poor People, Daily Wage workers and Migrant workers.
2. Distributed essential food item and Hygiene kits to the needy people.
3. We supported those needy families through our food donation drives, and we reached out to them directly and indirectly through our campaign partners.
4.WE FOR YOU creates awareness on importance of hand washing, social distancing and wearing of masks etc.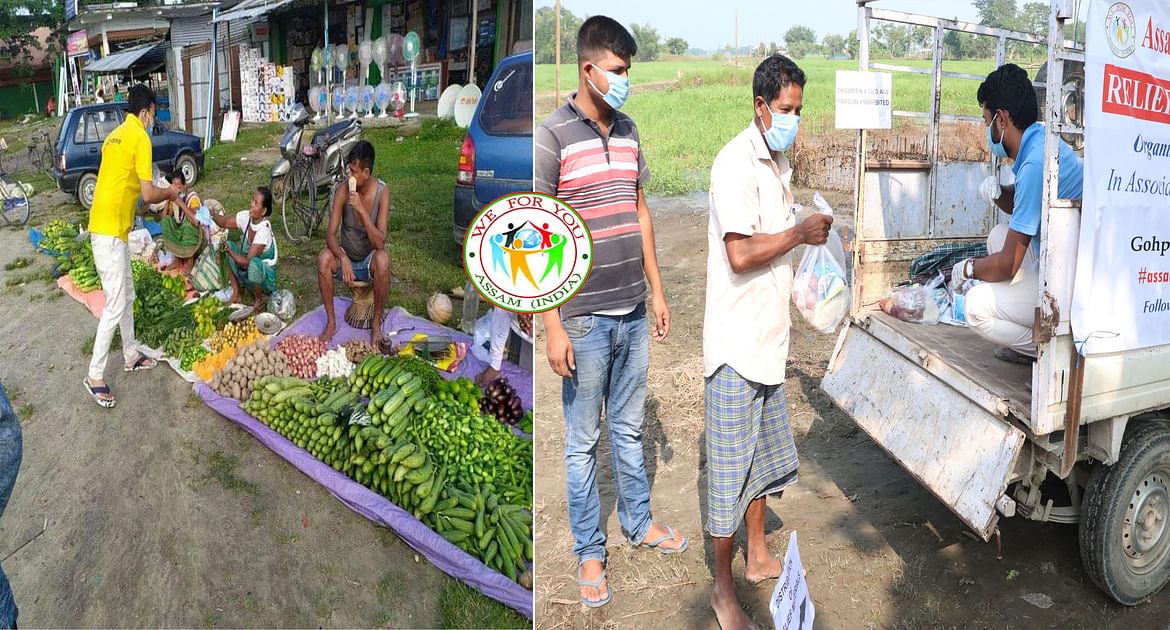 Tax exemption details
All donations made to
WE FOR YOU
are tax exempted under section 80G & 12A of the Indian Income Tax Act 1961.
Please send us the below information at – weforyoune@gmail.com
1. Name -
2. Contact Number -
3. Email Id -
4. PAN -
5. Payment Receipt -
BANK DETAILS
Account No. = 920010070593923
Name of the Bank = AXIS BANK LTD
IFSC Code = UTIB0003979
Name of the Branch = Kahilipara AS Branch.
Nature of A/C = Joint
Instructions for bank transfer
Transfer allowed by domestic bank accounts only.
This account will not support fund transfers from foreign banks.
Please mention all the details correctly to save our time and efforts.
In case of any issue, please email us at infoweforyoune@gmail.com
Warm Regards,
Team WE FOR YOU
Please Follow Us on Social Media-
Instagram - https://instagram.com/neweforyou
Facebook - www.facebook.com/we.for.you.2014
Twitter - https://twitter.com/WEFORYOU8
WhatsApp- 91 8472049426
Website - https://weforyoune.org