Vijay Tiwari is 52 years old and is suffering from Glioblastoma which is a grade IV Brain Cancer. He is currently undergoing Radiotherapy and Chemotherapy at the Tata Medical Centre in Kolkata under Dr Rimpa Achari.
Vijay and his sons have all lost their jobs due to the Covid Crisis. His total treatment cost so far has been 3 lacs which has been paid via his savings.
Vijay's family includes his wife Manju Tiwari and 2 children.
"My father has always been a positive influence in our lives and has taught us to never lose hope, but it is difficult to stay hopeful seeing my father suffer daily" says Vikas, his son
To continue his treatment, Vijay needs 2,50,000 in the next 30 days for Radiotherapy.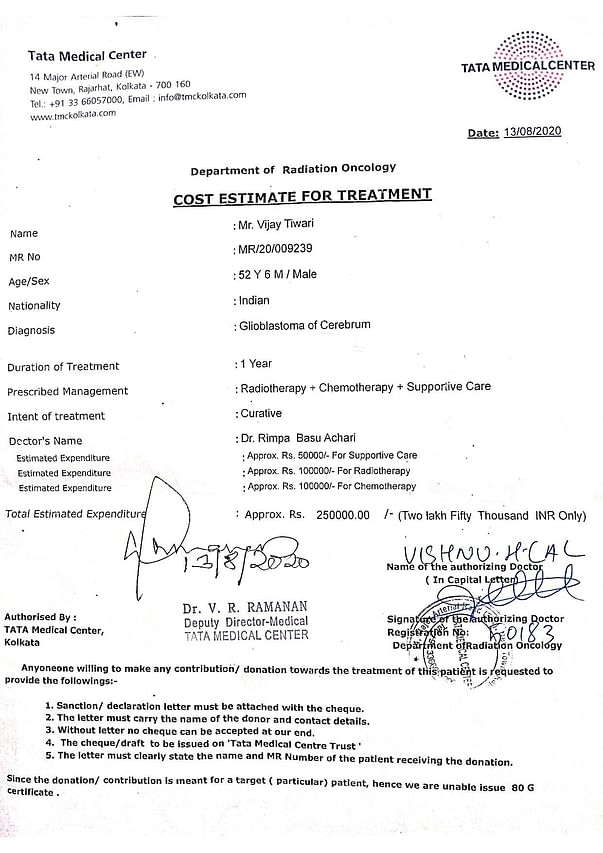 "It hurts me to see my husband battling such a painful disease. I feel helpless and wish I could take away his pain and suffering"says Manju his wife.
Would request support to help Vijay receive his treatment. Any contribution would be of immense help.