Hello I am Vaseem Chaudhary, a Tata Institute of Social Sciences (TISS Alumni), former Piramal Foundation, KPMG and CSSL employee.
Not anymore! Because cancer has taken over my life and I am fighting it
while I have exhausted all my and my family's savings.
I was diagnosed with Brainstem Glioma (Cancer) in 2016, when I had started my career at the age of 27. This diagnosis turned my whole world upside down. But following
29 sessions of radiation treatment
for the brain tumour, and
five years of oral chemotherapy
with Temozolomide, I was able to lead a relatively normal life.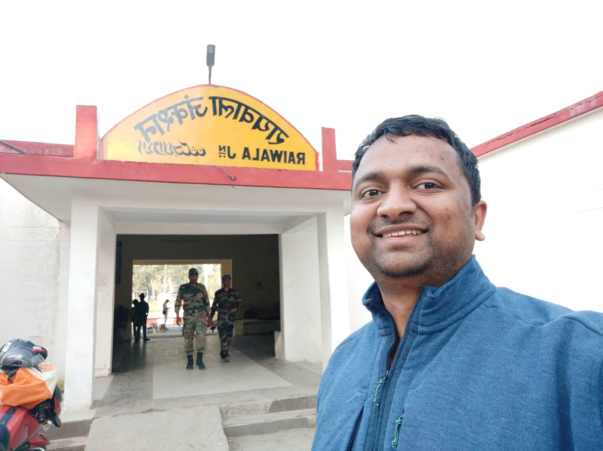 Vaseem at Delhi in 2019
Unfortunately, things took a turn for the worse last year - when my mobility and speech got affected, I realised cancer has come back. While undergoing my regular MRI scans,
I learnt that the tumour has been growing
and needs more attention with rigorous medications. In the past 8 months I have experienced extreme symptoms like loss of balance and loss of sensation on the right side of my face. I underwent a PET Scan, MRIs, and a second
radiation treatment of 28 sessions
. However, my symptoms kept getting worse after the second radiation session.
The only treatment option available now is chemotherapy. The tumour is still growing and my symptoms are getting worse. I am currently undergoing my first cycle of chemotherapy (comprised of six sessions) and it will be completed by July 2021. Post this, I will have to undergo a scan to know about the status of the tumour and then six more sessions of chemotherapy.
Vaseem during chemotherapy session at Bangalore Baptist Hospital, June 2021
Besides the impact of the cancer on the body, the treatment has also severely affected my mobility and speech. This has reduced my ability to continue with the job and other basic needs, let alone afford any further treatment. My family and I are emotionally and financially exhausted. We have spent all our savings and resources for my treatment till date, and now I have turned to Milaap as my final hope to get the treatment that I need to survive this aggressive cancer. We will forever be grateful for any amount you wish to contribute, and please share this campaign with your family, friends and colleagues.

Treatment Expenses:
First Cycle of Chemotherapy: 2,40,000
Second Cycle of Chemotherapy (including recent increase in cost of Bevacizumab due to Covid19): 3,50,000
Other Medications & Scans : 1,00,000
Occupational, Speech Therapy, Mobility Equipments and Mental Health Care Sessions: 3,00,000
Palliative Care and Others Expenses: 3,00,000
Total = 12,90,000 Rs.

Note:
1. The price of the second chemo cycle is higher due to increase in medicine cost due to COVID-19
2. Due to loss of mobility and speech, I would require continuous occupational and speech therapy for more than a year to get back to leading a regular life. Besides this, me and my family as caregivers have gone through a lot of trauma and I would like to take care of them by providing them therapy sessions.
3. As doctors are suggesting that palliative care could do magic, me and my family would need support for palliative care.