It is with our deepest sorrow that we inform you of the death of my beloved husband Venu.
This is a fundraiser for me and my late husband(Venu's) children's Educational and Home expenses.
As my husband's untimely departure has impacted us to the core . He left for heavenly abode due to covid on 24 May 2021 leaving behind our 2 small children.
Me and my children are struggling to adjust to the sudden shock of his demise.
He was the only earning member of our family, me(being a housewife) and children were dependent on him for meeting the ends for day to day expenses.
We lost our entire savings and borrowed additional money to cover his medical expenses but still couldn't save him.
Therefore we need financial help and support for the education of my children and meet basic livelihood expenses. We request you to contribute whatever little you can.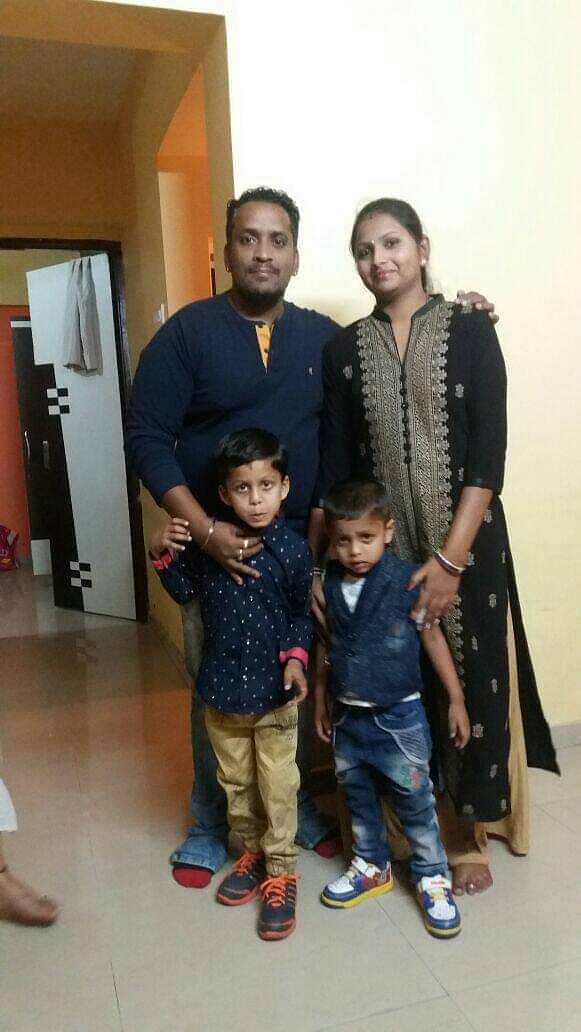 Brief about our situation
COVID had already hit us hard back in 2020 , when my late husband(Venu) lost his job in mid 2020.
Venu was working as Travel Consultant for the last 10yrs before the Travel & Tours industry got hit by COVID Wave in 2020.
Since he was the only earning member in our family, his job loss was unbearable with 2 kids education and home loan.
Our savings started draining out, so we moved to our native place for next 6 month to save some.
In 2021,Considering our kids' education and for a fresh start we came back to Mumbai and Venu started to hunt for a job.
During this course, he did 2 jobs but didn't get any salary at the end and the reason was the same - COVID impacted the business again.
It was a tough time for us but with family and friends' help we were able to sustain for the last 8th months from June 2020.
On April 25th 2021, Venu tested positive for COVID and started having breathing issues. After a CT scan we got him admitted to a nearby hospital.
By May 2nd 2021, he was moved to ICU because of his deteriorating conditions despite getting 5 doses of Remdesivir.
On May 5th 2021, Seeing no improvement we moved him to a different hospital where he was put on BIPAP(100% Oxygen support).
From 15th of may, He was put on a ventilator to maintain his body's oxygen level.
On 24th May , Venu took his last breath after battling with this deadly virus for a month. We couldn't save him.
Our lives have turned like living hell due to this sudden loss.
He has really worked hard to give us the best life he could but god had some different plan and barely a little time of joy and surged hope, he left this world at the age of 37. He was an extremely caring father ,loving husband and responsible son one can have.
Needless to say, but he didn't deserve to die this sooner, with our little married life memories and a pain to his crying family that we can never overcome.
My husband's only desire was to give us a decent lifestyle and his children to do well in life.
I appeal to you all to contribute for the purpose of our kids' lives.
We didn't have any medical insurance due to Venu's job loss, and the entire bill (Rs 11 lacs) was paid by borrowing money and taking help from friends and family.
We need a sum of Rs 20 lacs to repay all his liabilities and the education of two small kids .
A generous contribution from your side will ensure basic education for our kids, Every little effort counts!