Cause :-


Shyam Dubey and his mother (Usha Dubey) have Black Fungus. While both are admitted, Shyam's Mother lost her one eye in the treatment for Black Fungus and is now on ventilator.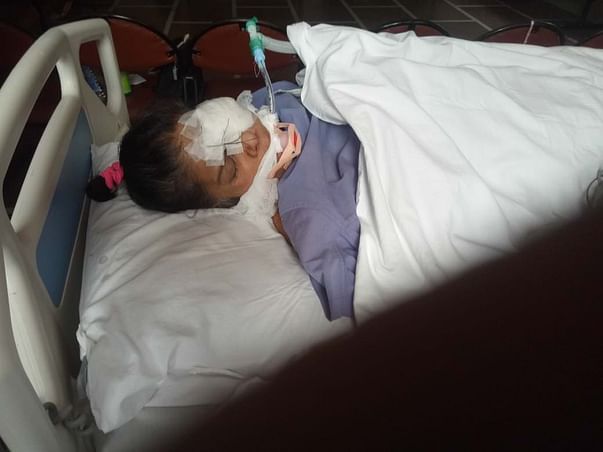 She continues to remain critical and battlin
g with life while the family stands helpless as they dont have enough savings to go with the treatment.
The injections and resources needed for treatment are also not available with the hospital timely due to shortage.
Shyam lost his Father few day back who gave up after a prolonged battle with Covid.
Shyam's entire family is affected with Covid
and are in mental and emotional stress as well as facing financial crisis.
Shyam is the sole bread earner for the family. The entire family has deplenished their life savings already in the treatment.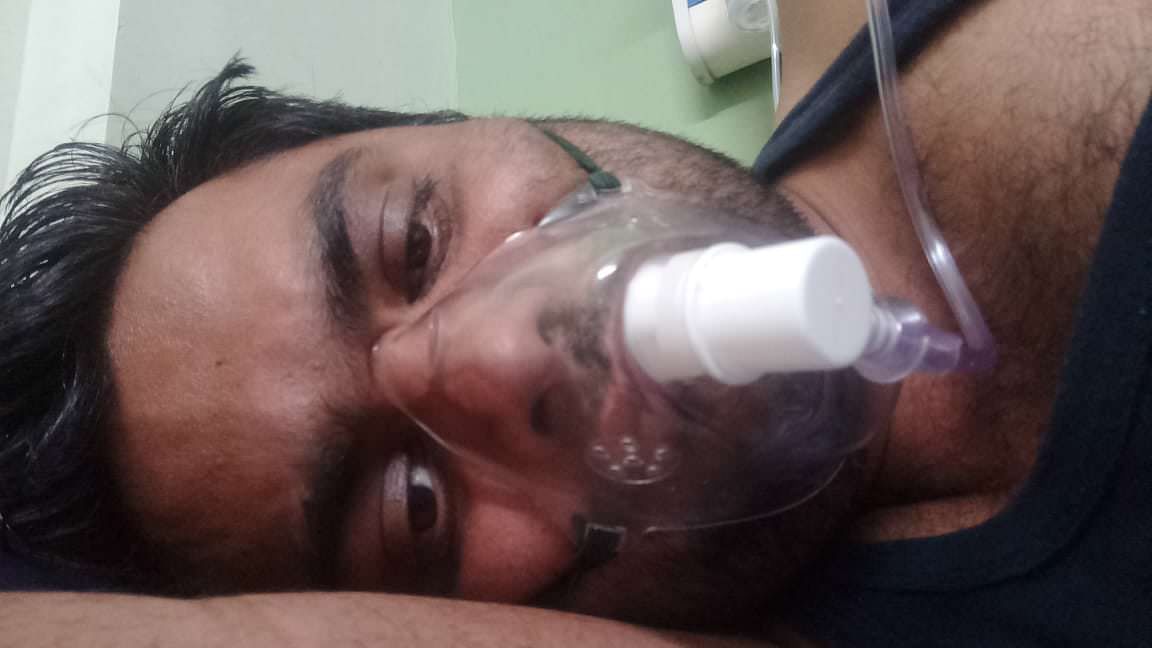 With folded hands, his family requests you to support for Shyam and his mother to get treated and recovered to take care of the family. Any amount big/small will be accepted with folded hands and immense gratitude!!
"Please help support their lives. ITS ON YOU NOW!!"
"Keep the Prayers ON and Help support to your best capacity, but also help share his story ahead and campaign for this noble cause.
We alone cant, Together Can!!
Save The family from getting disrupted!!
Small Actions * Lots of People = Big Change!!
#HelpDonate #HelpShare #HelpCampaign
#
KeepThemInYourPrayers
Shyam Dubey Contact No: +917898842624 (India)
[
Please avoid calling him directly as he is being treated himself]
Shyam's Mothers' Residance: Tikamgarh (MP)Treatment in :Mumbai Holy Spirit Hospital Andheri East 400093
===================================

Shyam's Covid Story!!Shyam Dubey, working in IT company in Pune, was badly hit by Covid in April'21. More to it, his entire family, including his Mother, Father, Brother & Family, Sister, Wife all had Covid
. By God's Grace, his little princess daughter was safe from symptoms and was sent to her Nani's (Grandmother's) home. While Shyam and his family got serious symptoms and got recovered post hospitalisation few weeks later,
they however got devastated while getting to know, Shyam's father (Late. Ramesh Kumar Dubey) had lost his life after a prolonged battle with Covid. Adding to it, this incured huge expenses around for entire family, and they lost all their earnings and savings in the treatment
. Despite this crisis, Shyam found courage to pick himslef up from this devastating loss and felt happy to be back safe himself to care of his family and his little daughter.
But Life had more heartache in store for him!! Few days later,
Shyam's Mother (Usha Dubey) started getting symptoms of black fungus and had to immediately get shifted to Mumbai Holy Spirit Andheri (East) Hospital, she is now serious and on ventilator, and had to get her 1 eye removed due to fungus, while Shyam also had symptoms of Black fungus but since he could not afford those expenses, and also as he wanted to first get his mother treated and be available for her care, he chose to keep himself aside :'( and not get the treatment immediately. While only now, his treatment has begun for Black Fungus on 19th May
. Shyam and his mother are now in Mumbai taking treatment while his brother is only there to take care while Shyam's wife has still not fully recovered from Covid and is isolated for now.
As of on, 19th May 21, they need Liposomal Amphoterein B which seems not available in hospital, as well as Monetary support to continue with the treatment.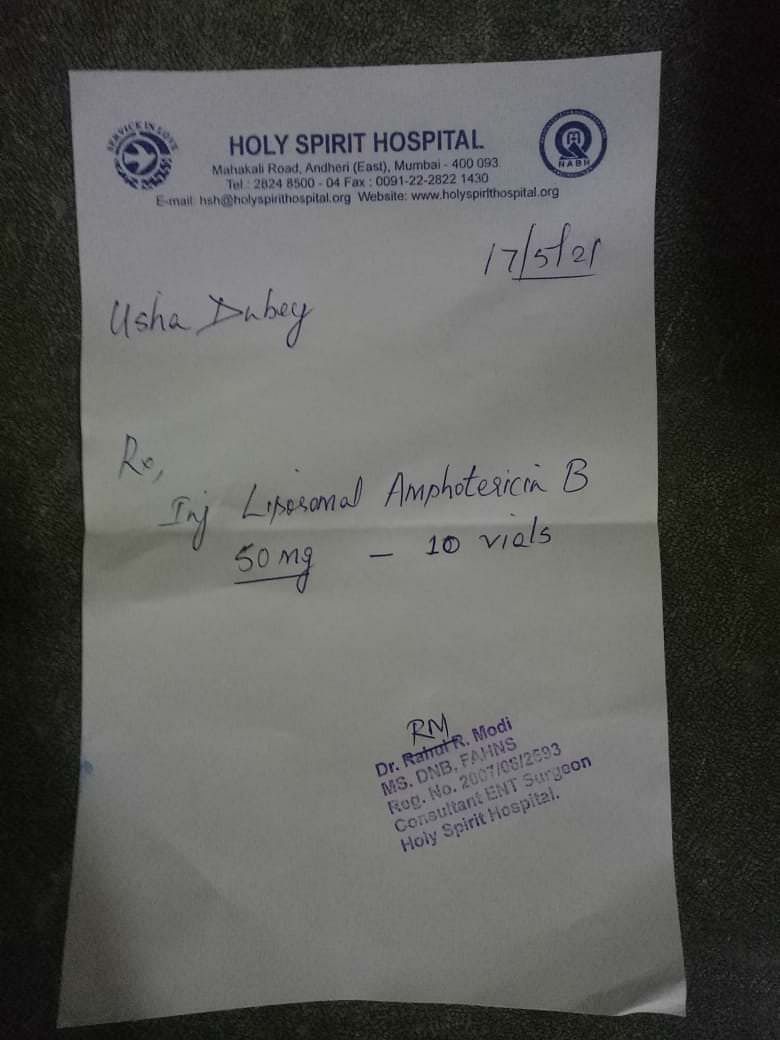 Supporting Docs:-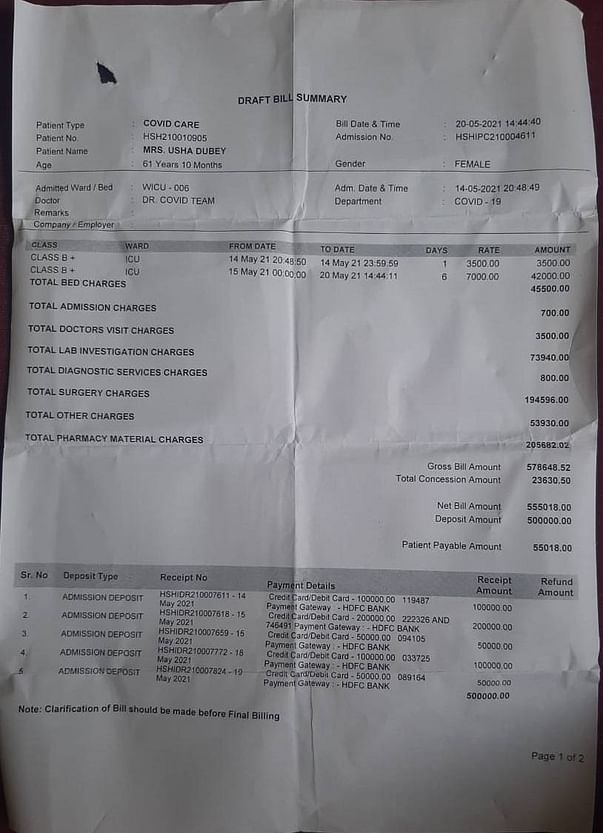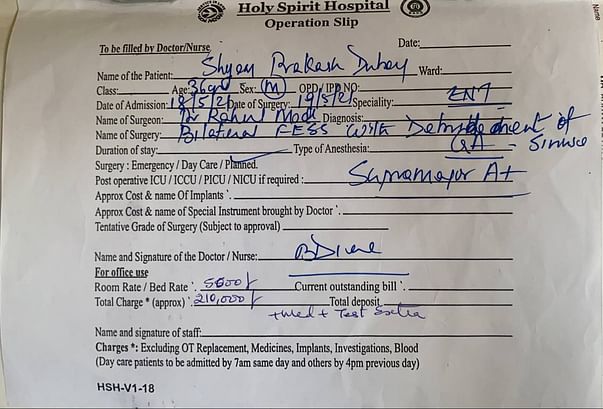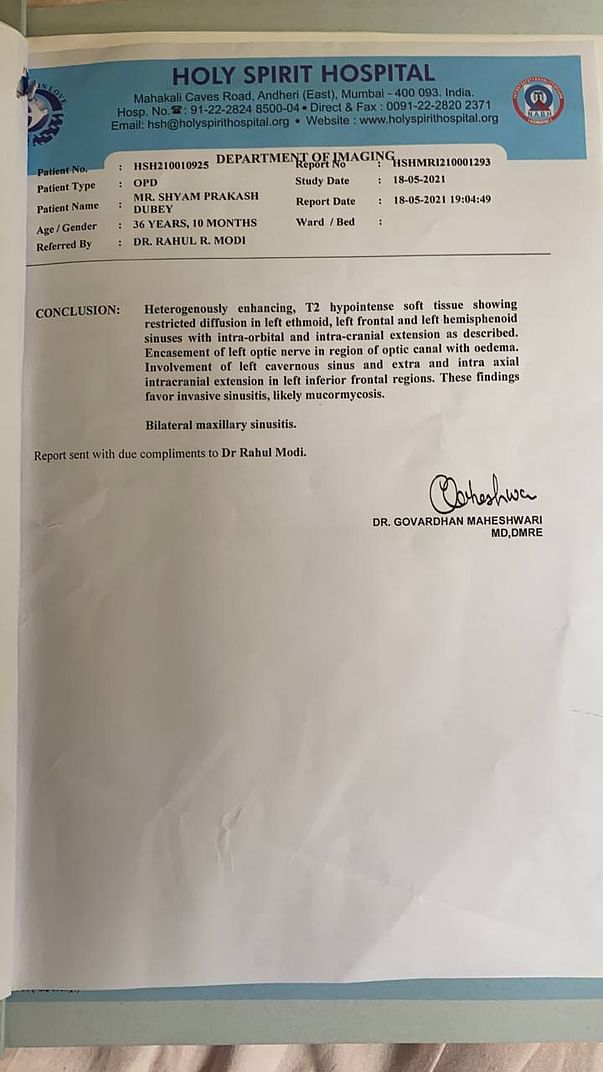 About Shyam:
Shyam's colleagues and friends call him a very intelligent, humble, soft-spoken and grounded human being. He was very supportive to all. Its now our turn to support. A bit of our help wouldn't cost us much but would lend a huge support to them.
Help Support as much and spread ahead his story.!!
We are fortunate enough to not be in that situation ourselves and only help from a distance as much as we can.
May God Bless You all and Keep you Safe!!
===================================