UPSHOP is a sustainable clothing start-up that creates one of a kind clothing. We are a home grown brand that is in love with the idea of slow fashion. We mostly focus on making clothing and accessories as of now.
Everything that we create is made out of textile waste sourced from large manufacturing units all across India. The fabrics that we source and use are the ones that are bound to go to landfills or go into incineration. Our aim is to bring CIRCULAR FASHION in fashion.
THE BRAND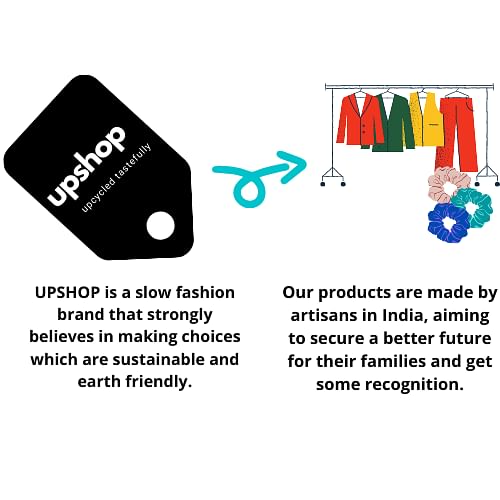 Why do we choose to UPCYCLE?
About 1.5 trillion litres of water is used by fashion industry every year. 70 million trees are cut down each year to make plant based fibres. 57% of these garments end in landfills while 100% of these garments can be put to better use by Upcycling or Recycling. 1 large scale manufacturing unit in India can produce up to 1,50,000 pieces a day. On an average 15-20% of total fabric consumption is discarded in mass production as defected fabrics, end of the line fabrics, post cutting waste and post stitching waste. This equates to about 40,000 - 45,000 meters of solid fabric wastage created by one unit every day.
IMAGINE ONE DAY AND ONE UNIT, NOW YOU CAN DO THE MATH!
THIS IS A GLOBAL ISSUE, THAT WE WANT TO RESOLVE ONE STEP AT A TIME.
Our story -
We started this brand with a vision to create our name in the field of sustainability and fashion.Our vision was, is and will always be strong , however we did not have a lot of savings or investment to put in. We started it with just INR 12,000 / USD 160. However, now to support our business, keep it running and to keep our artisans paid regularly we need more funds. Which is why we have started a crowdfunding campaign, any help would be huge for us.
Why should you support us?
Whenever you support us -
1) You are helping a small home grown business grow.
2) You are saving mother earth by choosing to promote slow fashion.
3) You are providing employment to local artisans who have lost their jobs due to the pandemic.4) You will also support underprivileged women in need of employment. As , in the next few months we will start teaching these women how to upcycle clothing / accessories and will provide employment to them as well.We have been tirelessly and endlessly working towards putting the extra fabric back to good use, with that we also make sure that we don't waste fabric at all. Zero wastage is our MOTTO!

Where would the money go?
The funds we raise will be mainly dedicated to buying more fabric to upcycle and increase our production to make our products more accessible to the consumer.
Not to mention our key focus is to :
Making sustainable fashion an everyday choice for consumers.
Here is a pie chart for our budget distribution for a clearer perspective -
Marketing - 8% (INR 20,000)
Sampling & Testing - 12% ( INR 30,000)
Salaries & Rent - 20% (INR 50,000)
Production - 60% (INR 150,000)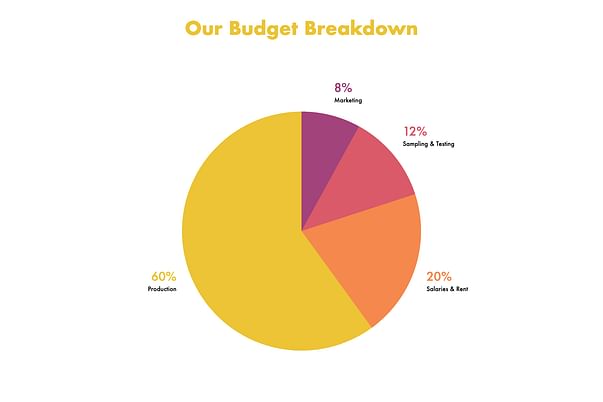 Here's what our clients are saying about us:
Risks & Challenges :
Starting any business is not easy at all, but starting a sustainable business is particularly tough. There are always potential snags and challenges that come along the way but we would like to mention the few that we faced and still are facing -
1) Consumer Awareness -We have always thought of fashion as something easily disposable and cheap. Wanting a new top/dress every time for a party/outing? So much easier than actually preserving clothes, making it into something new. With the limited resources we have , we battle this particular thinking each and everyday, we have to constantly communicate with our audiences , what hold importance, why is it necessary to opt for slow fashion, why should one upcycle /recycle?
2) Sourcing Issues - We don't produce in bulk and we just don't go and buy fabric. For us, the process is a lot tougher and exhausting. We have to be very particular about our fabric. Establishing a relationship with a manufacturer also means that our values align, so finding that has been a potential challenge too.
3) Establishing supply chain - As mentioned above, establishing and organising a supply chain has been our biggest challenge as of now, which is why we want to raise funds so that we can push our scaling and production.
4) Staying true to our initiatives - Although we only started 5 months back, we made a pact that we will always stay true to our goals and values. Scaling up while staying true to our values has been a definite challenge as well, specially in the world of fast fashion. However we plan to never compromise on that, because then what's the point.
BECOME A PART OF OUR VISION AND HELP US GROW!
India is one of the biggest garment and textile hubs and is one of the fastest growing economies in the world. Our millennial population is around 440 million people, many of whom understand the need to live a sustainable lifestyle but have limited options available to make that switch. So we invite you to become a part of our vision. We are not only sustainable, we are exclusive, classy and chic.