Please help us to create an educational hub including English Medium School, Spoken English coaching, Competitive Exam Training and Student Library in a remote part of India for underprivileged Student.
Story of Anesha
Anesha's fate was written 70 years before her birth when her great-grandfather and grandfather left their well-established garment business in East Pakistan (present day Bangladesh), and became refugees in India. Since last 70 years, things did not change much for the people in her locality. They have schools but with poor infrastructure. They travel 30 KM to get the train to connect with the world. It is very easy to predict her future. One day either she will be like Lina who has completed B.Ed but sitting home without a job or will become like Saona who is a science graduate with 1st class but currently earning less than an unskilled labour by working a private tutor in her village.
Who?
Prajna Humanity Foundation is a West Bengal based young non-profit organization in Mamabhagina which is located within 1.5 km of India -Bangladesh border. It aims to bridge the gap between potential that aspirants like Anesha, Lina and Saona possess and opportunities available outside the boundaries of the village. Thus they get a fair chance to prove themselves and live up to their aspirations where they envision themselves to be.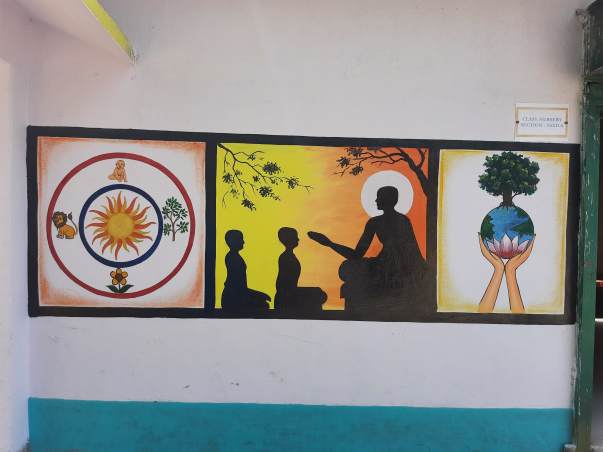 Where?
A Small village, surrounded by the India-Bangladesh border and the nearest border is Just 1.5 KM. It is 105 KM from Kolkata, West Bengal.
Why?
Tarak Biswas, who scored 70% in Class X, now sells sarees door to door for a living. He has extra ordinary marketing skills. Tithi Biswas who is studying in govt. school is attending our spoken English class and we see extraordinary progress in her. Students in the rural area have the potential within themselves, but due to lack of proper guidance and networking, they are not able to compete with the outside world and as a result they are not able to secure a well-paid job or become entrepreneur. Even good students like Saona end up struggling as a private tutor in a rural area for the entire life. Suman's father is partially disabled nevertheless he managed to score star marks in 12th and completed graduation with English honours. He tried for government job for several years, but unfortunately all his efforts were in vain as only a fraction of a percentage can
crack highly competitive exams. Very less number of vacancies government sector in comparison to mammoth number of aspirants make the demand-supply gap worse.
Our Focus Areas:
We are working on uplifting education by setting up an English medium school for kids.
We are mixing tools and technologies (e.g. digital classroom, computer lab) with spiritual knowledge. Our focus is on three pillars:
1. Knowledge & Skill Development
2. Mind Development
3. Body Development
We are developing a low-cost & activity-based model of education which is suitable and easy-to-implement in rural areas.
We are helping the youth by running different programs like Spoken English, Basic Computer Skills, etc. so that youths like Saona, Lina and Suman can prepare themselves to become a better fit for the opportunities available in the private sector. We are also planning to organize career counselling program for students who just completed Class XII and Bachelors.
Campaign
Education is the most powerful force to help people move out of poverty for people living in rural India. They are not asking for clothes or foods. They are asking for proper education so that they can secure their children's lives.
This crowdfunding campaign is our attempt to knock your door and shake the "humane soul" to raise INR 15 Lakh for underprivileged students like Anesha, Saona, Lina and Suman. Please Help us to help them who really need your Help.