Hello Friends,
I am Lubaba Syed Javeed, a volunteer of Hamari Pahchan NGO, and currently working with them on their
"Sukhad Project"
. This Sukhad Project is an initiative of Hamari Pahchan NGO for underprivileged women to help them spend their periods comfortably with proper means and knowledge. Providing them with sanitary pads, educating them on good menstrual hygiene practices and raising awareness on the fact that 'periods' and talking about the same is not a taboo but a natural process.During the lockdown people are unemployed and don't even have enough resources to eat. In such pandemic time none of those underprivileged women could even think about their Menstrual Hygiene. While other organizations are taking care of food and medicines of people, Hamari Pahchan NGO have came forward to take care of women's menstrual hygiene and will continue to distribute Sanitary Pads to them.We are also conducting distribution drives every week where 'Sukhad Kit' is distributed which includes pads, soap, paper for disposal, and other essential items.
स्वस्थय को है बचाना तो हर औरत को है पैड इस्तेमाल मे लाना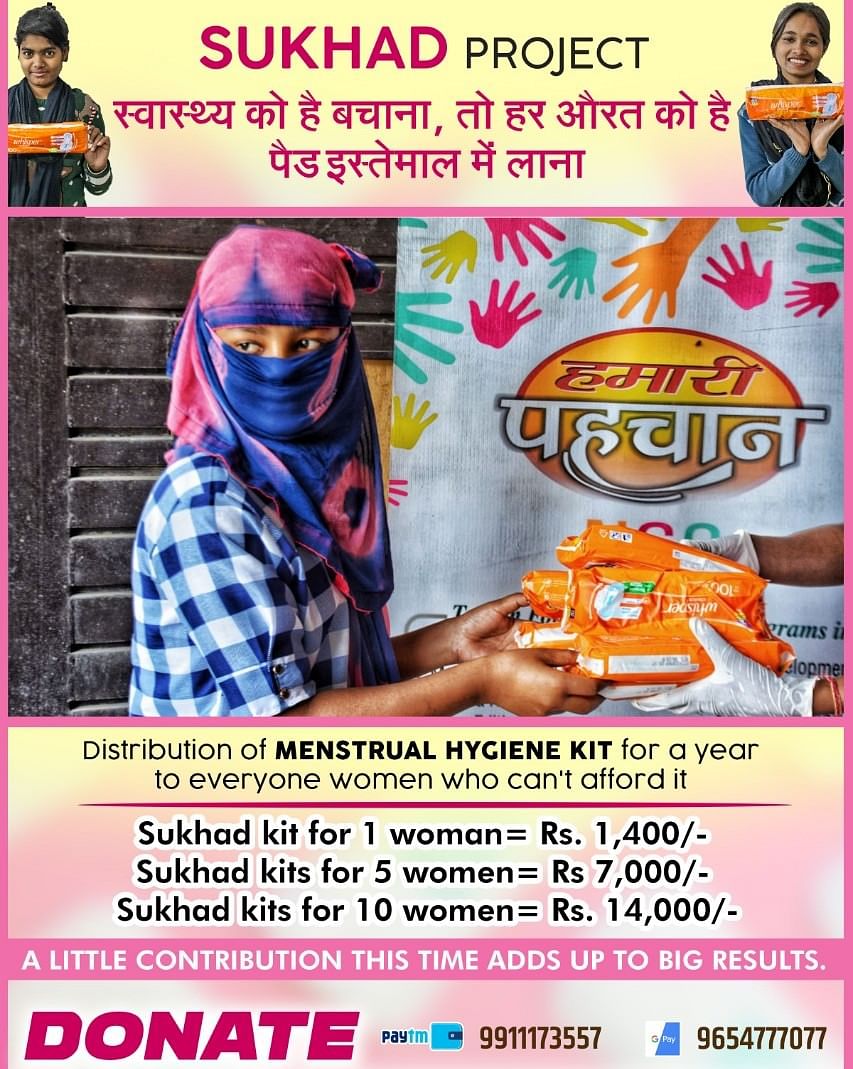 Hamari Pahchan Ngo is going to organize another mass distribution on World Menstrual Hygiene Day i.e. 28th May 2021.
हमारी पहचान बना रही है महिलाओ को सशक्त
Project sukhad is in need of an hour and we all need to unite for the cause.
WE ARE PLANNING TO DISTRIBUTE AROUND 7 K SUKHAD KITS TO UNDERPRIVELEGED WOMEN.
Per kit price:
Sukhad kit for 1 woman = Rs. 1,400/-
Sukhad kits for 5 women = Rs 7,000/-
Sukhad kits for 10 woman = Rs. 1,4000/-
KIT INCLUDES:
24 packets of sanitary pad
6 packets of soap
Disposable paper envelopes