On a mission to provide free, inclusive, world-class, education for anyone, anywhere. What would you say if your child can receive a quality education without paying a dime?

And what would you say if the same quality of education can be received by a labor child outside your society or your maid/helper's child or by farmer child's somewhere in a remote area?

We bet you'll be delighted and consider this as an Ideal world. We are on a mission to make this happen!
"Education is the right of every child" this just shouldn't be a government mandate or in policies or shouldn't be the only the responsibility of NGOs and philanthropists."
This project would give absolutely free (/or very negligible one-time enrollment fee) complete online course of great quality to students of class 8 to 12th in Science, Chemistry, and Biology. Along with Study materials, test preparation modules, and much more. With this mission, we not only reach students from underserved rural and remote areas but also provide quality education to the ones who cannot afford it.

We aren't against any business but certainly not in favor of money howling edtech companies who have been minting money from parents with fear and emotional tactics and also breaking the education sector. I am trying to make education affordable and accessible for the underserved, which is a large population in India.

This project would be a helping hand for honorable Prime Minister of India Shri Narendra Modi's education mission of Ensuring inclusive and equitable quality education across India and also a response & alternate to ed-tech "For Profit" practices.

EDUCATION SHOULDN'T BE A DEBT SENTENCE
WE SAY NOT TO THE GREED!
EDUCATION NOT MARKETISATION !!
Parents came forth with complaints about being coerced into buying courses for their kids. Current ed-tech tutoring not only torments youth but also burdens parents with expensive fees. The Edtech segment has also been accused of causing social inequalities. Edtech is allegedly triggering a social inequality by providing additional coaching to those who can afford it. This does create inequalities among those who cannot afford to pay for additional education systems.

A Solution for Change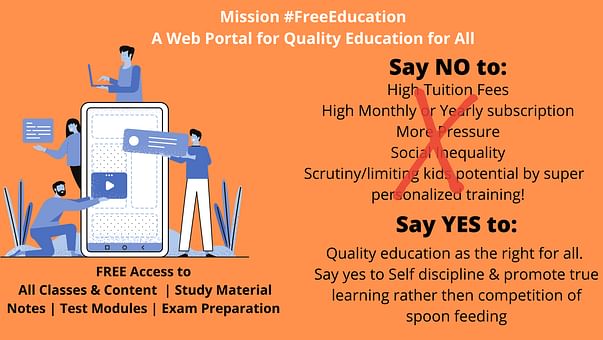 To start this mission:
A web portal to provide access to Class 8 to 12 Science, chemistry, and biology complete course, planning to launch in both Hindi and English language. Apart from the detailed course, detailed notes, relevant study material, test and exam preparation modules would also be included.
This portal would also be provided to the government schools to be used as required.

We are not asking or hoping anymore - We are making this happen!!
Dr. Kavita Khatana leading this mission: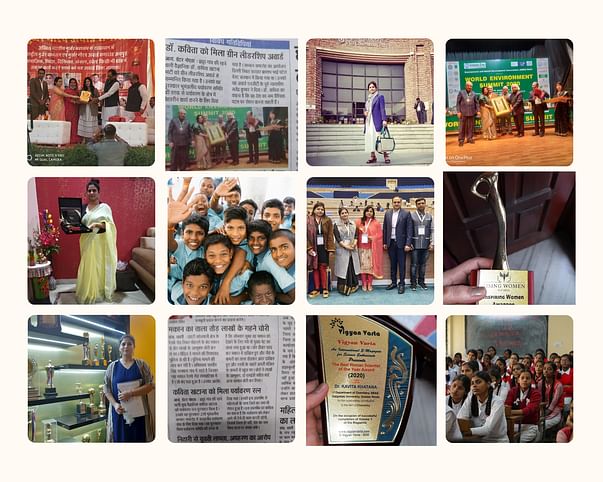 Dr. Kavita Khatana is a well-known researcher and educationist, who has not only gone through the hardship of education in a rural area but also understands the importance of quality education.

Being a 2-time state topper from Haryana, her early education days have been a grave challenge. Even during the primary school days, she used to wake up at 3 am to catch the only bus to attend government school and often walk 23km back to her home. She only gets a glimpse of the good publisher's science book, couldn't afford these books, and managed with old second-hand wearied books. Dr. Kavita Khatana with such odd circumstances managed to crack the MBBS exam on her first try, she has been a scholar and merit student throughout her career.

At a very small age, along with her schooling, she has started giving free tuition to students of her nearby village. Till now she has taught more than 2000 students, mostly from the rural areas.

During this pandemic time, with her 6 months daughter, she has worked relentlessly to serve the nation with her research work and contributed 10+ patents on Covid 19, Black Fungus, and Cancer. She has been awarded prestigious scientist & researcher awards.

She has also been awarded many prestigious awards in the field of Excellence in Teaching, innovative Teaching, and philanthropy services. Lately, she has been invited by many ed-tech companies to join their team however Dr. Kavita Khatana chooses NOT TO and pursues this dream of giving quality education for ALL. "To treat all humans same".

And now with this mission, she wants to step forward and reach more than a million Children to provide quality education.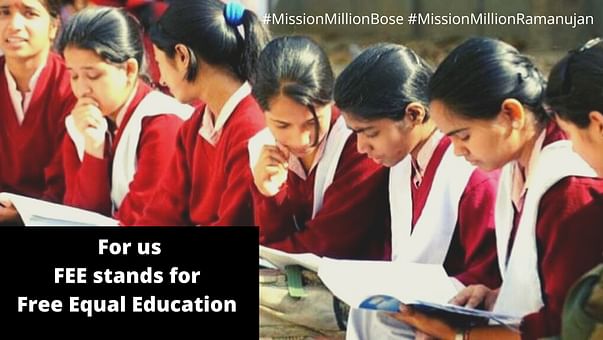 Your help is highly needed
We need your help to make this mission possible, Dr. Kavita Khatana would like to appeal to you to contribute and give this mission a try. I would be using my savings of 120,000 Rs in this mission and would work relentlessly in the coming months in making this coursework ready.

I would like to acknowledge and say thanks to all of you for believing in this noble cause and I'll make sure that as an acknowledgment of your support and well wishes I'd like to mention every supporter/donor on the web portal.

We are looking forward to raising Rs 16.2 Lakhs (1.2 Lakhs I am contributing from my savings), thus the total budget adds to Rs 17.4 Lakhs. Details are as follows:
Web portal / Software development cost: Rs 11.3 Lakhs
Server and maintenance: Rs 2.4 Lakhs for a year
Course production / editing Cost: Rs 2.2 Lakhs
Marketing cost 1.5 Lakhs (as there's no point in making this service when it won't be able to reach out to the needy ones thus Marketing help would be required)

Hereby I'd like to assure you if because of a lack of budget or any reason this mission doesn't see the light, I would personally return all the money to all the donors and as a result, would bear any additional cost which may arise because of service/payment gateway charges.

What does our future hold if some of our brightest minds are excluded from the light of quality education! This is the start and soon more would collaborate in this mission and we can make one complete forum to provide all subjects free and of top-notch quality.

Free education means that any student from where they come will be able to use the same quality of education as every other student. It plays a vital role in building equality among the students in the school and society.
Creating a better place in the world than studying is free for people. All children, regardless of gender, race, or religion, have equal access to education.

We are in Mission, a mission to make not one CV Raman, not one APJ Kalam, not one Bose but Millions. #MissionMillionRaman #MissionMillionKalam #MissionMillionSarabhai #MissionMillionBhabha #MissionMillionBose #MissionMillionRamanujan

This is for my beloved country INDIA – I cannot do this without your help - Together we can - Please help to make this possible!

Thank you so much
Dr. Kavita Khatana