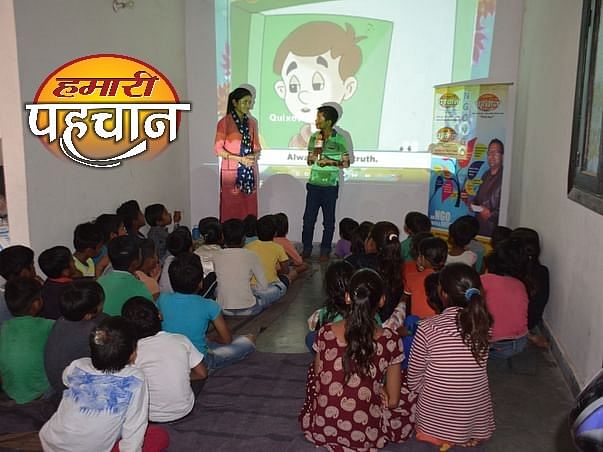 Hello Friends and Family,
I, Aatreyee, a volunteer of Hamari Pahchan NGO is working on their GADGETSHALA initiative which is promoting digital education through various amongst the underprivileged students. The COVID-19 pandemic has affected all sections of society in one way or the other. The education sector is one of the hardest hit as the pandemic has resulted in the closure of all educational institutions across the country. The closure of the academic spaces affected more than 32 crore learners as academic continuity halted for several months. In a short time, the country saw the historical shift of education from offline to online mode. Educational institutions resumed academic continuity through the digital medium using platforms like Whatsapp, Google Meet, Zoom, Google Classrooms, Microsoft Teams etc.
There is no doubt that using the digital medium was the need of the hour. But, this move highlighted the vast digital divide of the country. While the rich and the privileged sections of the society had a smooth transition adjusting to the online classes, the same is not true for the underprivileged children. The basic issue lies in the lack of digital gadgets in poor families that would facilitate online education.
We may not be able to sponsor a student's phone or laptop on our own, but even if each of us contributes a small amount of Rs.1000 or Rs.500, 20-25 of us will help these students achieve educational stability. Students of same classes collectively could be able to attend classes on a regular basis and will be prepared to take responsibility for a more educated India.
By doing our part, we are not only assisting these students in obtaining an education, but we are also encouraging and contributing to our country's bright future.
Cost Breakdown:
Smart Phone for Students - 15000/-
Projector - 6000/-